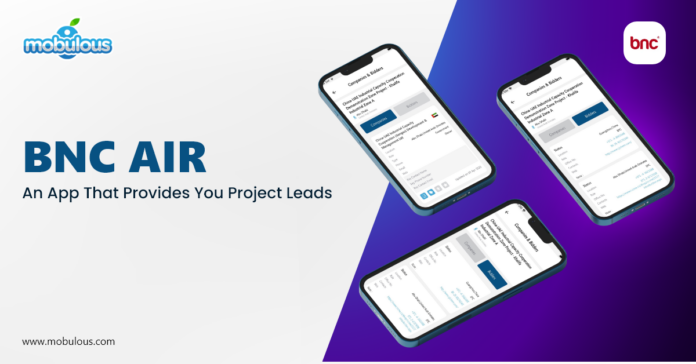 We are delighted to present to you our recently released mobile applications, BNC AIR, the products of countless hours of work by the Mobulous team in research and development. We have created a beautiful mobile app for one of our respected clients. Our client loved everything about the app.
The app has a fantastic design and functions that are simple to understand. Users of BNC AIR can access a variety of services there. You must want to know about our app.
So, here in this article, we will tell you everything about our app, 'BNC AIR.'
Introduction- BNC AIR App
BNC AIR is a real-estate mobile app created for one of our reputed clients. The BNC AIR is a fantastic app used by BNC corporate subscribers to locate and monitor significant project possibilities throughout the Middle East and North Africa. The app offers excellent opportunities to get project leads without much effort.
Thanks to this new release, all professionals in the building sector now have free access to the most significant project intelligence database in the Middle East and North Africa. When you join the BNC network, you will receive 100 free BNC credits to access project intelligence. You can continue accessing construction intelligence by accumulating credits and recommending the AIR app. Additionally, you can pay for projects as you go or purchase a country or sector membership to gain access to robust search and sales coordination services.
Significant Highlights of the app 'BNC AIR'
Access the largest database of active construction projects and bids (120,000 projects and growing).
Access the MENA region's largest directory of real estate developers, architects, consultants, and contractors.
Contact details, such as direct phone numbers and email addresses
Stay up to date on daily construction news stories.
Project map features (including "projects near me")
Expand businesses and research initiatives to make the most of every meeting.
What features has your team integrated into the 'BNC AIR app?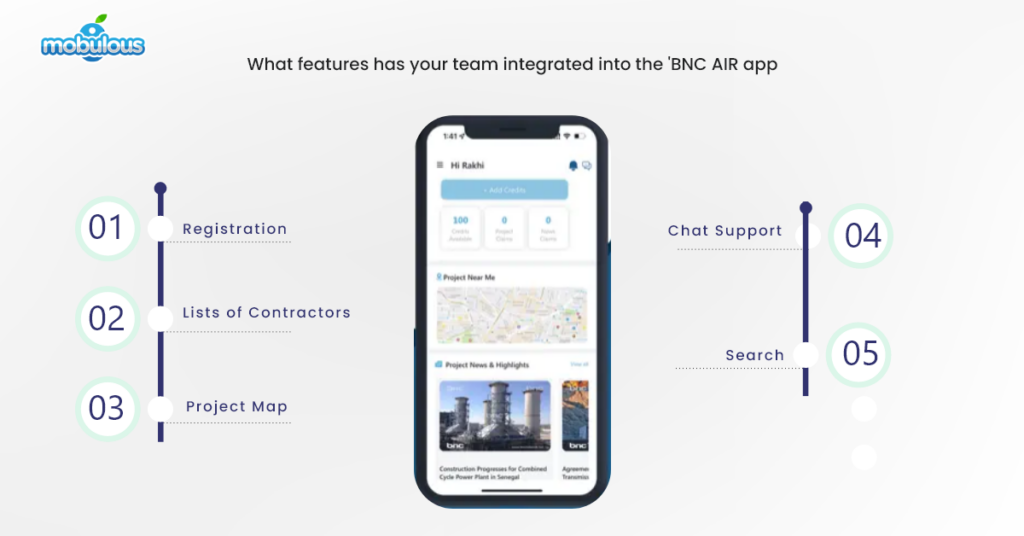 The app is robust, user-friendly, and has numerous exciting features. Let's have a look at some of the top features of our newly launched app, 'BNC AIR'-
The app has an easy registration process. You must give your mobile number or email id and create a password to register.
After registration, you can access the service of the app.
Lists of developers, architects, consultants, and contractors
The app includes the largest directory of property developers, architects, consultants, and contractors in the MENA region. So, that means you can easily access them and get their contact information, including email addresses and direct phone numbers.
The app has a project map feature. The feature allows you to find the projects near you.
If you have any queries, you still don't need to worry. The app has a project hotline chat support feature that allows you to solve any questions related to the project. The feature is available only for corporate subscribers.
The app has a quick search and advanced search feature that allows you to quickly search for the project or property developers, architects, consultants, and contractors.
The functionality is entirely restricted to corporate users.
How to install and use the app 'BNC AIR'?
Here are the steps you need to follow
First, you must search the App Store and Google Play Store for the "BNC AIR" app.
Second, you must open the 'BNC AIR app and select the install option.
Third, following installation, the app can be seen on your home screen.
Fourth, Launch the app after that and sign up to make an account.
Fifth, Decide the services you require, then issue a quotation request.
The professional is selected in the sixth step based on their profile.
Seventh, professionals are already travelling to your home.
Now, you can use the service and pay with cash via a mobile app.
Here are the reference links for the BNC AIR app-
For Google Play Store: https://play.google.com/store/apps/details?id=com.itemizer360.bncnetwork&hl=en_IN&gl=US
For App Store: https://apps.apple.com/in/app/air-app-get-project-leads/id777596167
Final Words:
Do you intend to develop an app similar to BNC AIR for your company? Are you trying to find a reputable mobile app development company that can create an app like BNC AIR for you? You could reach out to the Mobulous team, though.
For individuals that desire to succeed, Mobulous is a full-service app development firm that offers consultancy, design, and app development services. We are a rare combination of brilliant project managers, tech-savvy developers, and creative designers. We provide software, mobile, and web application solutions using recent technology. We mainly work with SMEs around the world and function as a manufacturer for a variety of industries. To satisfy client requests, our team employs an agile methodology.
What are you still holding out for? Talk to us today for out-of-the-box app development solutions!
Contact Mobulous for any app development queries!
   Phone 
: +91-9650100411     Mail 
 : sales@mobulous.com