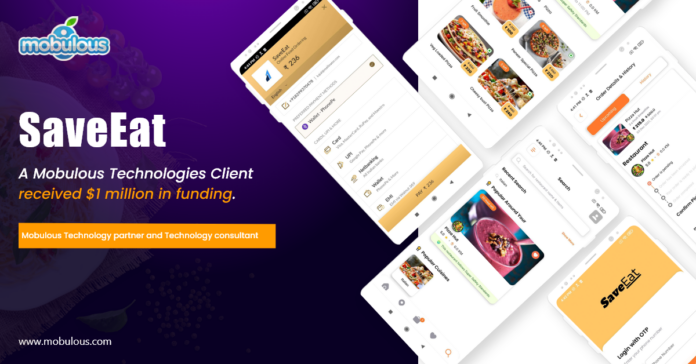 SaveEat is India's first food-saving app. The startup recently has secured funding from investors to the tune of USD 1 million. Mobulous Technologies has been their technology partner & technology consultant.
Mobulous Technologies is proud to share that SaveEat has been able to raise funds and would continue to work with them in their journey towards making a significant impact on food waste management in India. This is a massive achievement for us as well as for India's food-tech ecosystem. We believe this can lead to many more startups in the country getting funded and counted as successful ventures in their own right.
SaveEat: Food Saving App to Help You Save Food and Money
SaveEat is a Mumbai-based startup that has raised $1 million through its investment round.
SaveEat is an end-to-end solution for food wastage and hunger in India. It aims to help millions of people access healthy meals daily while making restaurants more sustainable and profitable. The funding will be used towards product development, marketing, sales and distribution channels (including offline stores), expansion, and customer experience improvements.
In the era of food wastage, SaveEat is a food-saving app that helps you save money and feed the needy. It's the first app in India that lets you donate surplus food from restaurants, bakeries, and grocery stores to nearby shelters.
SaveEat also has an innovative feature called Shop4Feed that allows donors to pick up fresh groceries from a local supermarket at discounted rates with their saved coupons. This helps reduce the waste at the source itself by making sure that unsold produce doesn't go wrong or get thrown away by retailers due to expiry dates prematurely set for them by vendors who want to clear inventory quickly without regard for quality standards or customer satisfaction – both of which can be compromised in such cases!
App Available on :
Meet the Creative Development Team Behind The Success of SaveEat – Mobulous Technologies Pvt Ltd
Mobulous Technologies is an innovative mobile app development company that makes custom, robust, and feature-rich mobile apps. We have highly experienced & skilled team capable of developing world's best mobile apps leveraging the most delinquent mobile app tools and technologies.
Feel free to drop us a message if you wish to develop an app similar to "Save Eat." The app has received funding of 1 million USD and is greatly appreciated worldwide. Mobulous, being the technology partner and consultant of the SaveEat app, suggests you transform your app dream idea into a reality with their collaborative and supportive assistance starting from the ideation stage to not only completion but on the Go To Market Strategy and funding processes as well.
Contact Mobulous for any app development queries!
   Phone 
: +91-9650100411     Mail 
 : sales@mobulous.com