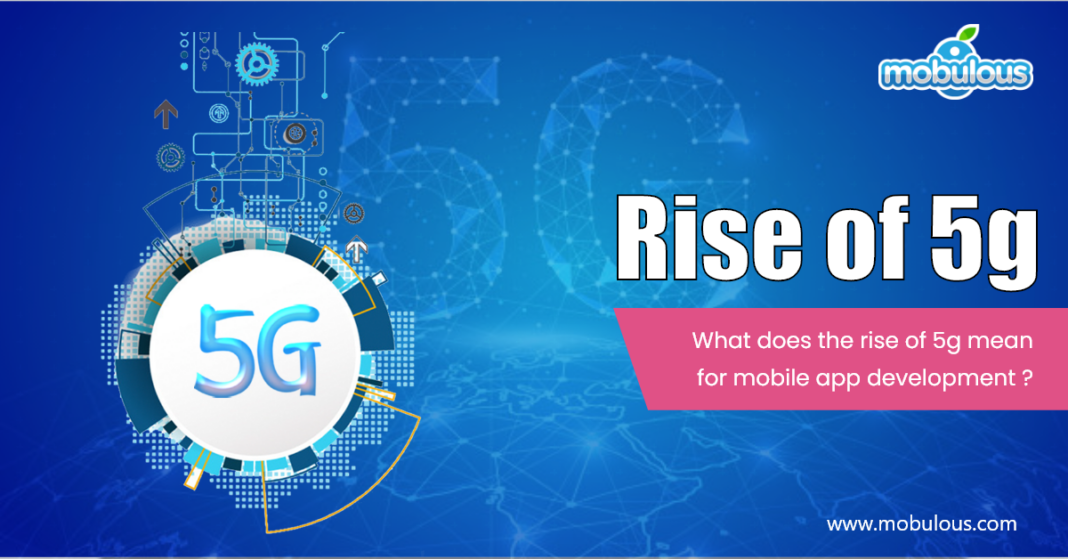 With the advancement of technology, a lot of things have changed. Now, just with a blink of an eye, you can transfer millions of data to various connected devices across the globe. All of these are getting possible with the assistance of 5G technology.
Further, with the arrival of 5G, it is one of the most powerful trends that are going to take place in the mobile app development industry.
Additionally, by the year 2025, it is estimated that 5G would be running on 1.4 billion devices.
Thus, 5G has a number of significant potentialities which includes high speed i.e. 10 X FASTER than the 4G. This could indeed alter our life as well as the mobile app development industry.
So, without wasting any more time, let us look at what 5G has to offer with regard to mobile app development.
What is the Working of 5G Technology?
5G makes use of three distinct spectrum bands i.e.
High Band Spectrum perhaps gives the best performance in terms of 5G speed that can easily reach up to 10 GBPS. But, one of the problems with the following spectrum is that it tends to have low building penetration & coverage area.
The maximum speed that you can get from the Mid Band spectrum is 1 GBPS but it also doesn't have a very good wall penetration mechanism.
One of the good things about low band spectrum is that it has an impressive wall penetration & coverage area. But, the speed that it offers may not be the best.
What are the 5G Features that can influence Mobile App Development?
One of the primary aims of 5G is to provide a fast & smooth cellular connection. So, potentially it has the capacity of offering a speed of 100 times as compared to 4G.
Thus, you would be able to experience lightning-fast file transfers & downloads.
Currently, 4G offers a latency of 50 milliseconds but with 5G, it can be reduced to just one millisecond.
Thus, 5G tends to offer low latency communication using which the data can be transferred to the devices quite quickly without much of the hindrance.
So, with less network delays & interference, mobile apps would have great UX while they would be able to perform in a much better manner.
It is sometimes seen that there are connectivity issues which a large number of audiences have to face. But, with 5G, you can easily get rid of it which can indeed boost the capacities for the various businesses.
Thus, with 5G, a greater network traffic optimization would be done and usage spikes would be handled in a much better manner.
Increase in connection density
4G can connect about 2000 devices within a span of 0.38 square miles while 5G can connect about million devices. Thus, it can be quite beneficial for mobile app development as 5G tends to offer better connectivity & speed alongside low power latency & usage.
A great thing about 5G is that it would have all the previous cellular spectrums. Thus, you are bound to get better connectivity. Other than this, it would have higher radio frequencies as well as shorter wavelengths as compared to 4G.
One of the benefits of 5G's increased bandwidth is that you would get better precision capabilities as well as improved responsiveness. This would come quite handy for GPS-enabled services having high-precision.
How Would the Mobile App Development World be Impacted by 5G?
It is seen that 360 degrees, UltraHD & live streaming have gained a lot of popularity. Further, with 5G, you can expect high resolution, faster speeds, decreased latency as well as smooth performance. So, with the introduction of 5G, there can be substantial improvement in the Video apps.
VR & AR has just been introduced in the mobile app development world. So, with 5G, you can get zero latency & improved operational speeds. Hence, these kinds of technologies can seamlessly be integrated into mobile apps.
There is a great possibility that 5G-enabled mobile apps would be combined alongside with 3D printing such that 3D models are developed.
Also, 5G is going to work on wireless technology and hence it is likely to improve energy efficiencies & system capacities.
Thus, it is going to have a great influence on a number of sectors such as construction, education, healthcare etc.
Better IoT Implementation
We are currently living in a world that is infused with IoT such as Siri, Alexa & Google Home.
So, with the introduction of 5G, this concept would surely go to the next level. Thus, it is going to impact almost everything & anyone.
GPS-Enabled apps would be accurate
It is seen that 5G uses short wavelengths & higher radio frequencies and hence you will get better connectivity & coverage.
Other than this, it can give very accurate & precise results which can be quite useful for GPS-enabled apps.
Lastly, with improved connectivity, enhanced speeds, and uninterrupted communications, you can have great improvement in GPS-based applications.
Larger & faster File transfers
With 5G, the process of data transfer would be quite fast which would very well boost the performance & functionality. Other than this, enterprises can use large data volumes in a more effective manner.
5G would very well improve the responsiveness & performance of the apps.
Also, with better connectivity, there would be a decrease in load time while an increase in visual clarity.
Hence, there would be significant changes in the UI. Also, app functionalities would be enhanced and UX would be boosted.
Other than this, it can also result in a lot more downloads.
Dependence on the hardware would be decreased
The data of the app can be placed on the cloud and thus the consumers can easily run & access the apps without having to install it.
In this way, the processing power & internal hardware of the device would become free.
Besides this, any kind of hardware limitations of the device won't influence the performance of the app.
Also, 5G has fast data transfer capabilities and thus mobile apps would not be dependent on smartphone processing power.
With reduced latency, increased speed as well as less hardware dependence, the consumption of battery would decrease. Hence, 5G has the potential of increasing the battery life of IoT & Mobile devices. Hence, users can interact with the apps much longer.
With 5G, developers can integrate a wide range of technologies into the apps in a much better manner.
Final Thoughts
5G would have the fastest network and thus it has a lot to offer. Other than this, there would be great potential for mobile app developers with a much more refined UX & UI.
Other than this, it is going to offer a number of benefits as well which have been mentioned above.
So, ideally, it is the best time that you to opt for mobile app development with the introduction of 5G.
Further, if you are looking for the best mobile app development company, then Mobulous technologies can be a great option for you.
We have over years of experience in the software development field and hence they can very well cater to all kinds of mobile app development needs that you might be having.
So, you can connect with them through call or email to discuss your next project.