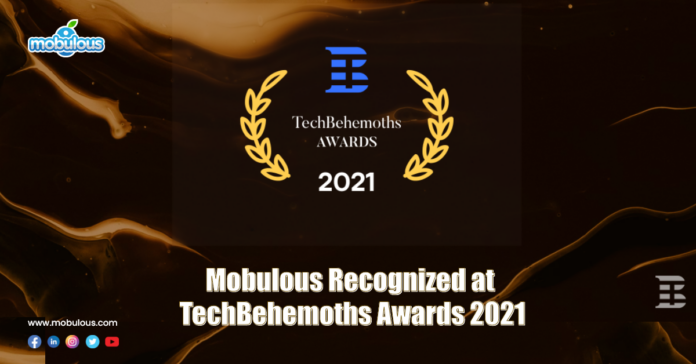 Mobulous was recognized as one of the top 20 leading NodeJS development companies in India in 2021 by TechBehemoths. This recognition is given by judging profile strength and seven other essential parameters. 
Mobulous have won this award, leaving behind 57000 talented companies indexed on TechBehemoth's platform. We enjoy our innovative and dedicated efforts to create top-notch IT solutions in different industry verticals. Mobulous have proved our talent in various dimensions of the industry.
Jury for 2022
Along with this award, Mobulous has also been invited to be one of the jury members to evaluate the potential of other international entities for the competition of 2022 organized by TechBehemoth.
We have won many awards because of our excellent projects and the restless work of our talented team. Awards and honours give us the strength to work relentlessly and make us stand out from the crowd.
Mobulous have decorated many award-shaped gems in our crown and constantly added more gems that give us new energy to do better work. We are happy to add one more gem to our success crown.
We have partnered with leading industry giants by facilitating IT services, business solutions, and consulting services to revolutionize digital transformation. We leverage our integrated innovation to provide a holistic solution for different industries, including E-commerce, health care, travel, and many more in the pipeline.
About Mobulous
Mobulous is known for providing highly scalable and robust IT solutions at competitive prices. Our well-seasoned team of experts in different domains is committed to converting the brain-storming ideas into an unbelievable reality. 
We harness our capabilities to create unique and innovative alternatives. We have more than eight years of experience with 95% client retention. We are moving quickly toward our vision of becoming an esteemed and reputed company in India. Our core values are integrity, innovation, teamwork, and constant improvement. We're a perfect squad of out-of-box thinkers under the visionary leadership of Anil Sharma. 
Mobulous is a leading mobile app development company; we developed the app for high profile Fortune 500 companies to Startups. You can contact us at sales@mobulous.com for your app development, and IT services queries.