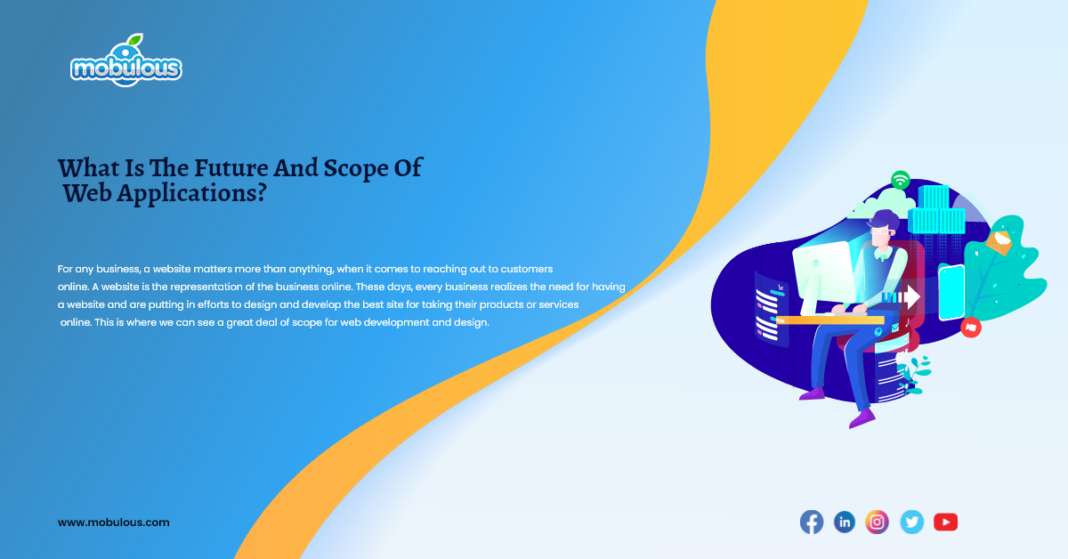 Website is the digital face and an essential component of a business. If we talk about the future and scope of web applications design and development, it increases tremendously. Web apps play a crucial role in our daily life. Whether you own a small business or a large enterprise, the presence of a website is vital.
Web applications designers and developers use the latest tools and technologies to build robust, scalable, and feature-rich web applications.
Here in this blog, we will cover the future and scope of web applications-
Before we discuss the scope and future of web apps, let's know some of the top stats of web apps-
According to the report, Approximately 38% of the visitors will stop visiting your website if they don't find the design attractive and unique.
Another report suggests that more than 60% of users trust websites with correct details.
It requires only 10 seconds to impress users when they visit your websites.
Approximately 94% of users prefer a mobile-friendly website.
These stats will guide you to develop web apps that make you unique from others.
 Web Application Development Scope and Future –
You must be well aware of artificial intelligence. Numerous companies and organizations are already applying AI for their needs. Some companies are getting huge benefits from AI.
AI is indeed the future of web app development.
If you want to make your future in the web app development field, you must have sound knowledge of AI and ADI technologies.
ML (Machine learning) is another trend for web app development. Not only can web developers build a significant digital presence of a business, but they can also use the data to drive better client interaction and enhancements utilizing the power of Machine Learning.
In the modern era, the Internet of Things- IoT is emerging as one of the most popular technology. Indeed, web developers are not linked to the IoT directly; they can implement it in web app development. If you want to implement IoT in web app development, you must have excellent skills in various things, including hardware and software programming, UI, mobile app development, machine learning, and many more.
Scope in Web App Development- 
Web application development is an excellent career option. You can choose your career as a back-end developer, front-end developer, or both. To begin your career in web application development, you will require to learn different programming languages, including:
C#, .NET, PHP, SharePoint, Web Services, CMS, Java, Python, AJAX, Ruby on Rails, ASP, J2EE/ Java EE, and many more.
Conclusion-
Web app development is continuously evolving, and there is a great scope if you choose your career as a web app developer. You need to update all the latest tools and technologies to develop the best web apps. Never forget a website is the digital face of any business, and it must be highly robust, fast, and unique.
Mobulous is a top mobile app development company that offers the world's best web app development solutions to users all across the globe. We have worked for numerous clients with a varied range of web-related solutions.
For more information, you can contact for our web app development services: Sales@mobulous.com