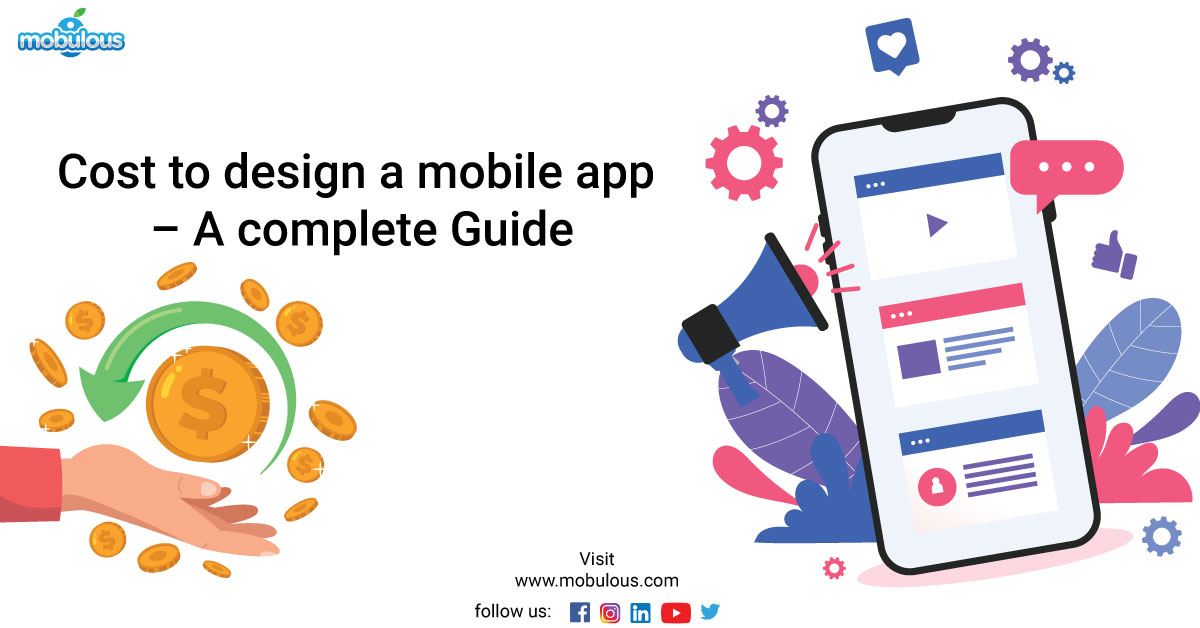 Are you planning to develop a mobile app for your business? Are you wondering how much it cost to create a mobile app for ios or android in 2020? If yes, then this article is for you.These days, mobile apps are so much in demand. According to the report, the number of mobile phone users is expected to reach 7 billion by 2020. Also, the smartphone user's will expected to grow to 2.6 billion. Research by eMarketer shows that 90 percent of the users' time on a smartphone is spent on apps.
Each day thousands of apps are launching in the app market. If you want to rise and attract the considerable attention of users, then it is essential to focus on apps' design.
Design (UI/UX) development is termed as one of the most important aspects of a successful mobile app. Excellent screen designs, neat buttons, and visual effects create a positive impact on the mind of the users and encourage them to return to the product again and again. Let me tell you; Design is not just about app appearance; it is also about the way it works.
Why Does Mobile Application Design Matter?
Design is the first thing that most of the users see in any app. Every design is created to solve specific problems. It entirely doesn't matter whether you are designing for a new product or the existing product; the main motto of any design is to solve a particular issue.
Here, are the following benefits that a good mobile app design can provide:
It makes the interaction with users so smooth and user-friendly.
It helps to convert users to potential customers rapidly.
It helps to fulfill the requirements of the users and increases the rate of their involvement and returns.
It makes sure the app meets the needs of the target audience.
Undeniably, the factors, as mentioned above, play a crucial role in a business's success.
How exactly is the cost calculated?
At the very beginning, it is quite difficult for most of us to figure out the expense of the design of an app, but it is not that tough if you get an idea of how things work. The cost of an app's design comes from the specialist's hourly rate multiplied by the time they spend to get the work done. Let us break it down to the basics — how much an hour of work costs, and how many hours you need to get things done?
Let's know about the hourly rate By Region:
Here, we have an estimate of rates that you will get to see all across the globe:
US and European based companies will charge approximately $50–150 per hour.
Ukrainian studios will cost around $20–30 per hour, and in some cases, the price may exceed $50 per hour.
In India, price starts at $20 per hour and may exceed $50 or more depending on the project's complexity.
If we talk about freelancers all across the globe then, they charge around $10 an hour or less. Generally, most of the freelancers are unable to create a stunning design for your app. If you want a fantastic design for your mobile app, you have to contact a best mobile app development service company.
Critical Steps to choose a reliable offshore service provider:
Look at the company's portfolio.
Read reviews on Clutch, Goodfirms, or IT Firms.
Ask the firm's previous clients about their cooperation experience.
If confidentiality is required, check if they sign NDA.
Some of the significant factors that affect the cost of designing an app:
The type of mobile app
Timeline
The complexity of design (basic vs. custom)
Designer's skill and
Mobile app designer or developers (in-house vs. freelancer)
Final Thoughts
No wonder the quality of Design quality affects the success of a product.so, there is a great need for businesses to invest in its design's development. It is also essential to know that a mobile app's design cost depends on numerous factors, and no one can give you an exact quote without prior analysis. However, to make an accurate assessment, you have to contact the project owner and know everything in detail.If you have any idea for an app, contact the leading mobile app and website development company, Mobulous, India. We make sure to put your ideas into reality helps you to calculate the cost of the design of an app.
Read Also:
Mobulous – How are we working to mitigate the impact of the Coronavirus?
Services Provided by Mobulous to satisfy entrepreneurs, enterprises, & startups needs
Top 3 Questions to Ask when outsourcing app vendor