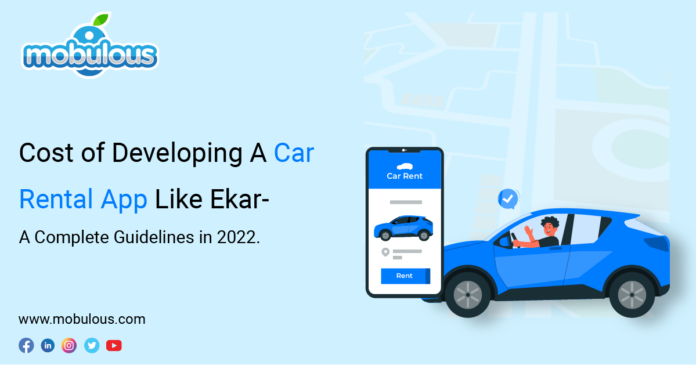 The global travel business has grown at a rate that makes it simple for customers to find their preferred form of transportation at any time by conducting a quick online search. As there are numerous mobile apps for transportation, recently, the new name 'car rental' entered the transportation mobile app world and created great hype among users globally.
Businesses are very interested in this market and opting out of car rental app development services to launch their apps for iOS, Android, or both platforms to maximize their profits.
You will find numerous car rental apps that are getting fantastic support and love from users globally.
Take a look at this blog if you want to create car rental apps like Ekar. No wonder developing a car rental app is time-consuming and expensive. But what factors affect the cost of developing a car rental app like Ekar? Let's learn everything about car rental app development services.
Car Rental Mobile App- An Introduction
A car rental mobile app makes it easy for consumers to rent a car and travel anywhere by using their smartphones. This app links those in need of car rentals with others who have cars they are willing to hire out. Here, customers can choose from an extensive range of cars and pay accordingly, while car owners make some extra money.
In the fast-forwarding world, users prefer to avoid standing in a queue and waiting for an hour to get the car. These cutting-edge technical solutions have given people a fresh and convenient approach to managing things. Users can drive themselves and hire a driver of their choice.
Ekar is one of the most popular car rental mobile apps.
Before We Mention The Cost of Developing an App Like Ekar,
Let's Know Some Essential Stats About the Car Rental Market Size and Growth-
The numbers below show the global car market's revenue from 2017 to 2025. By 2025, it is anticipated that total sales will amount to $110, 894.2 million. The revenue is displayed year by year.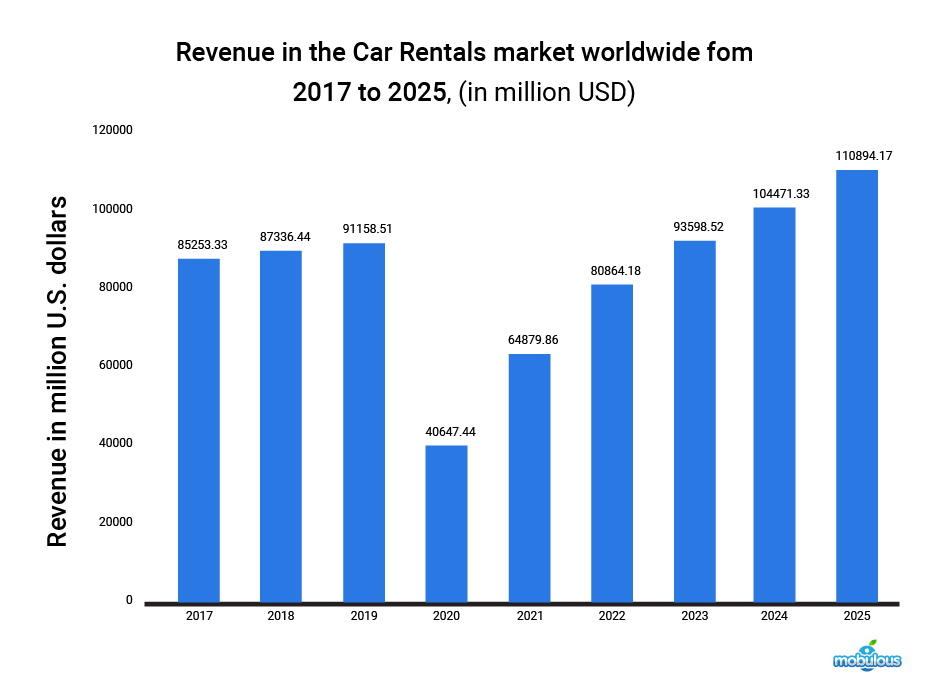 The global market for car rentals was valued at $98.14 billion in 2014, and from 2021 to 2028, it is expected to increase at a 4.6% CAGR.
Ekar Car Rental Mobile App Development- Benefits:
Users are getting various benefits with Ekar car rental mobile app development services. Here, we have mentioned some of the top benefits-
Businesses can connect with their audiences and engage them in real-time.
Utilizing a single platform to manage the whole car rental industry is simple.
You can monitor your competition and market rivals.
Car rental apps improve brand awareness.
The payment process is convenient and straightforward, thanks to integrated payment methods.
Collecting customer data is simple.
Customers can choose from a wide variety of vehicles, including cars and buses, for rental.
Ekar, like car rental mobile apps, offers affordable and convenient services.
Analysis of Revenue Model for Developing a Car Rental App Like Ekar-
Let's know the sources of income for the car rental industry:
Car Fleet of Their Own
With this one, the service providers are investing in growing a significant business.
The company must buy vehicles and assign them to various drivers. The drivers receive payment either every month or for each service they provide.
Commission-Based
This is different in that platform acquisition occurs through one of the car service applications, and each booking is paid for. With this app, developers get a significant amount.
According to this system, car owners can also give up control of their automobiles to a driver who will handle reservations and city driving.
Car Rental App Like Ekar Clone App- Must Have Features-
Before concluding the list of mobile app features, conduct comprehensive research and ensure to incorporate as many unique and user-friendly features as your app's success rate will be determined by its features and functionality. However, the cost of developing a car rental app like Ekar will depend on the features you decide to include.
The Ekar clone app must have key elements if you want to reach one million downloads quickly.
Car Rental App Features For Riders:
Mobile-friendly app size
Quick signup and installation procedures
Simple registration with two or three identifications
A login option for social media
Functionality for multi-factor authentication to ensure high levels of security
Flexible ride options
Monitoring vehicle availability
Automatically calculating rates
Payment options within apps
Car location tracking in real time
Identify parking options
Language settings and user accounts
Opportunity for an instant rebooking and ride history
Car Rental App Features For Drivers:
Registration and enrolment of drivers
The user manages their rides (Pickup/Cancel).
Location tracking capabilities
Shortest route navigation capability
History of orders
Status and history of payments
Car Rental App Features For Admins
User Administration
Vehicle availability monitoring and control
driver control
Traffic Management reservations
tracking and controlling payments
management of content
Management of discounts and deals
User feedback management, a dashboard to view orders, payments, progress, etc.
Ensure to include all these features in your car rental app like Ekar.
 Which Technology Stack Is Best For Ekar-like Car Rental App Development?
The technology and tools that your mobile app development team used to develop a car rental mobile app like Ekar will entirely affect your app's performance.
You can create a unique car rental app by utilizing the most popular app development technologies, a robust SDK, and secure payment methods.
Kotlin and Java are the two most popular programming languages for creating native Android car rental apps.
Swift and Objective C are the most popular programming languages for creating native iOS car rental applications.
Flutter, Xamarin, and React Native are the most popular programming languages for creating cross-platform car rental apps. Android and iOS SDKs are also used.
MongoDB and MailChimp for databases
Twilio for notifications
 AWS, Google Cloud, and Azure for storage
Payments: Third-party Integrations, PayPal, and E-Wallet
Popular Car Rental Mobile Apps-
Numerous apps have made an impact on the market and are prospering as a result of the services they provide to customers.
Let's examine some of these applications:
Hertz car rental app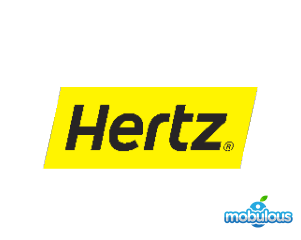 The Hertz company was founded more than a century ago by Walter J. Jacobs with just ten cars. Within a year, the company rose to the top of the global car rental industry. Today, the business has its own app and more than 8,000 administrative offices worldwide.
Zipcar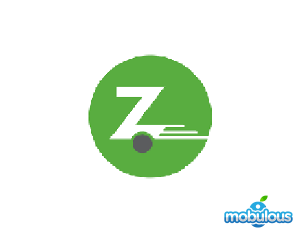 Zipcar mostly provides services in the United States and Canada.
This is one of the most affordable car rental apps that allows users to hire a vehicle on a daily or hourly basis.
Skyscanner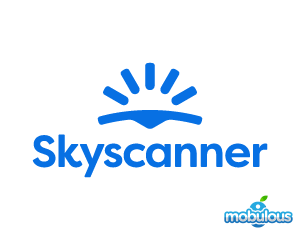 Skyscanner car rental mobile app has grown in popularity because it offers extra services like booking lodging and flights. Users receive a variety of services from a single platform.
Zoomcar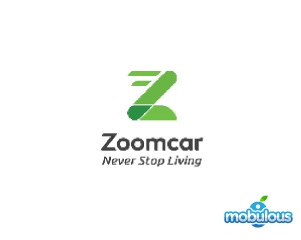 Zoomcar began in 2013 with just seven cars and has since greatly expanded, now operating over 1800 cars.
Reports state that the corporation will eventually add 6000 more cars.
The price of creating a car rental mobile app like Ekar-
Creating a car rental app similar to Ekar would be a fantastic idea for established companies and start-ups, but you must first know the cost involved in creating a mobile app like Ekar.
Are you aware of all the important factors when calculating the overall cost of developing a mobile app? These factors are as follows: Different app platforms, the development team's experience, and the team's organizational structure and technology stack are all factors.
Based on these factors, the average price to develop car rental apps like Ekar would be between $20,000 and $40,000, including the essential functions.
However, the cost of developing a car rental app can exceed your expectations if you want to incorporate the newest technologies or more advanced features.
FAQs About Ekar- Car Rental App Development Cost
Question 1: What advantages does having a car rental app like Ekar for my company offer?
Answer: There are numerous advantages to creating an Ekar-like car rental app for your company.
In addition to making renting a car easier, it also makes ride details transparent, offers automatic rate calculations, and raises customer satisfaction.
Question 2: What cutting-edge features ought a rental car app to have?
Answer:  You can include various features on your car rental app. For instance, you can integrate in-call and panic buttons that allow customers and drivers to contact you when they require help. This feature will give both driver and passenger excellent security.
Make everything accessible and develop a comprehensive app for a better user experience.
Final Words
The desire for a workable mobile solution among companies that have invested in the industry has increased with the growth of the automobile rental market.
An effective mobile app for car rentals can help you reach out to your target customers and benefit from them. Many major market participants already exist and use successful strategies to increase their consumer base.
Your car rental mobile app must be solid and feature-rich to make you unique among others. You can choose our mobile app development company from among the top car rental app development companies because we have years of experience and a proven track record in creating mobile applications that benefit businesses.
Let's connect and get a free Ekar car rental app development cost quote!
Visit Mobulous for Mobile App Development Services
Mail
: sales@mobulous.com    Phone
: +91-9650100411