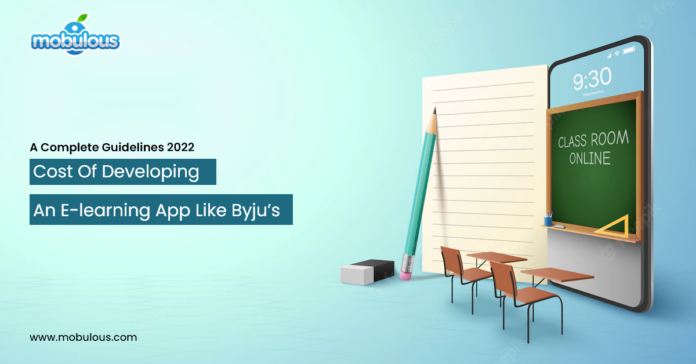 Cost of Developing An E-learning App Like Byju's- A Complete Guidelines 2022
Do you want an e-learning app like Byju's for your education sector or your new startup? Well, we can help you with that. We will help you to know the cost of developing an e-learning app like Byju's and many more.
As we know, the world is evolving ever more than before with mobile app development. Gone were when education was locked in the classroom's doors only. Education-based mobile apps quickly transform the education industry and help students achieve more in less time. The growing online education has made student's life so convenient and easy. After seeing the ever-increasing trend of online learning, every investor is investing their capital in education mobile application development. Children are learning the best use of mobile phones, iPad, and laptops, with the creation of e-learning apps. With the development of e-learning apps, kids are learning the proper use of technology. Mobility educational solutions allow teachers to reach students across the world.
Before we discuss the cost of developing an e-learning app like Byju's, let's know the essential stats and facts about e-learning apps-
If we believe the report of the latest survey, approximately 20 million kids choose Google applications for school.
Other reports suggest that Over the past five years, there has been a sharp surge in demand for Google apps.
According to the report, Using Google applications for education can result in annual classroom cost savings of up to $1.5 million.
A survey says 72 of the top 100 institutions in the UK use Google Apps due to its extreme popularity.
75% of instructors use a smartphone to access digital information.
So, you can see that developing mobile e-learning apps like Byju's is a win-win situation for you and your users. You will require an Android e-learning mobile app development company to create your mobile e-learning app.
About Byju's App-
Byju's is one of India's top-rated e-learning mobile apps. The app has made the education system simple and pleasant for students. With over 40 million users and thousands of premium members, this online learning program has a high user retention rate. It is considered one of the most effective apps for increasing kids' motivation to study.
Students have easy access to learning thanks to features like video lessons, live quizzes, doubt clearing, exciting films, and reports. Byju's application offers educational ideas for grades K–12 and middle and high school.
Additionally, it covers the material for tests like the JEE, NEET, CAT, GMAT, and GRE, as well as the IAS.
Benefits of developing an e-learning app
Generating revenue is nowadays becoming hard for the e-Learning business. That is why the e-learning business can't survive much in this industry. Traditional learning methods have deep roots from ages, so it is hard to fight off and stay in this educational industry; thus, this makes it necessary for most e-learning sites to offer their services free of charge.
* Proper Attention
The e-learning solution app allows students to ask about their problems openly without hesitation. Students may hesitate to ask about their issues in front of all the students in the classroom. A platform such as E-Learning Solutions provides a secure atmosphere for the participant to interact with tutors and instructors openly.
* Interactivity
Modern technology strives to strengthen the learning process quickly with the help of experienced and skilled educational app developers developing educational apps and websites.
 * Repeat Classes
Students can watch the same classes on repeat mode till they completely understand the concept. If they face difficulties on any topic, they can clear them quickly.
 * Save Time And Money
Users don't need to go anywhere to get an education. They can learn anything from any place.
That's how the app reduces the unnecessary expenses of travel and saves time.
Lists of features that we must integrate into the mobile e-learning app-
Byju's app provides excellent benefits to users in the best possible way. The app includes various benefits. Let's have a look at some of the top features-
Easy Login and Registration
Byju's e-learning app has an easy signup procedure. The signup process is pretty straightforward and requires very little information and only a few seconds of your time.
You must include information such as name, phone number, grade, and location.
The app includes thousands of engaging and knowledgeable videos from experts for everyone. You will find live classes of all subject's every chapter. The live courses make it easy for students to understand everything smoothly.
The app allows users to track the progress of their children in real-time.
The notifications features provide users an instant alert about every new update, including newly added videos, results, and many more.
As you know, the test is compulsory to see a student's ability. The app includes testing sets for students based on their grades.
The feature helps users concentrate on essential papers.
Panels of e-Learning Apps like Byju's
Any learning app, like Byju's, functions at three levels, as listed below.
Student Panel
User access is made simple in the student panel. Here are the lists of features of the student panel-
Easy registration

Chat and Calls

Subscription plan selection

Search filter

Profile Creation

Password recovery

Perform Test and Results
Admin Panel
The purpose of the admin panel is to administer and offer services to users. Here is the list of features of the admin panel-
Respond to complaints

Send notifications

Transaction management

Update game levels

Performance test results

Contact support
Teacher Panel
The teacher panel will make it easier for the teachers to communicate with the pupils. The characteristics of this panel's features include-
Register account

Video calls and chats

Account update

Forgot password

Add new video classes

Update syllabus
Cost Of Developing An E-learning App Like Byjus-
The cost of developing an e-learning app like Byju's varies on several variables, including the operating system or platform being used for development, the features and functions of the app, and the app's needs.
E-learning mobile app development companies in India will estimate the app's cost based on these parameters.
The cost of developing an e-learning app in 2022 will also be determined by the industry expertise of the Android or iOS app development company in India.
The cost of e-learning apps will vary depending on the skill of the custom iPhone and Android app development company you choose to work with.
The cost of developing a native mobile app will depend on how well the app is promoted, maintained, and supported.
We predict that the cost of an e-learning app will vary from $35,000 to $65,000. We make this prediction based on our experience with Byjus, one of the most significant Indian e-learning app development companies. Nevertheless, depending on the needs of your app, this price could change.
For instance, the most excellent online learning apps will cost more than expected since they will have virtual voice or video interaction sessions and an in-app chatbot function.
Some Additional Factors Affecting Cost Of Developing An E-learning App Like Byju's-
The size and platform chosen will determine how a mobile e-learning app like Byju's is developed. On the other hand, a significant factor in determining overall development costs is the location of the mobile app development company and the length of time it takes to produce an app. We have a cost breakdown for creating educational learning mobile apps like Byju's based on different zones.
India: Hourly rates vary from $30 to $55.
USA: Prices start at $100 and go up to $200 per hour
Europe: Hourly rates range from $80 to $190
The following is based on India's current cost of living and economic climate while designing a smartphone application similar to Byjus.
Technical installation costs between $1000 and $2500 and requires 40 to 55 hours of work.
The time needed for UI and UX design is 350 hours, with costs ranging from $14,000 to $3500.
The back-end and front-end processes time required is 450 hours, and the price is between $10000 and $25,000.
Testing requires 80 hours of work and costs between $1000 and $3000.
Final Words
If you also desire an app like Byju's for your education center, you must contact our top mobile app development company in India. We can transform your e-learning mobile app development imagination into a successful app. Our team is efficient in building an app for any platform you choose. We assure you that you will receive a bug-free e-learning mobile app. From designers and testers to developers, we have the best and most professional team in our company. We build a customer-centric app, offering the best competitive pricing model.
So, let's contact us for more information regarding the cost of developing a mobile e-learning app like Byju's in 2022.
   Phone
: +91-9650100411     Mail 
 : sales@mobulous.com