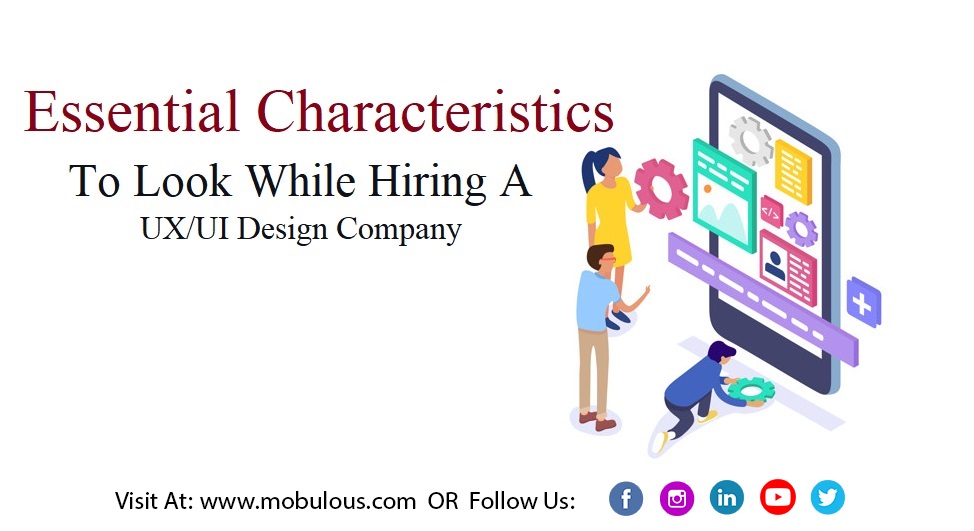 Competition is stiff, and it exists in every sort of business. In this competitive world, it is quite hard for companies to be one-up over the other. But it's not impossible! As there are a lot of ways to be more effective and competitive in the market. The first and foremost thing that you need to do is attracting the client's attention to be successful in the business. That's where the role of User Experience (UX) Design companies come in as they make businesses more competitive and appealing.
In the age of modern time, every business, including big companies and small startups, has a business website or mobile app development. Now traditional companies are also enjoying and leveraging the potential technology and software development convenience by building a website. Sites not only make your business robust but also offer your users more accessibility, comfort ability, and affordability. And when you develop a website for your business, it has to be attractive — that's where the user interface (UI) and user experience (UX) becomes essential. Stellar UX is what makes your business a memorable brand among other rivals.
Why hire a dedicated team of UX designers for your startup or small business?
There is plenty of dedicated mobile app development that offers skilled UX designers to hire. You can outsource UX designers for your startup or small business as they can bring an excellent UX methodology and strategy to the board. They bridge the gap between your users and product and help to boost the quality & desirability of your product. Also, they avoid silly design errors and rare mistakes. No doubt, it is a good idea to hire a website design agency to enhance the user experience.
But hunting the right one for your business is a bit difficult these days. So, in this blog, we will share some essential tips that you should consider while hiring a UX design company:
UX design agency should have collections of elegant and functional designs
While hiring a UX design agency, businesses must look at their design works. Great design is not only about having an elegant website layout. When it comes to a website or mobile app, great design means having all the essential functions in the application or website. Must look at the agency's past and current projects, which helps you to get an idea about their way of designing.

If the business is eyeing a design company, it should research about the firm's past and current projects. See how functional the designs are and determine if these are in tune with the business's overall theme.
Analyze their Technical Knowledge
Analyze how they conduct user research and usability testing and their UX methodology. It is also essential to consider time, potential audience, and the mode.
User research should be consists of buyer personas, customer drives, and information architecture. Well, if we asked any UX companies, "Are they agile?" Their answer will be definite. They will speak of being agile and up-to-date. But, it is crucial to evaluate how they transform those ideas into reality and how they execute and sustainably achieve them.
It is also vital to check whether they have updated UX design tools and adequate development support or not. UX design is an iterative process. Thus, there should have enough visibility from their part in all phases of the product life-cycle.
UX Agency should have Strong Reputation
Another quality that you should look for while hiring a UX design agency is assessing the company's past work of the organization. By evaluating the previous work, you can get the idea of their ability and also whether they have experience in your specific industry or not. To investigate different cross-industry use cases will help you in determining the depth of their practice.
An agency with a good reputation can improve your decision-making. Also, check out the company's ratings and reviews that they get from their clients. Make sure the UX Company you hire is well-reputed and can be well-fit with your organizational culture.
To summarize, it is necessary to check these things in hiring a UX design agency:
• Experience Team
• More than six years of working experience
• Company stability
• Well set up infrastructure
Conclusion
Choosing the right UX design partner is a crucial part of the digital strategy for any business. Companies must have diverse skill-sets and years of experiences in different projects so that the know-how to find answers to tricky problems.
Before you hire the UX/UI design agency, keep the above characteristics in mind and pick the best one. Mobulous is a well-reputed mobile and web app development company and has a team of professional and experienced UX/UI designers and web and app developers.
Our skilled designers and developers have a unique and exceptional approach to the art of web site design. We provide a full range of custom programming services for companies that want to take their business to the new heights. If you are looking for website and app development agency for your business project, then get in touch with Mobulous.
Read Also:
Mobulous Ranked Top #1 in the List of Most Promising App Development Company – 2019 by Appfutura Review
Services Provided by Mobulous to satisfy entrepreneurs, enterprises, & startups needs
Top 3 Questions to Ask when outsourcing app vendor