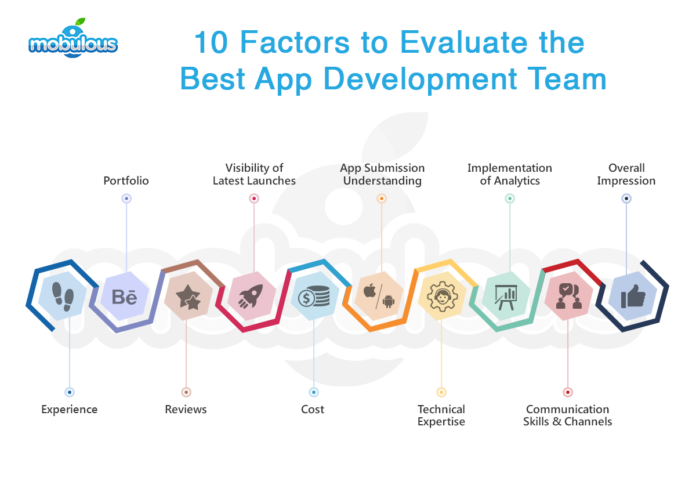 Hire top mobile app development company
hire top mobile app development company
Here is how to shortlist and hire the Best App Development Team.
10 Factors to evaluate the best app development team.
Core Shortlisting factors ( hire top mobile app development company)
Experience : Time is a big factor and can be easily understood as base to quantify some discussion in terms of experience.
2. Portfolio : As the word describes itself, Portfolio , of any IT Company can tell a lot about potential, strength,quality etc
3.  Reviews : Reviews empowers clients to share their opinions and experiences, which certainly helps in building a trust factor between you and your new development partner.
4. Visibility of Latest Launches :  It is very important to know that what is the visibility of company's latest launches
5. Cost :  When it comes to mobile app development it is important you get a great product, cheapest has never been the best anyways
6. App Submission understanding :  It is important to ask the company what their policy is for app store submission, how they handle client's app release.
7. Technical Expertise :  Technical expertise is crucial to ensure the company you choose build the actual features and functionality that you want in your app
7. Analytics Implementation :  The importance of analytics is in delivering user insights, audience targeting, and marketing automation
8. Communication Skills and Channels :  Communication between the client and app development team plays a major role in the success of the project
9. Visibility : Overall impression is based on the social internet visibility of the company
Extras as a benefit : Communication with Director or CEO or VP
Here watch the complete Video ( hire top mobile app development company)
Mobile Application Development Company
Know more about Top Mobile App Development Company Mobulous
Still Confused.? Get in Touch with our Sales Team   : sales@mobulous.com