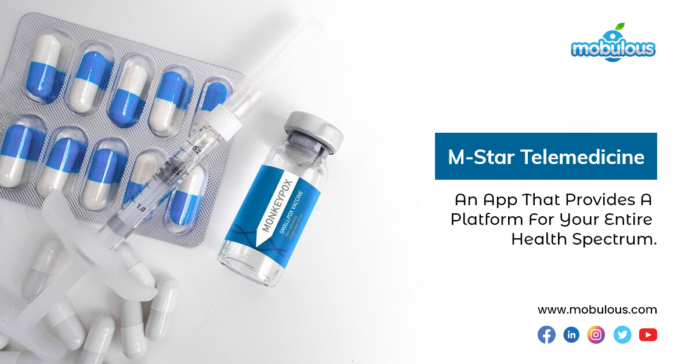 Mobulous keeps creating exciting and new mobile apps for users to provide them great ease. Recently, the team of Mobulous has created a healthcare app, 'M-Star Telemedicine,' for one of their reputed clients 'Hitachi group'. The app is fantastic and beneficial for both patients and healthcare owners. If you are a healthcare owner or doctor, the 'M-Star Telemedicine app is something you want. Our team has integrated numerous advanced and beneficial features into this app.
So, do you want to know more about our newly launched app, "M-Star Telemedicine," powered by Hitachi Group? If yes, then do read our blog. We have mentioned everything about our app in this blog.
Before we let you know about our newly launched app, you must know the latest stats about the healthcare app development-
According to Meticulous Research, the worldwide telemedicine market is expected to reach USD 12,105.2 million in 2023 after expanding at a CAGR of 23.0% from 2018 to 2023.
In 2014, the market for telemedicine technology was estimated to be worth $17.8 billion. From 2014 to 2022, it is expected to increase at a CAGR of 18.4%.
By 2022, there will be approximately 27 million online consultations in the US.
Nine out of ten healthcare executives questioned by Foley & Lardner LLP claim that their companies have already started creating or implementing telemedicine programs.
Let's Know About M-Star Telemedicine App
M-Star Telemedicine is a telemedicine application that connects patients with physicians, medical professionals, and hospitals. The app is a complete healthcare platform created to offer customers telemedicine support around-the-clock.
It makes sense that it is a blessing for those patients who reside in remote areas and cannot obtain the necessary medications.
Users of the app can quickly schedule an appointment and have their medications delivered to their homes without even needing to go out. The app's main objective is to connect people needing medical care with healthcare providers in various locations who can provide medical services. The app is intended as a healthcare ecosystem component where users can access multiple specialty specialists in a single area.
Moreover, the app has numerous exciting features.
Significant Highlights of the M-Star Telemedicine App-
The M-Star telemedicine app supports the following situations:
1) The patient can contact a doctor on their own.
2) The patient can contact a doctor with the help of a nurse or other medical personnel.
3) The being consulted doctor may include a second specialist in the consultation.
Features of the M-Star Telemedicine App
As the best mobile app development company, we have integrated numerous exciting features into the app. Let's have a look:
Patient Registration & Login – The app allows users to log in quickly and register by adding their email or phone number.
Patient Profile – The user can edit their Profile by adding their bio, email, gender, address, phone number, etc.
Search Doctor/ Department – The users can easily search for the doctor they want with the filter.
Appointment Scheduling – The user can schedule their appointment with the doctor they want.
Live Consultation – Users can also take live consultations with their favorite doctors whenever they want.
Fill Medical Conditions – Users can fill out the medical form online.
Fill Vital Signs Measurements – Users can also fill in vital signs measurements such as Blood pressure, pulse rate, and temperature online.
Patient Queue Management – The feature helps users to easily connect with the doctor without needing to go out and stand in a long queue. The app is beneficial for healthcare centers, too, in managing the patient queue.
Audio/ Video consultation – The feature allows users to quickly get audio and video consultancy from the specialist they want.
E-Prescription – The user will get an e-prescription that they can preserve for a long.
Referral Management – The app manages the referral process quickly when patients are transitioned to the next step in their care.
View Health worker's Profile – The app allows users to check the health care worker's Profile before hiring them.
Family Member Healthcare Management – The app also manages the family member profile of the patient.
In-app, SMS, Email Notifications & Settings – The app will notify users about every latest update through SMS or notification.
Reports & Analytics – The app keeps all the reports and analytics of users.
EHR Management – An Electronic Health Record (EHR) is an electronic version of a patient's medical history. The app keeps all the records of a patient's medical history.
End-to-end encryption for health records – The app will keep all the patient's health records in one place.
How to install and use the app M-Star Telemedicine?
The app is available for both the users of Android and iOS platforms. You must follow some simple steps to install the M-Star Telemedicine app on your smartphone.
If you are an Android user, you need to check your Play Store, while if you are an iOS user, you need to check your App Store and search for the M-Star Telemedicine app.
Once you find the app, you need to click on the install button.
After installation, you need to wait for a few seconds.
Once the installation completes, you will find the app on your mobile.
Now, you can create your account and use the app service.
Final Words:
The m-Star Telemedicine app is one of our most popular healthcare apps. Our mobile app developers have given their complete dedication and efforts to develop the fantastic app. The app is robust, feature-rich, and easy to use. We tried to give our best to our respected clients 'Hitachi Group' with the app.
The app is already witnessing great downloads and ratings on the App Store and Play Store. You must contact our mobile app development company if you also want an app like M-Star Telemedicine. We have the world's best team who will understand your project requirements and give you the best mobile app development solutions.
App Available on: 
Google Play Store: https://play.google.com/store/apps/details?id=com.mstartelemedicine
Apple App Store: https://apps.apple.com/in/app/m-star-telemedicine/id1605949524
                Mail: sales@mobulous.com  Phone: +91-9650100411