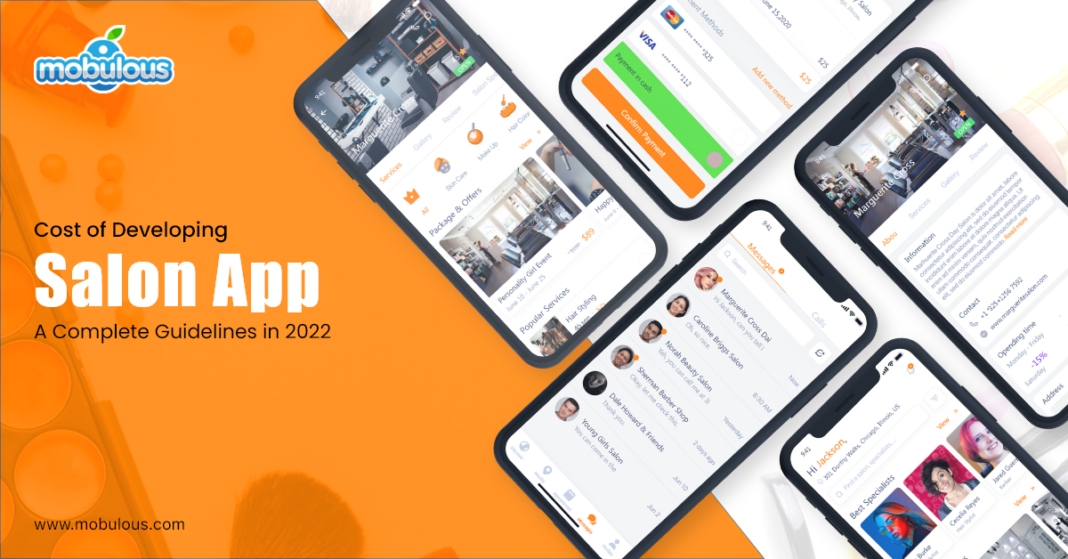 Spas and Salons are trending businesses, and developing a mobile salon app can be a boon to your business. They are no longer inferior in the list of growing industries. According to the report, the beauty industry is valued at $532 billion and is expected to reach higher in the coming years. Services like haircuts, eyebrows making, pedicures, manicures, and facials are demanding among customers.
As we all know, people spend so much time on social networking sites to get any service. Almost every solution is available online, from booking tickets to buying groceries to purchasing garments to get entertainment. When every business embraces mobile app development solutions to benefit, why not beauty and salon facilities? With the high demand for salon services, many beauty and hair salons have also started giving their services online with mobile apps. These apps help to allow the online presence of your spa and salon business, which can bring many customers directly to your store.
When businesses plan to develop a salon app, the first thing that hits their minds is the cost of developing a salon app. So, this blog will discuss the cost of Salon app development.
Salon App Development Market Stats and Revenue:
On-demand salon app is the trending topic in the market. As we discuss the cost of Salon app development, you must know its essential stats. So, here are some popular stats that will help you understand the trending demand for the Salon App-
According to Statista, the salon industry had a market value of $128.59 billion in 2017 and is projected to grow to $190 billion by 2024.
Global growth in the wellness and beauty sector is 5%. On the other hand, the Asian salon app industry has grown to almost $6.5 billion between 2015 and 2020.
The average annual cost for on-demand beauty treatments for women is $3756.
Between 2018 and 2025, the global market for hair spas is anticipated to grow at a CAGR of more than 5.80 percent.
The spa and beauty salon industry generated $128 million in sales globally in 2017, and the demand isn't going away soon.
Beauty services have entirely changed with the invention of the salon app. The stats we have mentioned above clearly show the importance of salon app development.
Before we discuss the cost of developing a salon app, Let's know some critical reasons why your beauty and salon business needs a mobile app:
* People want every service fast and without hassle in this modern era. They don't have time to make appointments by coming to your salon every time. So, the app helps you quickly book an appointment without coming to your salon.
* A mobile salon app helps you and your clients to communicate effectively and get the service at the proper time.
* Salon mobile apps help you to interact with a massive number of customers.
* Salon mobile apps help you to let you know about your best service, offers, and packages to your potential customers.
What essential features must you add to your salon apps in 2022? 
The cost of salon app development mainly depends on its features. So, Here are the following features you must add to your salon app development that will keep you ahead of the other online startups in 2022.
* Provide Users With The Shopping Experience
People love to buy beauty products from online stores. If you add beauty products of your salon, such as cream, shampoo, masks, and so on, to your online store, it increases massive attention to your store.
* Push Notifications
Push notification is an important feature that affects the cost of salon app development. It helps you connect with users as you can send notifications of special offers, deals, promotions, events, and relevant information directly to them. It also allows managing notifications across IOS, Android, Facebook, and other social networking sites.
* Price Listing of Services
Price listing of services is the most excellent way to be accurate and transparent with your customers. As we all know, it's a human tendency to check the price before buying any products. If you mention the price listing of your services in your app, the customer can quickly know about your service better, and they can compare the services and prices with other salon stores.
* Style Libraries
All the beautiful ladies are crazy about the latest fashion and trendy designs. They love to get the look of their favorite celebrities. If you add the style libraries feature to your app, ladies can surely prefer your service over any other salon and beauty service. You can also include new exciting features to your apps, such as haircuts of the week, styling tips, and many more.
* Cashless Mobile Payments
These days, people prefer to use a debit card, credit card, and Paytm instead of cash to get any service or products. They don't like to carry money with them. So, it's high time you understand the importance of cashless payments and include this feature in your salon app. This feature helps you get more customers. You can go for stripe, CC, avenue, and Braintree.
This is an advanced feature and will affect the cost of your salon app.
* Reviews and Ratings
According to the online salon and beauty service, people can provide salon owners with insightful ratings and comments.
It is an essential element that aids companies in establishing trust with potential customers.
Cost for Developing A Salon App in 2022-
While going for app development, the primary factor that people think of is the cost required to develop it. Developing a beauty salon mobile app will not take long. All you need to do is provide the required information and offer all the on-demand requirements. Some of the trending features that need to be in a beauty salon mobile app are Style Libraries, Appointment Reminders, Haircut of the week, Special Offers, and Mobile Reservations, which will boost business cost-effectively. Make sure that everything is placed in your salon app attractively and correctly so that you can get the attention of existing and new users.
Cost Milestones: 
* Project analysis & development
* Web App Development (Front end, backend, API, & salon panel)
* Android & iPhone Mobile App Development
* Design & UI Integration
* QA
So Keep everything in mind, consider all the above features, and make the best salon mobile app to take your salon business to the next level. Overall, the cost for developing a salon app will go around $10000 – $30000, depending on the platforms, the types, functionality, features, their party application, and the no. of complexities in the mobile app development.
The Salon App Development Cost based on Platform–
There are two platforms- Android and iOS. The costs of developing salon apps for both platforms are different.
 Process Involved in Android Salon App Development-
Market Analyse
Wireframing
Android App Designs
Testing
Support and Maintenance.
The iOS salon app development process is similar to Android salon app development. However, the cost of the iOS app development will be a little lower compared to the cost of the Android salon app.
You can use a cross-platform app development approach to develop apps on both platforms at an affordable price.
Types of Salon Apps That You Must Develop in 2022
Types of the app's choice also affect the cost of salon app development. You have various options when planning to develop a salon app. So here we are presenting some of the top salon apps that you can build in 2022-
* Booth Rental Hair Salon App
It is an excellent hair salon app that lets stylists rent out stations or spaces to give consumers salon services.
Additionally, it might make individual stylists feel more authoritative and expand the consumer base.
* Salon and Spa App
Salon and spa apps include a long list of services for users.
* In-home Salon App
The establishment of home salons is done by experts who hold valid cosmetologist licenses.
* Boutique Salon App
The boutique salon offers more than skincare, hair, and nail services. This salon also sells retail products, including handbags, jewelry, clothing, and other things.
The salon is set up as a combination barbershop and retail store.
* Specialty Salon App
These salons provide a variety of services. One can locate a specialized stylist if one wish to use a specific service.
Some of the Popular Salon Apps That Dominated The Market-
It is an on-demand beauty app that provides outstanding cosmetic services to your home.
In a nutshell, the Glam App links clients and beauticians.
The app offers a wide range of services, including blow-drying, minor gloss changes, and haircuts.
One of the most typical and well-liked on-demand beauty treatment applications is Glamsquad. You must first select your desired hairdo using Glamsquad before having a professional assigned to you.
You may pick the time, day, date, and location of the services' execution using the app.
Final thoughts
There are no services that can't be availed from an online app, and salon services are not an exception anymore. Since this is a growing sector, many business-minded people have laid their eyes on providing salon services at home via an app. And if we talk about the cost of developing a salon app, you must contact a mobile app development company in India.
We are a top mobile app development company that can build the best salon app for your startup or salon and spa business. We have top-skilled & dedicated mobile app developers that can make a salon app for your business.
For further information or queries related to mobile app development, consult our consultant team immediately. We will help you know the cost of salon app development for your business.