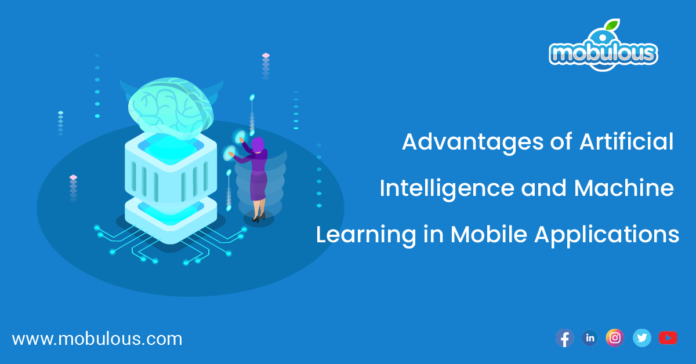 In today's era, mobile apps' presence is crucial for businesses to support their growth and continued market rivalry. Artificial Intelligence and Machine learning is advanced future technology that helps business to create robust, functional, and excellent mobile apps. With the arrival of AI and ML-driven apps, the mobile app industry has completely revolutionized. If you look around, you will find every user must have at least one or two applications with AI and ML features on their smartphones.
There is tremendous support for AI and ML everywhere, from viewing your favorite movies on live streaming applications to using different filters on your face in Snapchat, from asking Alexa to get something for you to find your soulmate on Tinder.
If we believe the report, there will be a sharp increase in the worldwide artificial intelligence software market over the next few years. Additionally, it is predicted that in 2025 it will bring in about 118.6 billion in income.
You will find numerous mobile app development companies that create the top mobile apps using AI and ML.
Let's Know the Advantages of Artificial Intelligence and Machine Learning in Businesses
AI and ML help in interpreting user behavior based on previous purchasing habits. You can modify your app to fit users' expectations and needs. This allows you to differentiate yourself from your rivals and advance your company.
Let's know more about how AI and ML can help your business-
Evidently, if you provide your target users with a customized experience, they will feel more comfortable using your mobile app. So, you must develop your mobile app with AI and ML technology to provide your user's a fantastic experience. With AI and ML, you can integrate chatbot features.
Enhancing the Experience of Search
AI has made browsing and searching super easy for users. It allows people to search using photos and substitute voice for text. You can find the use of these AI-based solutions on Google.
How to use: You must click a picture of a product using Google Lens, and it will provide you with all the information on that specific item.
It Allows You To Work For Long Periods Of Time Without Giving Up Efficiency
Various tasks, such as mining operations or fuel investigation, require more time to complete. With AI and ML technology, you can build intelligent robots that can be trained to work nonstop for extended periods.
As a result, you can work for long periods without giving up your efficiency.
Emotion recognition is one of the best and the most exciting benefit of AI for mobile app development right now. With advanced picture processing and auditory data interpretation, AI integration makes it possible to read human emotions. Voice intonation, nuanced speech signals, and facial cues can all be used to gather human sensations.
Businesses use AI to link with the most popular on-demand apps. For instance, users can view movies or listen to music that suits their mental health.
Some of The Top Examples of AI and ML-based Mobile Apps
Do you like using dog filters on Snapchat? Or you prefer to look, child. No wonder these filters are unique, and machine learning is required to apply them.
Siri has a natural language user interface and is based on speech queries.
This voice assistant powered by AI can place calls, send texts, respond to questions, and offer advice. Over time, Siri picks up language patterns, query patterns, and user expectations from its users.
Closing Thoughts
AI and ML will be crucial in boosting the growth rate of companies wishing to lead their industries.
From data preparation and scalable deployment through production, Mobulous Technologies assists you with your complete project. We are India's top app development company that provides end-to-end AI, ML, and Data Science services to various industries, including Finance, Gaming, Social Media, Health and Fitness, and many more. With the support of our AI and machine learning consulting, you can provide your users with a personalized user experience, automate your internal processes, and achieve solutions that will improve the way customers communicate with your product.
Connect with our app development company to level up your online business game!
FAQs Related to AI and ML
What Is AI?
The replication of human intelligence by robots that have been taught to act and think like people is known as artificial intelligence (AI).
How Does Machine Learning Work?
AI systems can learn from their past performance through machine learning, eliminating the need for explicit programming.
Developing computer programs that can access data and utilize it to learn on their own is the aim of machine learning.
Why Should AI and ML Be Included In Mobile Apps?
Here are the reasons for including AI and ML in mobile apps-
 Including AI and ML in mobile apps can reduce threat perceptions and vulnerabilities.
AI and ML allow the app to monitor irregularities and anomalies in user behavior, improving the user experience.
Visit Mobulous for AI & ML Development Services
Mail
: sales@mobulous.com    Phone
: +91-9650100411