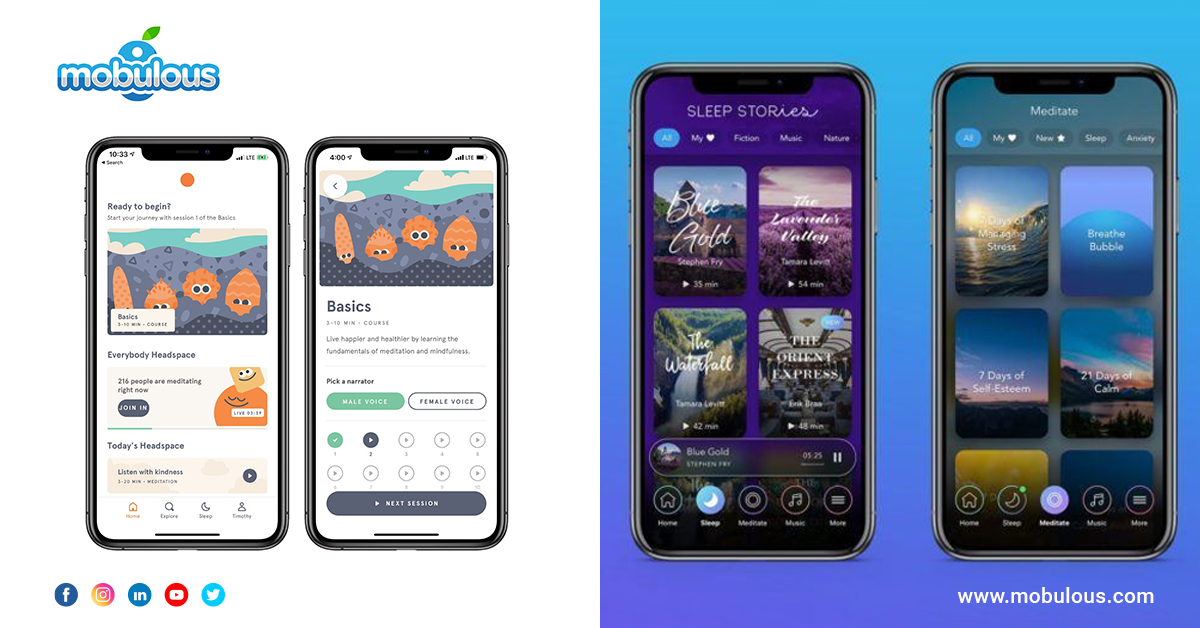 Do you want to create a meditation app like Headspace or Calm? Do you eager to know the list of features that you must include in your meditation app? If yes, then this article is for you.
Market Statistics Related to Meditation Apps, Services & Trends
According to the report, the U.S. market of meditation apps is worth 1.21 billion, and it is supposed to be worth two billion by the year 2022. Another report by The National Centre for Complementary and Integrative Health (NCCIH) states that in the U.S., approximately 18 million adults are using meditation apps to get a peaceful mind and health. App Annie's report states that Calm is one of the highest-earning health & fitness apps on iOS that made $4million by May 2020. Another app, Headspace, has proved its mettle with its annual revenue exceeding $100 million. This shows that the success rate of self-care apps is pretty high.
Types of meditation apps
There are numerous types of meditation apps available in the market. Some entrepreneurs create meditation apps for specific tasks, while others merge various apps in one product. For instance, allowing both meditation and yoga in one app.
Breathe meditation app
Walking meditation app
Best meditation app for beginners
Weight loss meditation app
Best guided sleep meditation app
Meditation music app
Mental health tracker app
Yoga app
Some of the most popular apps, including Calm, Headspace, Sanvello (former Pacifica), or Buddhify, integrate functionality from different meditation apps to get many users.
What are the Top Features that you must Include in Your Meditation App?
Think about adding the following features while developing an app like Headspace and Calm:
• Log in or sign up
Users should allow to register themselves via mobile number, email ID, and social media. Additionally, you can enable users to select from numerous social media accounts such as Facebook, Instagram, Twitter, and Google, etc.  Make sure to provide users with a short registration page and a fast login procedure.
• Customized user profile
Users should allow creating their profile on your app, where they can easily see all their activities.
• Introductory Course
To create a meditation app like Headspace or Calm, you need to provide your target users with a free introductory course and describe the ways of using your service to enhance all 'users' meditation practice. For instance, the Headspace app offers its users a free introductory course of a lesson.
• Push Notification
Push notification is a great feature that helps you to connect with all users by keeping them informed. You can inform users to visit the meditation sessions, send reminders that it's time for meditating and report on different types of promotions, and many more.
• Favourite playlists
There are a specific group of people for whom some tracks will work better than others. Make sure to allow users to bookmark or like tracks to come back to them when the need arises.
• App localization
Your meditation app should include a localization feature. The app content must be in different languages so that they can get the content in their local languages. For instance, you can allow users to get the content in six different languages, including English, German, and Spanish.
• Meditation library
You must provide users with a meditation library that includes hundreds or even thousands of meditation sessions.
Additional Features for a Meditation App
• Chat support
You must allow users with a chat support feature so if users have any queries, they can ask them from your app. You can implement chat support in the form of Chatbot.
• Stories
The stories feature has proved useful for many apps. These days, stories are used in apps such as education, fitness, and wellness. You can also include this feature in your app to encourage your users to share their success stories.
Final Words
The meditation app market has numerous applications of different quality and size. Meanwhile, Calm and Headspace are among the most popular apps for the digital meditation industry. In this article, we've discussed the features for a meditation app MVP and additional functionality you might consider to attract a considerable number of customers.
To make your meditation app successful, you must focus on design and marketing. You also need to promote your app on different social apps such as Facebook, Instagram, and so on. Suppose you want to save money on development and allocate it to marketing. In that case, we suggest you hire the top mobile app development company to a location where it will cost less with providing the best quality.
If you want to create your meditation app, don't hesitate to contact the team of Mobulous. At Mobulous, we specialize in healthcare and wellness applications. Contact us right now for a detailed estimate.
Read Also:
Mobulous – How are we working to mitigate the impact of the Coronavirus?
Services Provided by Mobulous to satisfy entrepreneurs, enterprises, & startups needs
Top 3 Questions to Ask when outsourcing app vendor