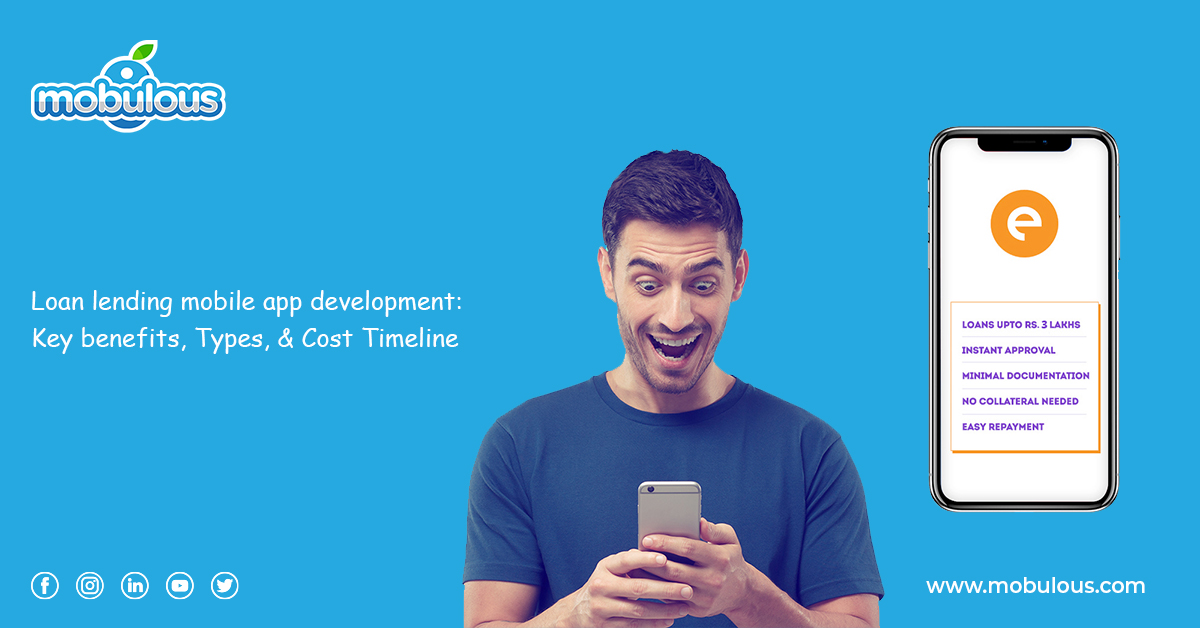 These days, getting a loan is not a challenging task because of the advanced tech. With the arrival of the loan lending mobile app, users can easily borrow money from any bank at an interest rate that has been fixed by them. These apps allow users to see different banks' interest rates to compare the best suits' interest rates. These apps work just like a credit card that will enable them to get an instant loan. These apps save a great time for users as they don't need to go to the banks, stand in the queue and talk to the bank official over the counter to get the loan. To get the service, Users need to install these apps and register themselves on them. After that, they need to check their eligibility and add their personal and bank details.
Types of loan lending mobile apps
There are numerous loan lending mobile apps as the requirement of each person is different. Some of the common types of loan lending mobile apps are as follows:
Student loans
Personal loans
Start-up or small business loans
Mortgages or home loans
Car loans
Apart from all these loans, there are apps that provide personal loans to users whenever they require. There are some other apps that can be categorized based on lenders. There are three types of entities, including P2P (peer to peer) lending applications, Banks and other financial institutions, and Credit unions that provide loans via these apps.
How can loan lending mobile apps help businesses and customers?
There are numerous benefits of a loan lending mobile app for both businesses and customers. Some of the key benefits are as follows:
• Loan application: The loan lending mobile apps minimize the workload of loan applications. The app allows users to create a loan application in the most straightforward way to impress the lenders to get a loan from them quickly.
• Discreet procedure: With the help of loan lending mobile apps, users can find lenders without hindrances.
• Application management: Loan lending mobile apps allow borrowers to manage all their applications and track their loan status.
• Numerous loan options: Numerous types of loans such as money lending apps, personal loans, and payday loans are available in the app. Different users require a different loan, and these apps make sure to looks after their users very carefully.
• More security: The app provides excellent protection to the users. The app allows to create a strong password and keep their account confidential. Moreover, these apps use an encrypted route to keep all the transactions and data safe. It allows lenders to go through the borrowers' profiles to know if they are safe or not.
• Easy browsing: The app allows lenders to go through all the loan applications smoothly to select the borrower that suits their bill.
• Messaging: The app allows lenders and borrowers to discuss their terms of the transaction.
• Confidently: Some users don't want to disclose the reason for their loans. The app allows them an option of privacy and confidently to keep their loan reason private.
Why should users download and use your money lending app?
There are some significant attributes that you must consider while creating a loan lending mobile app to make your app a hit among the users. like: 
• Less paperwork: Loan mobile apps allow users to do every work on the phone so, it automatically reduces the workload of paperwork and fastens the whole process.
• Security and Safety: With Loan mobile apps, borrowers and lenders can keep all the necessary information safe and sound.
How much does it cost to create a loan lending mobile app?
Numerous factors affect the cost of mobile app development. Some of the top factors include app features, app design, app platform, app development region, time taken to develop the app, and many more. The rate varies according to the different area in context, like:
Southern America $15-$75 per hour
Northern America $25-$50 per hour
Western Europe $50-$200 per hour
Eastern Europe $20-$200 per hour
Australia $40-$170 per hour
Asia $10-$50 per hour.
Final words
The loan lending mobile apps are doing impressively well these days, and with a shortage of these apps, there is an excellent opportunity for start-ups to invest their money in it. To create an excellent mobile app for loan lending, you will require a team of professional mobile app developers and designers. Numerous mobile app development companies are available to create mobile apps. However, Mobulous is regarded as one of the top leading mobile app development companies worldwide that provides the world's best mobile app development service. If you have any queries regarding loan lending mobile app development, feel free to contact us.
Read Also:
Mobulous – How are we working to mitigate the impact of the Coronavirus?
Services Provided by Mobulous to satisfy entrepreneurs, enterprises, & startups needs
Top 3 Questions to Ask when outsourcing app vendor