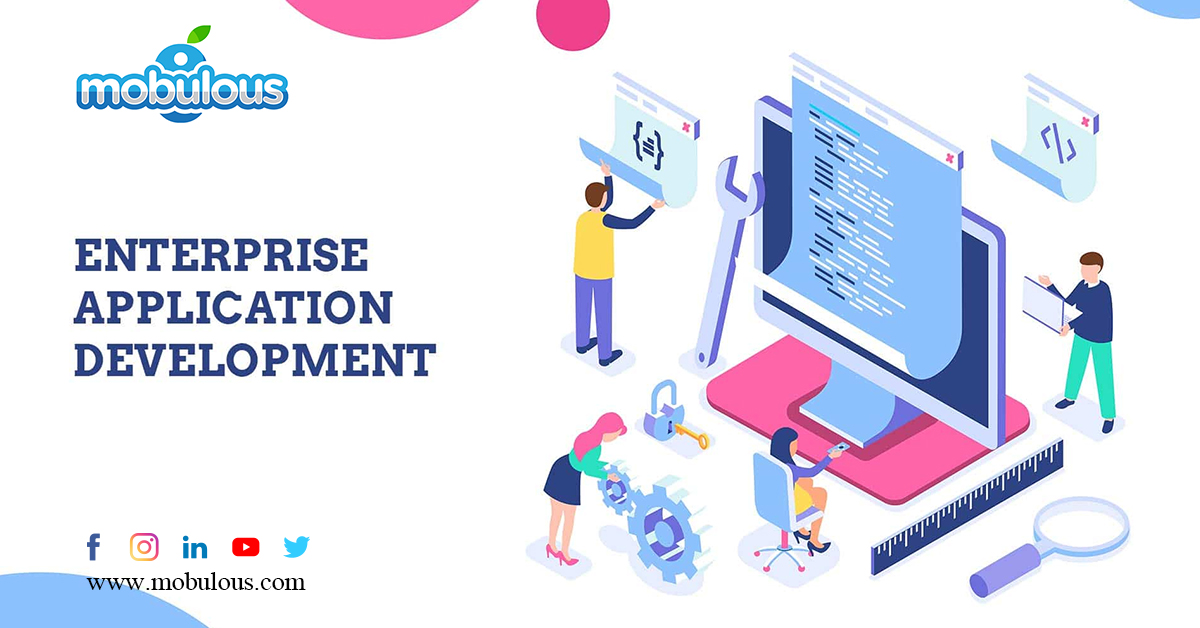 These days, the mobility app has changed the way we learn, shop, work and make decisions. From e-commerce and social media apps to productivity and business apps to consumer apps, mobile apps provide us immediate access.
According to Strategy Analytics, the mobile workforce worldwide is expected to reach 1.87 billion people by 2022. The boost shall directly account for 42.5% of the workforce around the world. Using the right mobility solution in this scenario will determine future competition between the companies. With the right mobile enterprise solutions, companies can increase employee productivity and lessen processing expenses. However, if companies do not use the right solution, there are high chances that the opposite happens, which leads to hampering work efficiency and is, therefore, counterproductive.
It is essential to design an enterprise mobility app that streamlines the organization's process flow and maximizes functionality.
Enterprise Mobility App
Here are the top enterprise features that will help you boost employee engagement in your business:
Amazing User Experience
An enterprise mobile application company must provide an intuitive experience to the users. Not only should it focus on enhancing functionality but also focus on offering the best user experience.
To improve the user experience, you can include features such as offline functionality, in-app notification, and so on. Moreover, you can provide multiplatform support to improve the user experience.
Messaging Service
These days, the Messaging service in an enterprise mobility app is essential. If you create your app with a fully-functional chat feature then, it would be a wise decision. The chat feature in an enterprise mobility app allows the employees to communicate with each other instantly, no matter wherever they are. This feature also contributes to increasing company security.
Event-driven Approach
According to Gartner's report, the event-driven approach and architecture will be the main differentiator that will fuel digital business transformation in 2020. The event-driven approach mainly focuses on providing solutions that can fulfill the organization's objective by ensuring rapid response to specific events. By including an event-driven approach feature in the enterprise app, businesses would provide real-time solutions and leverage dynamic opportunities to their best. No wonder having the ability to take immediate action and act according to the latest market forces makes an enterprise mobile app a precious asset for any organization.
Cloud Storage
These days, organizations are investing a considerable amount of money in cloud storage solutions. If we believe the latest industry survey report, then the cloud storage expense will increase six times more than the expense of IT in the same period. These stats clearly show that the enterprise is serious about cloud storage. If you include a cloud storage feature in the enterprise mobility app, it would be wise. The organization always looks for a solution that can provide critical business data to their executives, decision-makers, managers, etc.
Hence, developers must keep cloud storage capability features on their minds while creating an enterprise mobility app.
Automation of Processes
Automation is considered the main factor behind the adoption of enterprise mobility in the core process by organizations. With the enterprise mobility app, organizations want to streamline their operations in the minimum human intervention and cost. As we can see, the usage of devices in the enterprise domain is increasing each year. The growth clearly shows that organizations must adopt an enterprise mobility app to improve automation and better efficiency processes. Hence, adding process automation process capability must be kept in the developers' minds while creating an enterprise mobility app.
Smart And Strong Support
There is a great need for an enterprise mobility app to have an AI-backed support system for stakeholders to get assistance around the clock. This feature is essential for the enterprise mobility app to stay in the long run in the organization. We have numerous examples that showcase the importance of smart and robust support for a mobile app's success. Some of the examples include Google Allo, Ozlo, Sherpa, and many more. All these apps leveraged the potential of great AI to provide users the ability to get the solutions to their problems with minimum hassle.
Final Words
Enterprise apps are quickly becoming an essential part of businesses of all sizes all across the globe. As mentioned above, the features can help you create enterprise mobility apps that help businesses improve employee engagement, streamline business operations, positively impact business efficiency, and accelerate an organization's long-term growth.
Feel free to contact Mobulous, India, to create a fully-feature enterprise mobility app. We offer highly innovative enterprise solutions to keep you ahead of the competition.
Read Also:
Mobulous – How are we working to mitigate the impact of the Coronavirus?
Services Provided by Mobulous to satisfy entrepreneurs, enterprises, & startups needs
Top 3 Questions to Ask when outsourcing app vendor