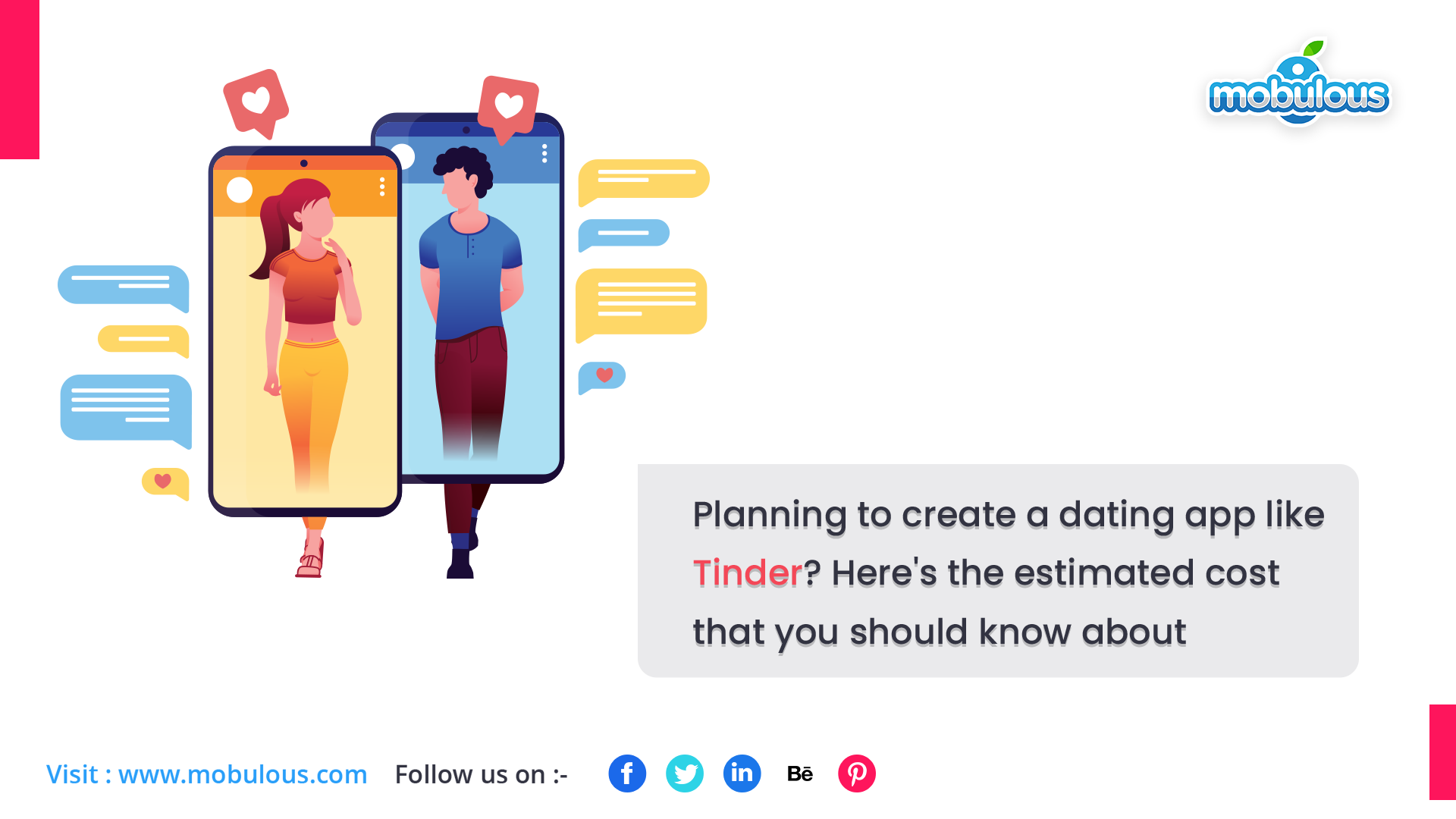 The online dating market is flooded with lots of apps, and it still continuously evolving. No wonder a dating app is one of the most romantic ways to get money. With a dating app, you are getting fame and money and helping people find their perfect partner. If we talk about the dating app Tinder, it is one of the most successful apps worldwide. The app matches one user to others based on their geographic closeness. It works on a simple interface that allows users to swipe right or left.
If you are ready to create an app like Tinder and eager to know how much it cost to create an app like Tinder, this article is for you.
Tinder's whooping success stats 2020
By 2014, Tinder was processing one billion swipes per day, and recently it has risen to 1.6 billion.
Approximately 5.9 million Tinder subscribers pay for a premium Tinder Plus and Tinder Gold.
 According to Nielson, more than 50% of active Tinder users are active at 9 pm.
Recently, Tinder apps are available in 190 countries and are in 40 different languages.
Approximately 70 percent of college students have never met up with their matches with the tinder apps.
Pros of creating dating apps:
Always high demand: There is a tremendous demand for dating apps like Tinder. In this busy world, many of us find it challenging to make a new acquaintance. A dating app is a great way to meet new people without hassle.
Helping people get happy: A dating app helps people to seek their happiness, fall in love and provides them the immense happiness.
Different ways of earning: A dating app provides you a great way to earn money. With a dating app, you can get numerous ways of monetization. Each of the monetization methods has its benefits.
Growth Opportunities: With dating apps, you always get the opportunity to grow. You can always improve your app by improving the matching mechanisms and allowing users numerous exciting features.
Cons of creating dating apps:
A large number of robust competitors: One of the most significant disadvantages of creating a dating app is that it has many strong competitors. You have to think of the most innovative ways to attract the attention of the users.
Security issues: In dating apps, people often worried about the security of their data. So, you have to put your best to protect the account of the users.
A challenging task: A dating app is not that easy to create. You have to hire a professional team of app developers or designers.
Dating app types
Geolocation technology: These days, most dating apps mainly depend on the location of the users. One of the great examples is Tinder that works with the Geolocation of the users. No wonder one of the top reasons behind this type of app's popularity is to provide the opportunity to find your match just beside your location.
The matching system: These apps are mainly created as per the interest of the users. These apps search for a perfect soulmate by selecting profiles with similar personal data. For instance, the eHarmony app.
The group's selection: These dating apps select a group of some specific people by their common criterion. For instance, The League, The Grade, and so on.
The mobile version of classic dating sites: These dating apps are for those who want a traditional way to the dating service and don't prefer any change. For instance, the OkCupid dating app.
How much does it cost to create a dating app like Tinder?
The cost to create a dating app mainly depends on its types, features and functionalities, location, development team, and so on. However, the primary Android or IOS app may cost you around $50,000-$55,000. If you want to create apps for both of the major platforms, including Android and IOS, your budget may exceed $100,000. We calculated the price based on an average hourly rate in Eastern Europe (Ukraine) — $50/h.
Basically, on average, an iOS platform requires 2,255 hours, and an android platform 2,271 hours.
If you are eager to create a dating app like Tinder and looking for a best mobile app development company, do not hesitate to contact us at Mobulous, India. We have substantial expertise in creating numerous apps, including social media, lifestye, and many more. Moreover, we provide you with the best expert's consulting and a personalized estimate of a project.
Read Also:
Spotting nearest beach is now effortless with BeachSpot!
Mobile App Development: Helping You to Make Your Business Easy – Mobulous
Get in Touch with our Sales Team: sales@mobulous.com