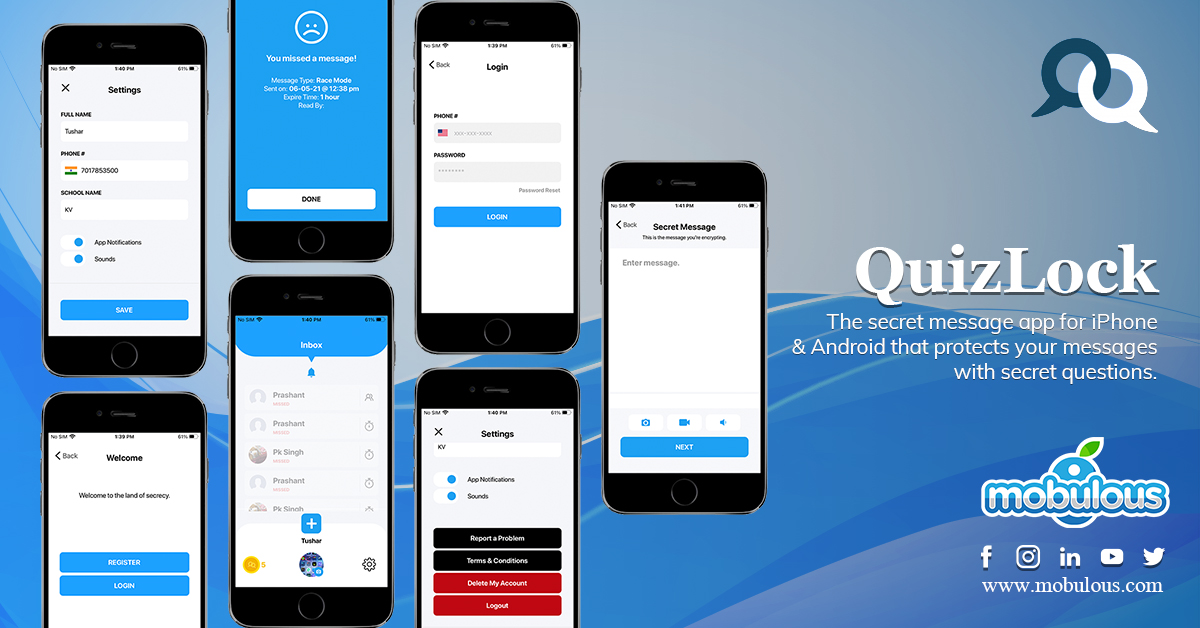 As we know, mobile technology is ruling over everyone's life and has become a necessity. Whether you want to buy groceries and book online tickets to communicate with friends and get entertainment, there are mobile apps for almost everything. Needless to say, mobile apps are so much in demand because of the convenience and ease it provides to users.
If we talk about messaging apps, numerous mobile apps allow you to communicate with your close ones. These days, secret messaging is so much in trend and the talk of the hour as it keeps your conversation safe from prying eyes. So, if you are looking for a messaging app that can allow you to send a secret message with some more exciting features, you are in the right place. Recently, Mobulous, a top mobile app development company, has created a secret messaging app, 'QuizLock,' for one of their clients. The app has an eye-catching mobile app UI design with numerous exciting features. Let's know everything about the 'QuizLock' app:
About 'QuizLock'
 Do you want to send a secret text message that is entirely private and can only be viewed by the person you send the message to? QuizLock is a fun messaging app with lots of unique features. With the help of this app, you can send secret text messages that are encoded and encrypted and can only be decoded if the recipient person knows the answer to your *secret question*. Basically, you're quizzing your loved ones and family members before they're enabled to view your secured secret message. For instance, your secret question could be, "what's my favorite dish to eat?". If the person knows the correct answer, then only they can read your secret message. If they can't answer this question correctly, they will not be able to read it, and therefore, they might lose the chance to read the secret message you sent the person to.
But the fun doesn't stop there. You can also integrate attachments such as a photo, short video, or audio clip with your secret message. Moreover, you can also send messages to multiple people at once and use the exciting feature RACE-MODE, which only allows one of your friends to decode your secret message before it's removed permanently.
Top Key features that we have integrated into the 'QuizLock' App:
Easy Registration 
Quizlock app has an easy registration feature for its users. The app allows users to enter into the app by adding some of their details such as name, phone number, email, etc.
Moreover, users can also integrate their social media accounts such as Facebook, Instagram, Twitter, and so on to login into the app.
Secret Inbox 
The app has a secret inbox feature for users. All the messages that the users sent or came from their friends stored in these secret inboxes. Users can see the messages whenever they want.
Protect your message with a secret question and answer 
One exciting feature about 'QuizLock' is that users can protect their message with a secret question and answer. The app allows users to send secret messages that can only be opened if the recipient knows the answer to their *secret question*.
For instance, Your secret question could be, 'What's my favorite hobby?' If the receiver knows the answer, they can open your message and vice-versa.
Make Message Self-destruct 
Another exciting feature in 'Quizlock' is the make message self-destruct feature. With this feature, users can delete or remove the message whenever they want. Generally, the messages are automatically destroyed in 5 days, but users can change them as per their choice.
Send a message to multiple people using Race Mode 
Race mode is a unique feature for users looking for some fun in their messaging app. With this feature, users can send messages to multiple people and decide who to read their message. There are three modes available for users in the app:
# Who gets to read the message?
# All recipients can read the message.
# Only the first one to decode the messages is allowed to read the message.
Among these three modes, users can select any of the modes for their message as per their choice and send messages to multiple people.
Push Notifications 

Push Notification is considered one of the essential features of an on-demand app. 'QuizLock' also has a push notification feature that updates users about everything regarding their message.
Final words:
No wonder, QuizLock is an excellent messaging app that allows users a unique way of delivering messages to their friends & family. The team is planning to launch additional exciting features soon to make the user experience even better.
If you also have such a fantastic app idea in your mind, you must not wait. Contact Mobulous right now and build your dream app. At Mobulous, we cater mobile app development services to businesses of all sizes – from startups to established enterprises! Mobulous provides top-notch services in both Android chat app development & iOS chat app development and can turn your vision into a reality.
For any queries related to mobile app development, reach out to us. We will be happy to help you!