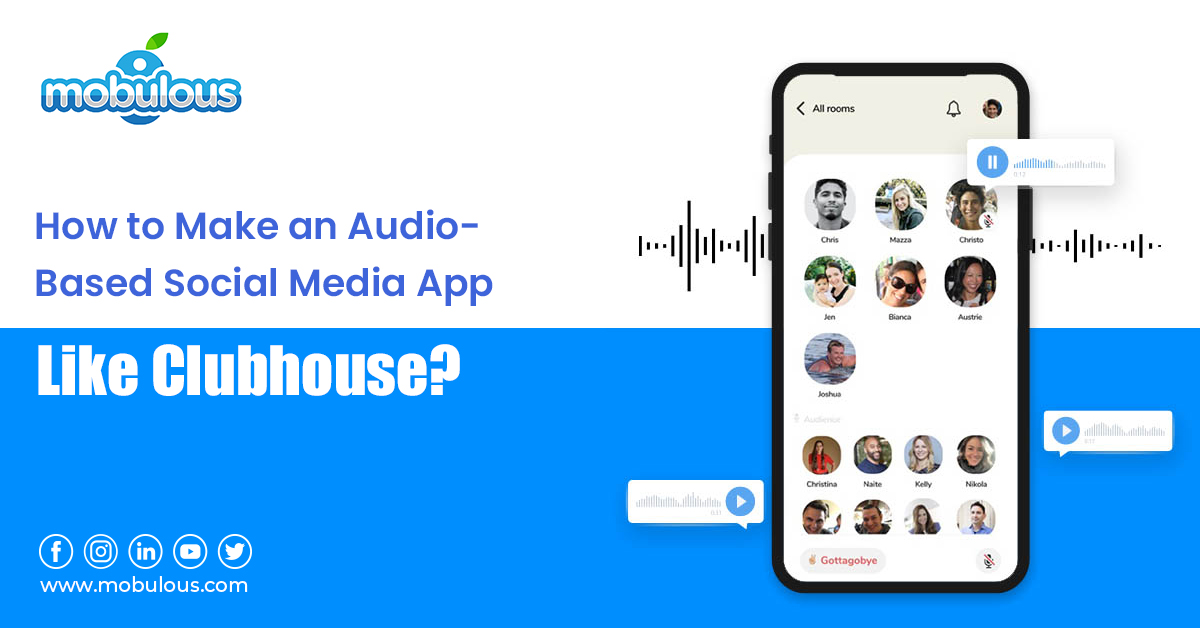 The world is consumed by numerous social media apps such as Facebook, Instagram, Twitter, and the latest sensation, Clubhouse, an invite-only audio app developed by Paul Davison and Rohan Seth. The app has achieved adoring height in the tech world. Within less than a year, the app has crossed around 11 million downloads already. If we believe the report, Twitter, a popular social media app, wants to buy Clubhouse for $4 billion. Owners of some of the popular apps such as Facebook, LinkedIn, Spotify, and others are now planning to launch similar audio chat features into their products.
What is the Clubhouse app about?
The Clubhouse is an audio-chat social networking app launched at the starting of April 2020 by Paul Davison and Rohan Seth. Recently, it is available for IOS devices only. The app allows people to communicate only by voice.
It doesn't cater to a specific group of people. It allows users to participate in a discussion on nearly any topic by creating spaces or connecting them with others in a meeting hall.
Did You Know These Facts About Clubhouse?
Let's know some of the fantastic facts about the app like Clubhouse:
There are around 180 enterprises, and venture capitalists have invested in Clubhouse.
With its $1 billion in valuation, Clubhouse has touched as a Unicorn startup, joining Airbnb and Uber's ranks.
The Clubhouse app has around 2 million weekly active users.
According to the report, Clubhouse currently has 10 million total users. Initially, in May 2020, the platform had around 1,500 users. Later, in January 2021, the platform had 2M users. The growth is whopping and heartening.
Some of the Notable Features To Develop an App like Clubhouse
The user profile includes all the information they want to share with others. If you want to catch the users' attention to your app, you must include a profile customization feature.
If users wish to customize their profile image, bio, username, or anything else, they must have complete control over their profile.
One of the essential features of a social media app is the Activity feed. Clubhouse's activity feed doesn't bombard users with lengthy reels of content. On the activity feed, users can mostly see the activities of those who followed them and events that are happening or going to happen.
The club's feature is similar to the Facebook app group feature. Users can quickly join the club and find people with the same mindset.
Allowing customers with an increased degree of protection and security is essential to ensure the success of the social media app. Ensure users that their data is safe on the app. This feature will help you gain your users' trust and build a healthy relationship with them.
An app like Clubhouse allows users to search for the people they want to follow or browse topics they are interested in.
The live video stream feature has taken the social media network world by storm ever since its creation. With this feature, users can stream live content via their network to celebrate an event and share ideas.
Make sure to include this feature in your app to increase user engagement.
Stories are another essential feature that you can't afford to miss. Stories are something that users post for their followers. The story is available for 24 hours.
Like any other social media apps, Clubhouse also has a push notification feature. This feature will make your app more attractive and valuable. With this feature, you can send announcements and updates to the users.
For instance, when someone you follow creates a new room, the app will invite them to view it. If you launch a stream, the app will automatically send a notification to all the subscribers.
How Much Will It Cost to Develop a Social Networking App Like Clubhouse?
The cost of audio-based chat apps depends on numerous factors such as the features of the app, the complexity of the app, the design of the app, the hourly rate of your development team, technology stack, number of the team manager on the project, time frame, and so on.
As per rough estimation, creating a feature-rich app as Clubhouse will cost between $15,000 to $250,000. Moreover, the cost of creating an app can vary from business to business and according to the operating system.
Final Words
In the digital era, social media is a unique world with a strong user base. From a business point of view, the market potential of social media is enormous and attractive for entrepreneurs. Investing in online audio chats is a feasible and viable business idea.
Are you planning to create an audio-based app like Clubhouse? Contact the team of Mobulous. We are one of the best mobile app development companies equipped with a talented pool of developers.
Read Also:
Mobulous – How are we working to mitigate the impact of the Coronavirus?
Services Provided by Mobulous to satisfy entrepreneurs, enterprises, & startups needs
Top 3 Questions to Ask when outsourcing app vendor