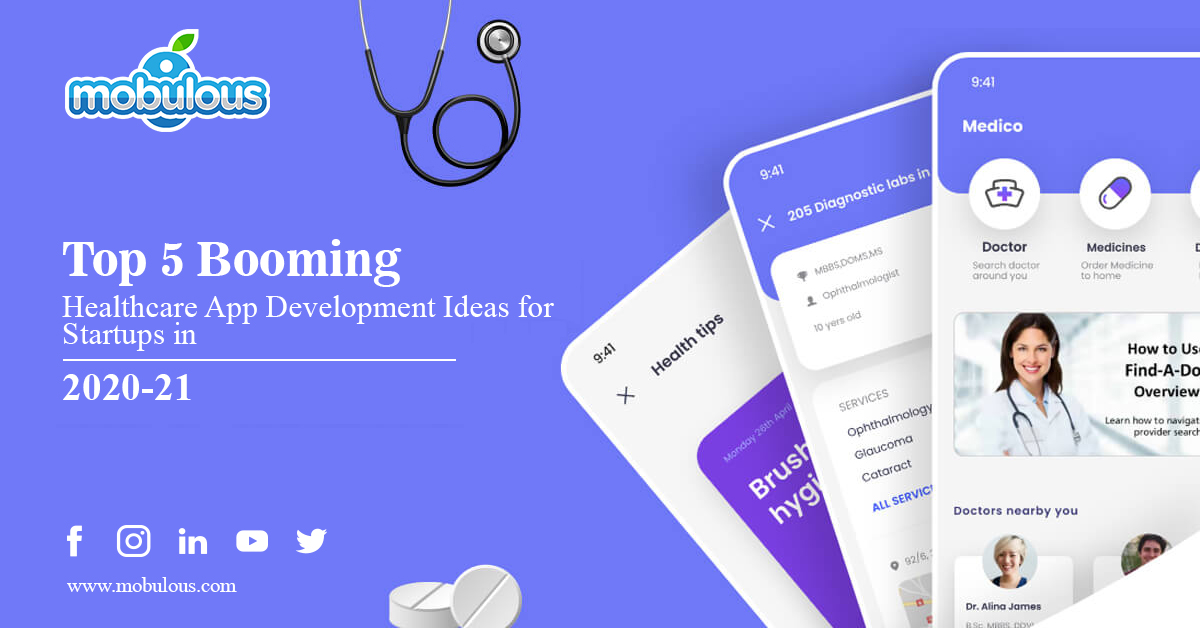 In the modern era, technology has drastically changed the way of our lives. The advent of mobile apps has allowed numerous businesses to interact with their target audience smoothly and conveniently.
Businesses worldwide, including the healthcare sector, have been using numerous mobile applications to provide their services. Healthcare mobile apps are in great demand as they ease getting various digital health services in a few seconds. All users need to download the app, create your profile, search for a medical professional, and get a consultation. According to the report, the mobile medical applications' market will increase by over $11 billion by 2025.
The current situation of the COVID-19 pandemic is also a great reason behind the demand for numerous healthcare apps worldwide. No wonder there is an excellent opportunity for startups to create their healthcare apps.
Some healthcare app ideas you can consider for your startups in 2020-21
Fitness Tracker App
You can create a fitness tracker app that can help people to keep track of their fitness levels. With the help of numerous technologies such as AI, ML, AR, and many more, you can allow users to connect the app with wearable devices. Moreover, this app can help people monitor their heart rate, blood pressure, and so on.
Doctor Consultation Apps
What if someone gets a headache or stomach ache in the middle of the night? Well, an untimely health issue can be too tough to handle.
In that case, an on-demand doctor solution app is the best solution for users. Users can log in at any time whenever they require the help of a doctor. These apps allow numerous facilities, including live video chat with certified doctors and physicians.
According to the report, the Doctor on Demand application received funding of $74 million. Another report suggests that the telemedicine market is sure to have a value above $175 billion by the end of 2026. So, no wonder, doctor consultation app is the perfect healthcare app development idea for the startups.
Diet Planner App
A diet planner app is considered as one of the famous healthcare app development ideas for startups. These apps help people to get a customized diet plan according to their body types and fitness goals. All the users need to do is select the type of diet they want to use, their common fitness goals, and the app will provide them with a proper diet plan. You can provide additional features such as facilities to consult with the top nutritionists to make your app stand out from your competitor apps.
Medical Records App
Medical records apps are essential for both doctors and patients. These healthcare app ideas can play a significant role in the medical system. With the help of these apps, users can gather all their essential health data. If users want to make an appointment with the doctor, they can easily share all the data with the doctor. This can help a significant time of users and allows doctors to make a quick decision. For instance, Healthspek is a PHR application that records everything related to its health.
Hence, a medical record app is one of the best ideas for healthcare app development for startups.
Mental Health App
These days, people face several mental issues such as depression, PTSD (Post Traumatic Stress Disorder), stress, anxiety, and many more due to hectic lifestyle and busy schedules. According to the report, 300 million people worldwide are suffering from mental issues. If you plan to create a mobile application to provide treatment for mental health problems, it would be a wise decision. These apps can help people to search for a mental healthcare professional and get a consultation.
Do you want to launch a healthcare startup?
These are some of the top healthcare app development ideas for your startups. If you plan to create a new telemedicine app, you need to analyze these application ideas linked to the medical sector closely.
There are numerous factors you need to consider while creating a healthcare app.
Here are some of the following essential elements you need to look at to create a healthcare app carefully:
Idea validation
Designing
Market evaluation
Mockup (wireframing)
Quality check
Testing
At Mobulous, we have a dedicated team of developers and designers that make sure the app is HIPAA (Health Insurance Portability and Accountability Act) Complaint. Contact us now for creating a fully-featured app based on any of these healthcare startups' ideas. We are always there to bring your vision of healthcare startup to life.
Read Also:
Mobulous – How are we working to mitigate the impact of the Coronavirus?
Healthcare mobile app development UAE | My doctor is LIVE | Mobulous
Healthcare app development: Importance of top healthcare apps among hospitals
Aspects to keep in mind for Healthcare app development – Mobulous
Access Our UI Healthcare Case Studies: 
Get in Touch with our Sales Team: sales@mobulous.com