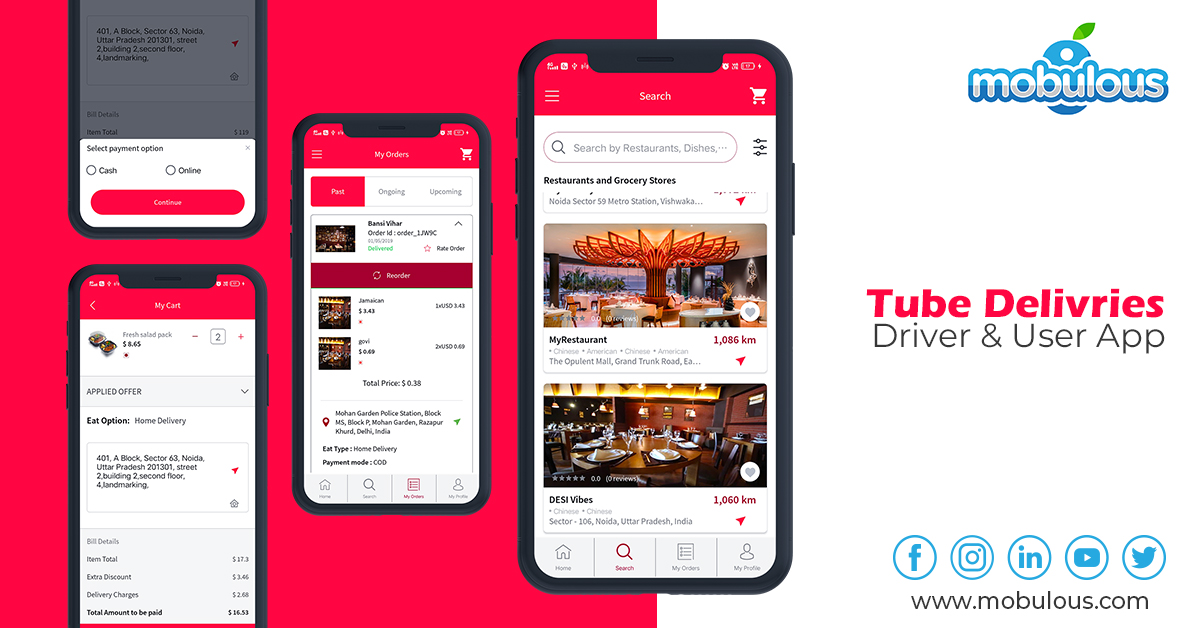 As we all know, Mobulous, India, always develops exciting and unique mobile apps for their clients. Our team has recently created a stunning on-demand food & grocery delivery app' Tube Deliveries" for one of our clients. We have putten our best to create the app in such a way that it can provide complete user satisfaction.
Introduction
These days, food delivery apps are the new favorite of the people. The ease food delivery app offers to the people who don't want to make food after a hectic day makes it more loved than any other apps. "Tube Deliveries app." is one of the food delivery app created by Mobulous, India. With the Tube Deliveries app, users can Enjoy safe, contactless delivery. The app helps you buy groceries, meat, and all your favorite baked goods from the grocery platform. The app also delivers food to your doorstep. Suppose you want a home-cooked meal, local delicious street food, unique cuisine, or just a quick breakfast. All you need to do is choose from the kitchens near you, and the food will get delivered to you. The app has a great design and easy to use.
Benefits of on-demand "Tube deliveries" app
With the app, you can Order your food quickly and Safely.
The app provides you numerous exciting Promotions and Discounts.
If you Don'tDon't feel like cooking dinner, you can easily order a home-cooked meal for your family and get quick delivery.
With the app, you can find all the recipes and shop for the recipe.
With a single tap on the app, you can Re-order your previous items and foods too.
You don't need to wait in a long queue to get the app's essential grocery items.
Features of on-demand "Tube 'deliveries" app(Customer Panel Side)
* Registration and creating a profile
This is a first step feature when you open your app. In the registration and profile management feature, you need to enter your email or phone number and create a password. You can log in through your social media account, such as Facebook, in this app.
In profile management, you can easily edit your profile and customize the setting and preferences.
* Search and find food quickly
After logging and profile customization, you can search and find nearby restaurants and cuisine organized by location. With this feature, you can find grocery items and everything you want to eat.
All you have to do is to look through these lists to find the recommendations of all the restaurants catering to the specific list.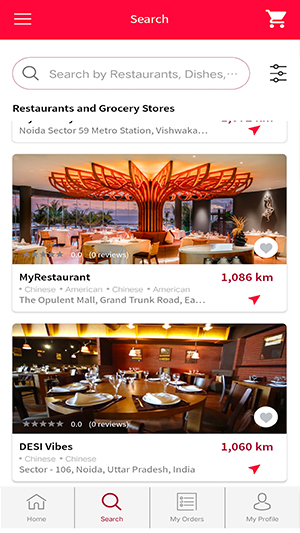 * Checking the restaurant profile
With this feature, you can quickly look at the restaurant profile. You can see the restaurant, its location, what kind of food they deliver, and their pricing.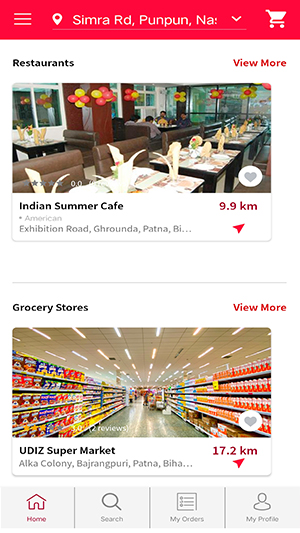 * Add to the cart
With this feature, you can add all the food items on the cart and place the order in one go.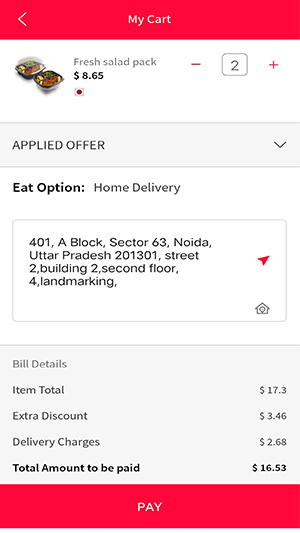 * Schedule the order
With this feature, you can order the food whenever you want the food to be delivered. This feature is one of the convenient food ordering app features.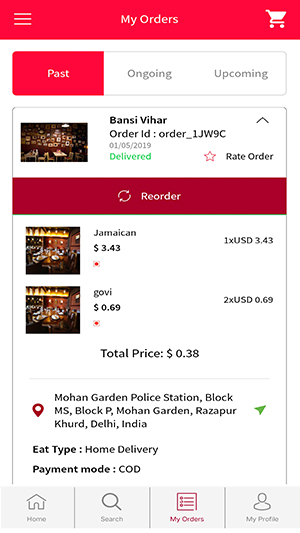 * Delivery person's contact info
This feature provides you with the contact information of the delivery person. With this feature, you can quickly contact the delivery person and know where they are and how long you have to wait to deliver.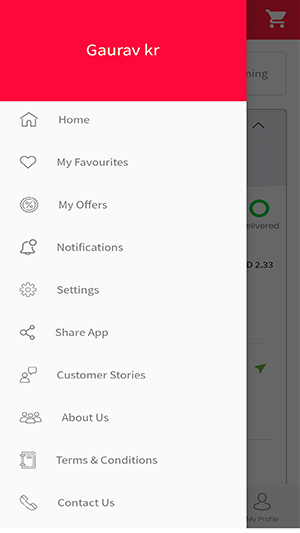 * Easy to pay
This feature includes multiple payment options for ease of payment. You can pay through any payment method such as PayPal or Stripe, or cash on delivery as per your convenience.
* Order history
This feature helps you to see your previous orders. This feature helps you place the same order without searching and picking the restaurants and foods repeatedly. Additionally, if you choose to pay online, then the payment information is safe and secure.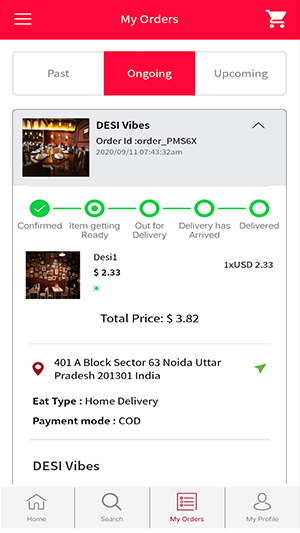 * Rating and reviewing the food
This feature allows you to rate and review all the different restaurant and their cuisine. You can help other users to know how good each restaurant is and whether they should order from there or not.
Features of on-demand "Tube deliveries" app (Driver Panel Side)
* Registering And Editing The Profile
Like the customer panel, the registration feature is available for the tube delivery app's courier or delivery side. With this feature, the delivery personnel can be verified by the restaurant or the food delivery service. The delivery person needs to complete the registration and verification process with all the required details. After verifications, the drivers can start receiving orders and delivering them.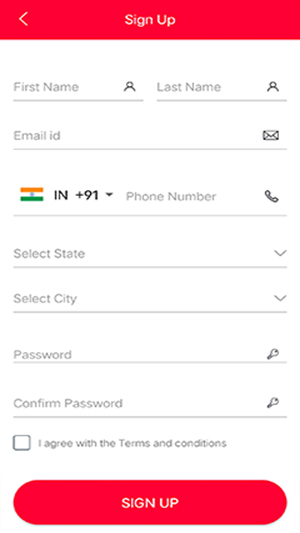 * Managing orders
With this feature, the delivery person can easily manage all the orders. They can see if they have any request or not, and also they can accept and reject the request from this feature.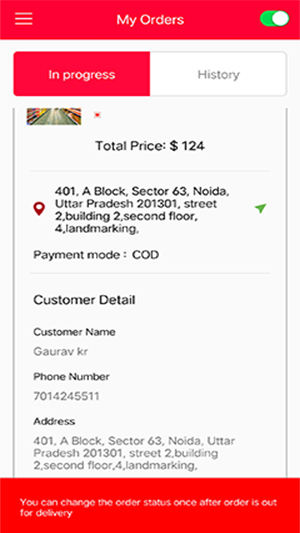 * Navigation and GPS tracking
With this feature, the delivery person can find the delivery location quickly. This feature helps them to find a way of the location and deliver the food at the right time to the customer.
* Status update
With this feature, the delivery person can update the status of the delivery. After the update, the status of a specific order such as in progress, delivered, delayed, etc., the customer would get a notification about it.
* Wallet feature
The wallet feature helps the delivery person manage the payment and commissions they get from the app and the restaurant. This feature allows them to check the wallet and know how much money is left, and withdraw money whenever they want.
* Delivery history
With this feature, the delivery person can easily see all the previous deliveries and payment information. These features help them keep track of their deliveries and know how much payment they get from each delivery.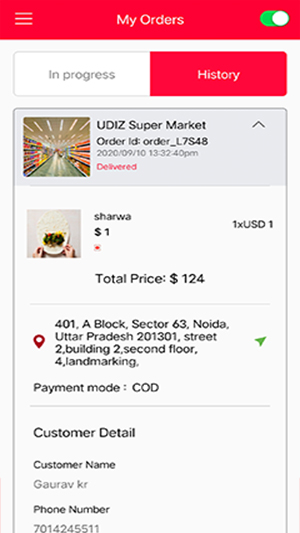 Some popular stats about food & grocery delivery app in 2020 that you must know:
The third-party food delivery market, which includes the delivery of both restaurant meals and groceries, is expected to reach $24.5 billion by 2022
According to the report, Approximately 52 percent of customers use specific restaurant apps for ordering.
According to the National Restaurant News, Digital ordering and delivery have grown 300% faster than dine-in traffic since 2014.
According to AdAge, The number of food delivery app downloads is up 380 percent compared to three years ago.
Approximately 86 percent of restaurant consumers are using off-site delivery services at least monthly.
So, the statistics mentioned above about the on-demand food delivery app clearly states that there is a great demand for food delivery apps all across the globe. No wonder creating a food delivery app for an online food ordering platform would be a great way to increase sales in business. If you own a restaurant or just a third-party, the right food delivery app can work as a miracle for you. A fully-featured food delivery app can help you achieve enormous success in less time.
So, What are you waiting for?
If you are looking to create a food & grocery delivery app, don't wait for anyone. Contact best mobile app development service company Mobulous, India, as soon as possible. We are one of the top leading mobile app development companies creating numerous on-demand apps on various domains such as grocery, travel, entertainment, and many more.
Live Links:
User App:
iOS User Link: https://apps.apple.com/us/app/tube-deliveries/id1533218181
Android User Link: https://play.google.com/store/apps/details?id=com.TUBEDELIVERIES
Driver App:
Android Driver link: https://play.google.com/store/apps/details?id=com.TubeDeliveriesDriverModule
Access TubeDeliveries App's UI Case Study: Coming Soon
Get in Touch with our Sales Team for Similar or innovative App Development Enquiry: sales@mobulous.com