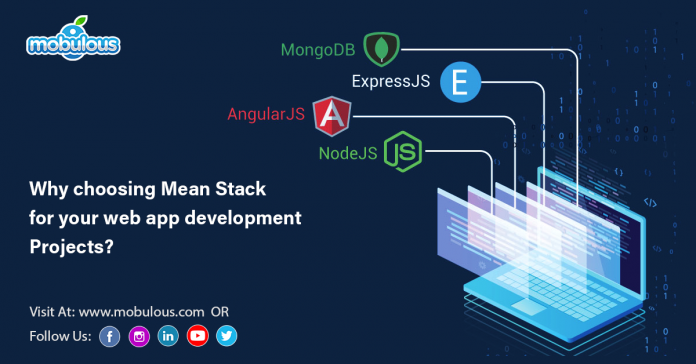 There are no. of apps available in the market, and this no. is increasing growing fastly. And, people are embracing mobile apps in their day-to-day life. This is the reason why mobile app development is becoming a profitable career option. We all know, the technology market is dynamic and changing now and then. And it becomes difficult for mobile app development companies to select a flexible and ideal framework. And this is why most app developers are choosing Mean stack for app development when it comes to selecting a framework.
What is Mean Stack?
Overviews
The mean stack is a complete JavaScript software that is used by developers to make an application and dynamic websites. Mean stack is one of the leading-edge technology, and the software development companies are considering lots of techniques in MEAN to increase the eminence in applications and web development projects. Almost every developer prefers to mean stack as it uses single language JavaScript. And, as you know, JavaScript runs on every platform, application, and operating system that is great and easy for developers. It is beneficial for both new startup business and well-established business.
It provides service to the next level with diverse and fast-paced work. It is supposed to be the best and the most effective approach to the web developer.
In Mean, the letter's' indicates to MongoDB, the letter 'E' indicates to express.js, the message 'A' suggests to angular js, and the letter 'N' Indicates to Nodes.js.
Here are the advantages of the mean stack for web app development:
Mean stack is budget-friendly for both the client as well as the developer.
Mean Stack is a complete JavaScript; hence, it's beneficial for both client and developer.
Mean stack let you enable to setup middleware to react to HTTP requests.
Mean stack offers advanced features such as user-friendly UI, scalability, and much more that deliver development super-fast.
With the help of Mean Stack, you can now transfer the code more easily to another framework which is written in one particular frame.
Now let's see why you should choose mean stack?
Increased flexibility and performance: Mean stack is flexible and works on a JavaScript framework that is transcendent to handle projects of all sizes of companies and enterprises. It provides your company with a competitive advantage that helps in better flexibility and increased team efficiency.
Budget-friendly: Mean stack development method is much more budget-friendly than any other stack development as its framework is full-stack. In large scale companies, they don't need to hire any other specialist for their web development work. It enables you to extensive code sharing and reuses within the stack.
Common language: Mean stack is one of the widely used platforms, and the most important and beneficial feature is that it uses a common language for both client-side and server-side as all. The technologies are written in JavaScript. All of your company members talk in the same style, so they don't get any difficulty to communicate with each other. When we speak about another stack like LAMP, then we will see the LAMP architecture is not written to work together to form a full-stack solution.
Free and open-source: Mean stack provides you free and open source technology for your work. The best benefit of free and open-source technology is that you get any development or version upgrades in the way of contributions done by a large community of developers.
JSON feature: Mean stack has the availability of JSON, and it is supposed to be one of the greatest assets on board as it helps in seamless distribution of the data. If the developer has to choose either MongoDB or AngularJS, then this feature can help them to save their time and efforts both as you don't need to write the codes again.
Conclusion
The MEAN stack is the top solution for your web app development project, and with the help of Mean stack, you can also create a sophisticated according to your needs and requirements.
Also, there are lots of advantage of using MEAN stacks such as versatility, consistent language, scalability, easy implementation, and a user-friendly user interface. Due to its excellent advantages, this is the reason why it is gaining popularity and reputation software in the market. It is also a cost-effective solution for app development agencies.
Read Also:
Mobulous Ranked Top #1 in the List of Most Promising App Development Company – 2019 by Appfutura Review
Services Provided by Mobulous to satisfy entrepreneurs, enterprises, & startups needs
Top 3 Questions to Ask when outsourcing app vendor