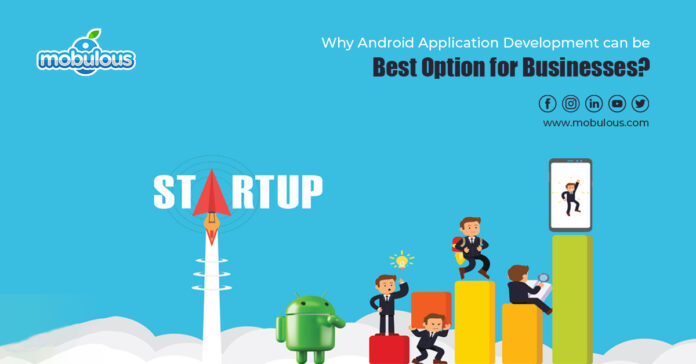 Mobile application's popularity over the past few years has increased significantly across the globe.
Also, day after day the usage of smartphones is increasing and thus there is a lot of scopes when it comes to mobile applications.
Thus, it is important that you hire the best mobile app developers.
In recent years, a lot of businesses are using mobile apps as a part of their business strategy to tap into a larg0e section of the audience.
Thus, the mobile app is used for a number of purposes which include shopping, entertainment, booking movie tickets, daily planning, etc.
So, for businesses, it is important to have an app especially based on Android as it can serve a number of purposes.
The reason is that android based apps can offer enormous operational & strategic benefits to enterprises.
This is the reason that some of the top mobile app development companies such as Mobulous technologies use android based platforms.
So, in this blog, we would talk about why android application development can be best for businesses.
Let us kickstart:-
Why android application development should be used?
The android-based platform shares about 87% market of the mobile app development companies. Hence, it certainly has a lot of scopes.
Moreover, a business can create an android app with great functionalities & features.
The best part is that such applications can be developed without spending a lot of money.
Hence, irrespective of the size of the business, you can certainly take leverage of android based applications.
Some of the advantages have been explained below:-
The user base for android based applications is a lot more and thus you get a great opportunity in an environment that is competitive.
Thus, a lot of visitors can be attracted to your application which can easily be converted to potential customers.
So, if you want your business app to be successful, then you should match the requirement as per the target audience.
It can target multiple platforms
You should keep in mind that android app development is not just restricted to android.
Rather, it can be used to target a number of different platforms as well.
Moreover, Java as a language makes it easy to port an app to different operating systems such as Ubuntu, Blackberry, Symbian, etc.
This is the reason a number of businesses use Android development as it can easily operate on a number of platforms.
A lot of developers & businesses come up with android apps due to the fact that it is an open-source platform.
Hence, you won't have to pay any kind of fees to google.
Other than this, it has a rich collection of SDK libraries that you can use in your app without paying licensing fees.
The best part is that it doesn't have any barriers when it comes to entering into the market of mobile app development.
As mentioned above, Android is an open-source platform and thus it offers a number of customization options.
Thus, android apps are a lot more diverse as compared to different operating systems.
Hence, all your marketing requirements can easily be fulfilled.
It is seen that mobile users tend to spend 90% of their free time while using their favorite mobile application.
Hence, the android platform is perhaps one of the best places to publicize your application.
Other than this, people rely on apps for a number of reasons which include making purchases, comparing prices, finding directions, and a number of other purposes as well.
Thus, making an android based app certainly makes a lot of sense.
One of the advantages of android app development is that Android SDK is easily available.
Hence, developers use these SDKs such that interactive apps can be built.
Other than this, developers need to pay just one-time registration fees and thus the companies can expect a high return on investment.
Faster scalability & deployment
When it comes to versatility & scalability, then android apps can easily get integrated with the complete Android ecosystem.
This includes tablets, smartphones, Android TV, and wearables.
Another benefit is that the Android app is easily compatible with emerging technologies such as AR, VR, IoT to name a few.
Hence, dynamic mobile applications can be built which can easily service a number of purposes.
Final verdict
All businesses irrespective of the size need an android application in order to scale up.
Thus, to stand out among the competitors, you need an app with having an excellent interface, clean coding, and actionable analytics.
Also, above are some of the advantages of android app development and it can help to target a specific range of audiences.
So, if you want an android application that can match the business process of your company, then you should definitely hire an experienced company such as Mobulous technologies.
Further, we ensure that you won't be disappointed by our services.
Read Also:
Top 12 Mobile App Development Tips for 2021 that Boost Your Business Growth
Three Types of Mobile Apps: Choosing The Best Option for your Business App?
How Do Mobile Apps Help Your Online Business To Grow
iContractor Windows: An App To Easily Purchase Windows of your choice.
Get in Touch with our Sales Team: sales@mobulous.com