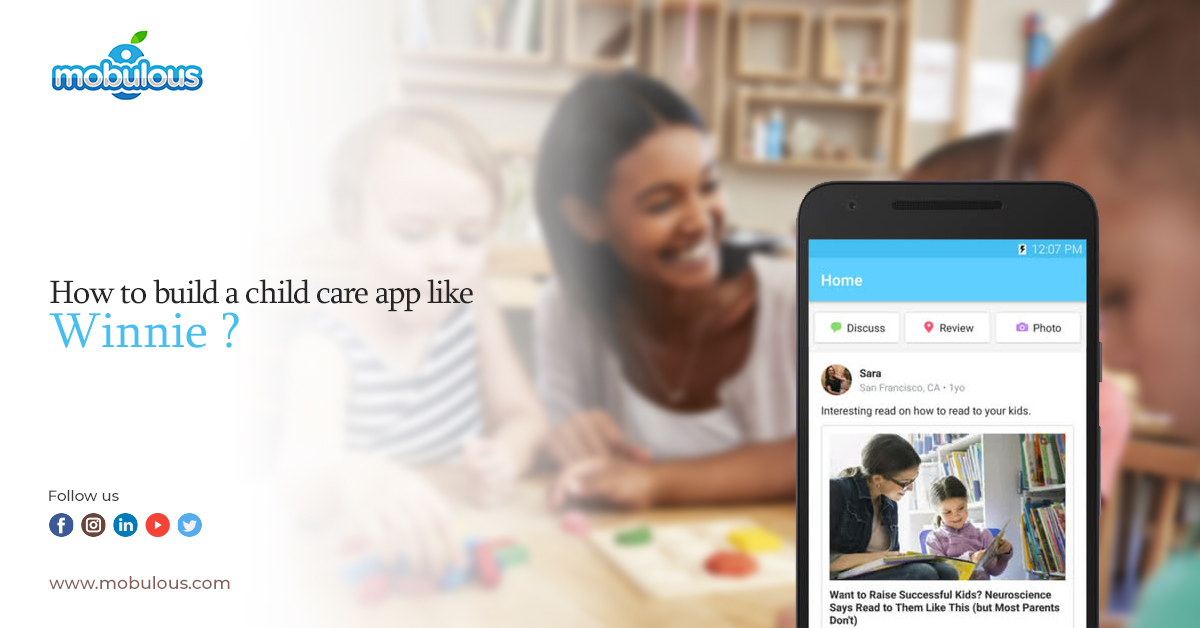 Are you looking to create a child care app like Winnie? What is the essential feature that you must include in the child care app? If you are a childcare consultancy or a professional caregiver and plan to enter the online app world, this article is for you.
We all know the importance of child care. It's indeed not an easy task to provide their kids with proper education and safety in the modern era. There are many difficulties the parents face, such as getting affordable childcare centers, tracking the child's progress, trusted babysitters, and many more.
These days, the number of working parents is continually increasing so, the demand for creating childcare app also increases. According to the reports of Statista, the child day-care services will amount to approximately 49.2 billion U.S. Dollars by 2023. These stats show that if you want to develop your business and make such revenue, the online app world is the best alternative for your caregiving services.
Stats about Winnie – Showing the demand of childcare app
As we believe, stats speak louder than words. So, here we have some stats about popular childcare app Winnie that you must know:
According to Winnie's website page, they officially claim to serve over 4 million users in 7,000 U.S. cities, growing 15 percent month over month.
Winnie has now raised a total of $15.5 million, according to Crunchbase.
 Winnie has raised $9 million in a Series a round.
Features to include in a childcare app
The childcare app must have the feature to pay the fees via online payment method without actually going to banks. This will helps parents to save a lot of their precious time as well as energy. They need not disturb their busy schedule to pay the fee.
Record learning observations:
Another feature that the childcare must have is that it updates parents about the latest happenings in school. This feature helps parents to know about their child's performance.
Moreover, this feature helps teachers track the child's performance as they can record the achievements and outcomes of the child get through the learning observation module.
A.I. Chatbox integration:
The childcare app must have smart A.I. chatbot integration features. This feature is beneficial for the parents who want to know about their child's progress, information related to school activity, solution for their behavioral patterns, or so on. This smart A.I. chatbot allows users to communicate with expert 24/7. According to the report, more than 80% of chat sessions could be resolved by a chatbot.
How much do the best childcare apps cost?
Here, we have the following stages of app making that you need to consider in a price sheet:
Development– The first stage is the development that requires three months-period. The price varies according to the needs and features you want to include in the app.
Here is the list of the development prices by countries:
In the USA, the average price ranges between 150$-250$/hr.
In Europe, developers usually charge approximately 70$/hr.
Here, is a list of Eastern Europe, price list for design services are as follows:
$50-250/hour and up – The United States
$35-170/hour – Western Europe + UK
$25-150/hour – Eastern Europe
$10-80/hour – Asia
Marketing and advertising Cost
This part is so essential for your app. This helps to engage the users' attention and make your app different from the others. To make your app different from the rest, give a 6-8th-month try for an effective marketing campaign.
Take a look at the promotion costs for an app to make it to the top 25 across the world: average development price number is 35$-40$/hr.
Asian average app development prices vary from 25-30$.
Discuss Your Childcare App Idea with Mobulous – A leading App Development Company
Here in this article, we share some of the top lessons that you need to know if you are to create an on-demand childcare app like Winnie. All these lessons will help you to create a successful childcare app like Winnie.
If you have any questions regarding the childcare app, you can contact Mobulous mobile app development company, India.
We are one of the top leading mobile app development company with a team of professional app developers and designers. Our team follows a very systematic mobile app development process steps. We are a highly committed development team that aims to provide you with the best experience possible. Our team has already developed more than 40+ on-demand solutions successfully for SMEs and large enterprises.
Read Also:
Mobulous – How are we working to mitigate the impact of the Coronavirus?
Services Provided by Mobulous to satisfy entrepreneurs, enterprises, & startups needs
Top 3 Questions to Ask when outsourcing app vendor