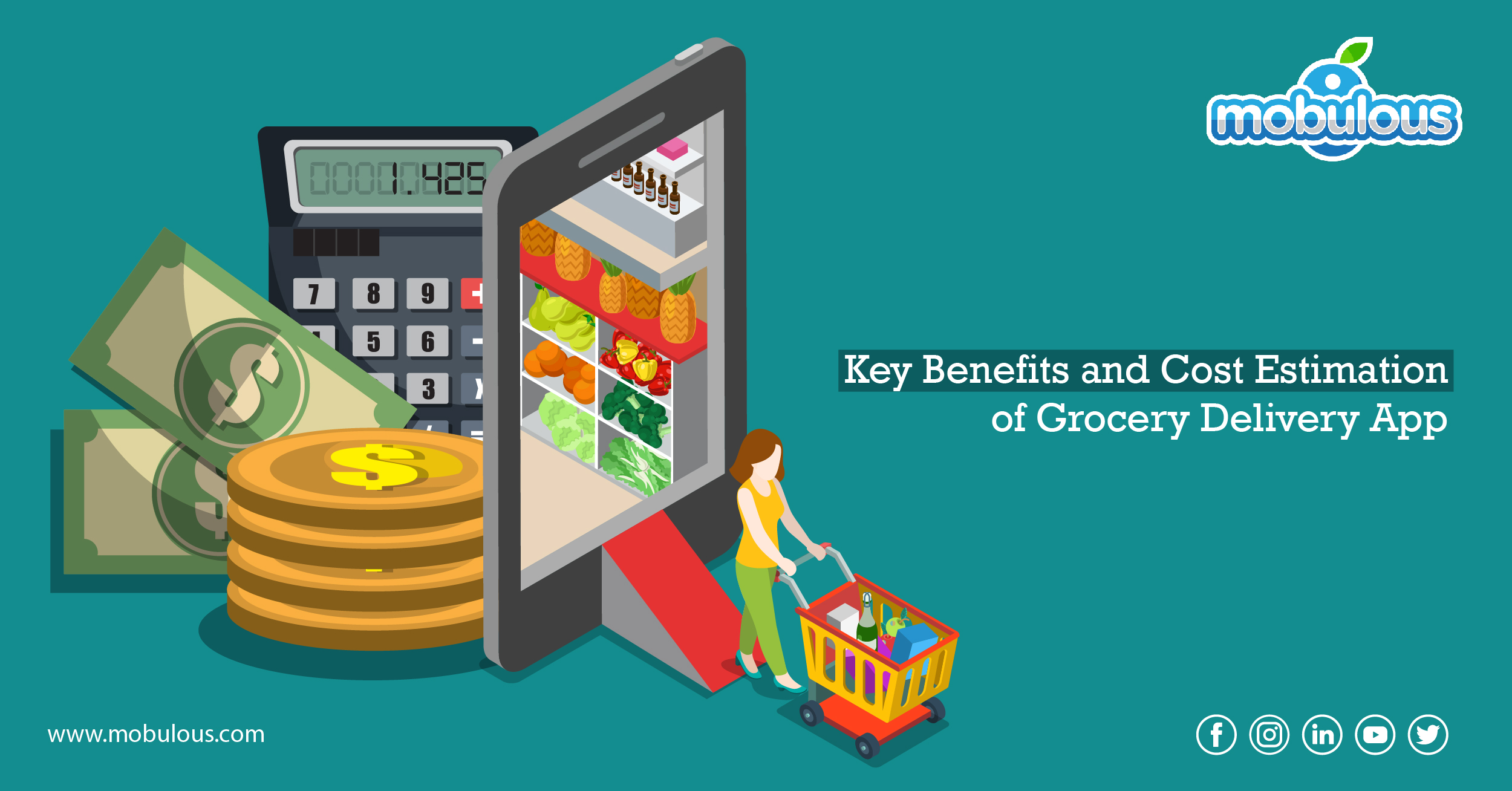 Almost everyone loves to go shopping, specifically females. And, when it's about grocery items, they make sure to have all the essential household items in their hands. With the rapid evolution of mobile technology and the upsurge for the on-demand app, grocery delivery service apps pop up. Online shopping can provide more ease and convenience to people. They don't need to stand in a queue to purchase the grocery items. With the help of apps, they can buy essential grocery items so smoothly.
Do you Know- Facts
According to the reports, more than 60% of the shoppers shop their household items through their smartphones and other handy devices.
According to CNBC's report, online grocery sales are set to hike and are expected to grab 20 percent of the market by 2025.
Thirty-five percent of people aged between 45 to 54 rely upon online grocery shopping.
Fifty-five percent of people aged between 25 to 34 purchase their grocery items online.
Benefits of on-demand grocery apps
With mobile apps' help on your grocery business, you can have both online and offline customers for your store. These days, the maximum number of people prefer to buy groceries online, and in the coming years, these trends will continue to grow more rapidly.
Hence, there is a high chance that you include mobile apps in your grocery business, then you can see a higher customer base.
In this era of technology, mobile apps play a crucial role in bringing more visibility to your business. If you have a credible grocery delivery app, it would undoubtedly help you improve your business visibility.
The grocery app allows customers to share their shopping experience with their friends and relatives. No wonders that automatically increase the visibility of your store.
Serving New Experience to Customers
In this modern era, people always look for something exciting and innovative. We all know the traditional way of buying groceries is too hectic and tiresome.
With the help of on-demand mobile apps for grocery service, customers can easily search the required grocery, order them, and get them right at their doorstep.
Hence, you, too, can create a grocery app that can provide customers with a great shopping experience.
People get no time to stand in a long queue and buy the groceries in this hectic life. With a grocery app's help, people can easily buy all the essential groceries with a few simple taps on their smartphone. Also, some of the grocery apps offer numerous discounts, offers, and reward points.
Hence, the grocery app can save customer's time as well as money.
With the help of on-demand grocery delivery apps, users can pay by the different payment modes such as credit cards, debit cards, cash, and mobile wallets according to their convenience.
Widest Range of Brands and Products
With the help of a grocery delivery app, the consumers can have the facility to get a wide range of goods and brands in one place. They can easily buy groceries according to their budget estimate.
How much does it cost require to create an on-demand app for grocery service?
Several factors affect the price when we talk about the cost of creating on-demand apps for grocery service. Some common factors include the geographic area, the platform (Android or IOS), the app development team, the feature, the app's complexity, the pricing model, and the time required to complete it.
However, most probably, the cost of creating an on-demand app for grocery service would go around $14k to $18k.
The price of app development also varies according to country. Here, we have a list of price of different countries:
In India, the price ranges between $10 to $70 per hours
In Eastern Europe, the price ranges between $30 to $150 per hours
In the U.S, the price ranges between $50 to $250 per hours
Estimation of cost
For Documentation, price requires around $1000 to $2000
For UI/UX design price requires around $1500 to $3000
For Front-end and back-end, development price requires around $10,000 to $20,000
For QA and Testing price requires around $2000 to $4000
Conclusion
Here, in this article, we have discussed the top benefits of an on-demand grocery app for grocery service. If you want to step your foot into the grocery app market and looking for a Grocery Mobile App Development partner, Get in touch with us. We are the leading mobile app development company that can turn your vision into reality. We can build a feature-rich, functional & interactive grocery app for your business to make your business stand out from other competitors.
Read Also:
Make the trade easy with the help of E-commerce app development
Selah: an App to Take Your Event Management Business to the Heights
Mobile App Development: Helping You to Make Your Business Easy – Mobulous
Access Our UI E-Commerce Case Studies: 
Get in Touch with our Sales Team: sales@mobulous.com