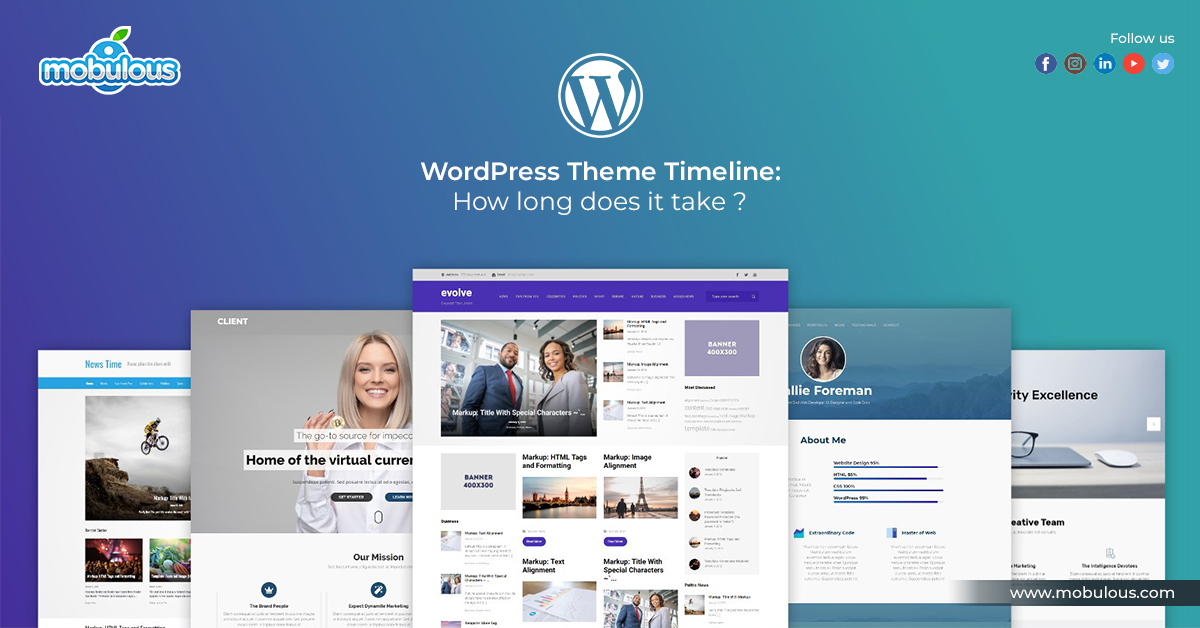 One of the first questions people often ask a developer is, "How long does it take to build a custom WordPress theme?" Well, some of the custom WordPress themes can be complete in as little as one week. Simultaneously, some of the theme projects require several months to complete, due to complexity. In general, most custom theme development projects take about two to three weeks.
Introduction
WordPress is considered as one of the most popularly used CMS's globally. Though numerous themes are available in the market, WordPress is the first choice of almost every developer. It has plenty of essential features such as a rich plugin repository, avoiding rewriting several functionalities, etc.
Here, are some of the popular stats about WordPress theme that you must know are as follows:
In 2020, WordPress rules approximately 35% of all the websites on the internet, an increase of 2% compared to early 2019, and a 4% rise from the previous year.
Talking about the CMS-built sites, then about 60% of them are built on WordPress.
Each month, over 400 million people visit WordPress sites.
In 2016, nearly 117,939,148,357 words were published on WordPress.
But WordPress is not only for blogging – almost 28% of all e-commerce goes through WooCommerce.
Which version of WordPress do you prefer?
As we know, there are numerous ways available to create a website. And also, many platforms are there that are responsible for making the process easier and less time-consuming.
The two of the popular platform includes WordPress.org and WordPress.com.
WordPress.com mainly hosts your website and allows you up to 3GB of storage for free. It manages all the updates, maintenance, and security. In wordpress.com, you have to pay only if you want features like a custom domain name, plugins, or advanced customizations.
On the other hand, in WordPress.org, you need to pay to host your website. Also, you need to maintain the site on your own and responsible for its security too. You can install plugins and improve the customization of your website for free.
So, now without wasting much of your time. Let's come to the point of how long it takes to create a custom WordPress theme for your business.
Significant factors
Significant factors that decide how long a WordPress development project will take:
In custom WordPress, the pages in a site are not that matter, but the different types of page layout that make a custom theme complex matters.
Like any other content management system WordPress, have page templates. These page templates decide to determine everything, including what to shows up and how that information presents out on a page. If a page layout has more variation then, a custom theme will take more time.
The objective of your business
Another aspect that affects the Custom WordPress Development is the objective of your business. So, it is essential to understand the following thing:
First, who your target audience is?
Second, what are the different pages that you need to have?
Third, what's the messaging that makes the most sense for your users?
Fourth, which digital marketing strategy you going to use?
Last, what are you from your website to achieve: Brand positioning or leads?
It is essential to know all the objects as mentioned above of your business to avoid future rework. It takes about a week to complete this task.
People involved in the project
The number of people involved in the decision making and project management process is one of the significant factors that affect how long custom theme development takes. Generally, Projects take more time when many people are involved in making decisions about the plans. Projects can take less time and move quickly when it is clear who owns the project.
Final Take-Away
I guess now you know so much about the custom WordPress theme. You can also get the answer, "How long does it take to make a website?" To conclude- if you want to create a custom WordPress site with the best quality and the right process, you require around 4–6 weeks.
If you are planning to create the best custom WordPress theme for your business. In that case, you need to hire a website development company that owns the experience, expertise, and customer-friendly strategies in their service.
At Mobulous, India, we have built over 150+ custom WordPress themes for our clients worldwide.
Also Read:
Most leading Website Development Company in the era
Opt for The Right Website Development Company For Your Needs
How Can a Top Website Development Company Help Your Business Grow?
Live Your Passionate Business Website to Hire Service of Development Company
Access Our UI Case Studies: https://www.mobulous.com/blog/case-studies
Get in Touch with our Sales Team: sales@mobulous.com