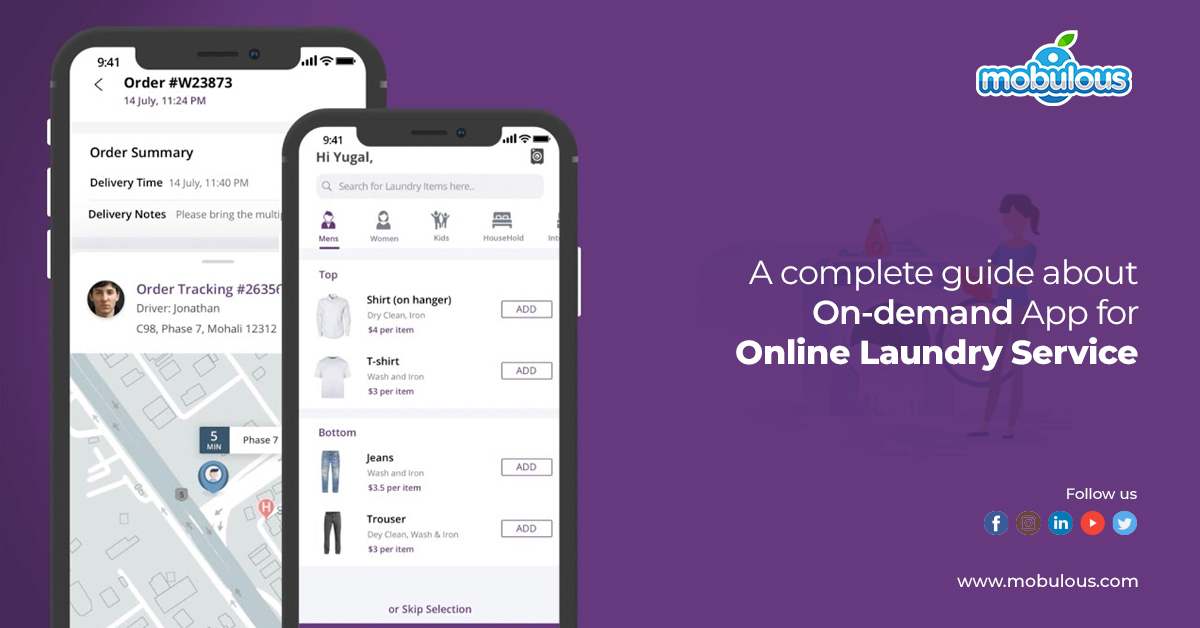 In recent years, the popularity of on-demand apps has risen massively all across the world. These apps have become an essential part of human lives. Over the years, the grocery and travel industry witnessed immense growth in on-demand services, but now the on-demand app for laundry service and cleaning is also getting much of people's attention.
With increasing disposable income and a tight schedule, people have no time to spend on laundry service at their home. They prefer to get things done with on-demand apps. With the help of an on-demand laundry app, people can spend their essential time in other necessary activities.
According to the report by Grand View Research, a company that offers action-ready market research reports, with exciting information, states that the global market size of global dry-cleaning & laundry services was valued at USD 60.88 billion in 2019 to show annual growth of 3.4% from 2020-2027.
Stats speak louder than words: The global market of Laundry
The global market size of dry-cleaning and laundry services is projected to show an increase rate of 10.9% reach a valuation to nearly 180 dollar billion by 2022.
According to the report of Statista, the global online on-demand laundry services market will amount to over 96 billion U.S. dollars."
Do you know that App for Laundry services on both the major platform iOS and Android has been downloaded above 250 000 times already?
What are the significant benefits of on-demand laundry apps?
Here, we have some following benefits of on-demand laundry apps:
• Enhances Comfort
In today's modern era, both partners in a family are working. If there is a kid in a family, then the workload increases exponentially. Hence, they don't get much time to do household works.An on-demand app for laundry service can offer you a professional cleaner to pick up, wash and clean those clothes, and deliver it at you doorsteps. The customers also can call delivery person to pick up and deliver clothes as per their comfort & convenience.For instance, the EasyClean app allows a range of multiple services such as detergent Cleaning washing, petrol wash, and many more.
• Promotes Laundries Based on Location
There is massive competition among laundry owners as there are a lot of laundries in the area. If the business wants to stay ahead among competitors, then it is crucial to do something innovative that can attract users' attention.With the help of a fully-featured on-demand laundry service app, the laundry owners can efficiently promote their business. They can promote their business with the review and rating feature and gain massive visibility to the targeted audience.
• Enhances Safety 
Recently, people all across the globe are facing a lockdown situation due to coronavirus. They all are maintaining social distancing and stay home most of the time.An on-demand app for laundry service helps people get washed clothes at home without even visiting the laundry room. The professionals make sure to take care of all the cleaning and washing activities with all the safety measures.
• Creates Revenue
An on-demand app for laundry service allows laundry owners or an aggregator, who gathered numerous laundry shops on the app to make money easily.With the help of app, laundry owners can promote their laundry service and get new clients. Aggregators can earn commissions from the laundries.
How Much cost does it require to create an Uber for Laundry App?
If we talk about the average cost of creating an on-demand laundry app, it costs around $15600. However, the cost of an on-demand laundry app mainly depends on the hours taken to create an app by the app developers. Some of the major factors that affect the time of apps includes front-end and backend development, selection of the platform (Android or iOS,) design of the app and so on. To calculate the cost of developing an app, we apply a basic formula.
Here, is that formula:Time needed to Develop an App X Developer's Hourly Charges = Total App Development Cost
How Much Time requires to develop an Uber for Laundry App?
To create an on-demand app for laundry services requires 4 to 6 months. The mobile app development company has to do proper research, market analysis, designing, development, testing to deployment to create a fully featured laundry app.
Well, if you are looking to create an on-demand laundry app for your business then, you can contact Mobulous, mobile app and website development company, India.We are among the top leading mobile app development company with excellent skills in creating an app for online laundry service. We have already developed numerous on-demand apps for both the major platforms Android and iOS. If you have any doubts or queries regarding the app, feel free to contact us and we'll get back to you at our earliest.
Read Also:
Mobulous – How are we working to mitigate the impact of the Coronavirus?
Services Provided by Mobulous to satisfy entrepreneurs, enterprises, & startups needs
Top 3 Questions to Ask when outsourcing app vendor