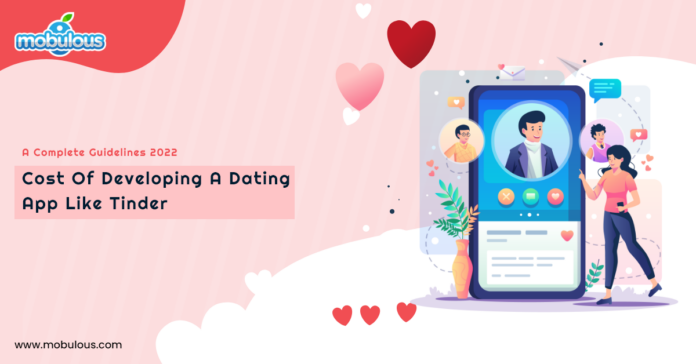 Cost of Developing A Dating App Like Tinder- A Complete Guidelines 2022.
Do you want to build a dating app like Tinder that can stand apart from the crowd? You are in the correct place. Here, we will discuss the cost of developing a dating app like Tinder and everything related to a dating app.
In the modern era, dating apps are booming globally. These apps have made it convenient for users to meet new people with few taps on their smartphones.
If we believe in the research, the global revenue of dating applications will surpass $3.08 billion in 2020. Another report suggests that approximately 40% of Americans and around 40 million people use dating apps. These stats indicate that the demand for dating apps is so high. So, investing in dating mobile app development is indeed a wise decision.
Let's Know About Tinder Dating App
Tinder is one of the most popular dating apps all around the whole world, and its popularity is overgrowing day by day. The app was launched in September 2012 by Sean Rad, Jonathan Badeen, Joe Munoz, Whitney Wolfe, and Chris Gylczynski. It is accessible in more than 30 languages and is estimated to have 50 million users.
It allows users to find someone with whom you can chat according to their preference. It is so simple to use. You need to create a profile, add what you are looking for in a perfect partner, and wait for the match to happen, and trust me; it's pretty exciting to finally match up to someone.
The blog is for you if you want to know the cost of developing an Android dating app like Tinder.
Before we discuss the cost of developing an iOS dating app, let's Know the top unique features that you must integrate into a dating app: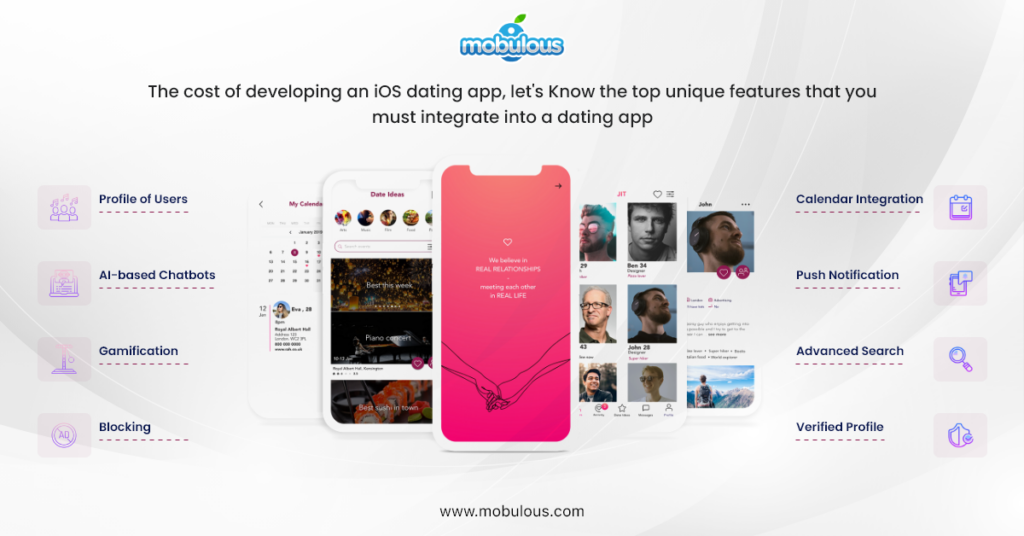 Any dating apps work only when a user profile matches another user profile. Every user wants to create a profile that can help them in attracting the attention of the users.
Ensure to integrate the profile creation feature well in your dating app. Social media apps' first impression of any user is always based on their profile, which covers all the necessary data.
When it comes to selecting a life partner, different users have different preferences. Some people use a dating app to get a partner for dating or hangouts, while others may want a serious relationship.
Make sure to integrate advanced search features in your dating apps.
Needless to say, Everyone loves to meet new people. However, it also stimulates a sense of fear in users' minds as cybercrimes are rising hugely. Hence, the profile verification feature must be integrated into the dating apps.
Numerous methods can help you in verifying the user's profile. Some of the top techniques are verifying users' social media and email accounts. Integrating this feature can make your dating app more trustworthy and enhance the customer's experience.
AI-based Chatbots are one of the essential features of a dating feature. This feature can help your users, especially introverts, make the first move or break the ice.
The AI-based Chatbots would suggest to users the beginning line initiates a conversation.
For Instance, dating apps like Aisle have a fantastic conversation feature.
In the mobile app industry, Gamification is one of the most trendy features.
Integrating gaming features in a dating app can expand your user base and make your app unique. This feature enables users to participate in contests and make scores or points.
For Instance, In dating apps, you can allow your users to participate in a competition, where they have to guess the likes and dislikes of their partner.
What if you have added the wrong person to your dating app? And what if you don't want to get a text to interact with some particular person, and that person continually tries to send you messages? In that case, you want to block that person as fast as possible. So, the blocking feature is a basic need for your app.
The calendar integration feature helps you to remember all the important dates. With this feature, you can quickly know who you are chatting with, who you have swiped right or left swiped in your past, and many more details with the accurate date and time.
Push notification is an important feature that notifies users about every activity. If a user gets a new match or a text from someone, they must get notified by the app. This feature also helps to increase app engagement and improve user experience.
Factors Affecting Cost Of Developing A Dating App Like Tinder- 
The cost of creating a dating app similar to Tinder primarily relies on the intricacy of its feature set and the mobile app development company you select.
Based on the $15 average hourly rate, the cost of the essential iOS and Android app with the fewest features might range from $50000 to $55000.
It will cost you around $100,000 to develop an app for iOS and Android platforms.
Let's understand the factors that affect the cost of developing a dating app like Tinder-
Type of Dating App Development
You will find two different approaches to developing a dating app like Tinder. The two approaches include cloning dating apps or dating apps from scratch.
Dating App Development Cost Based On App Complexity
The complexity of your dating app directly relates to the cost of developing an iOS dating app. Some complex features such as push notification, geo-location, payment processing, and many more will automatically increase your cost.
Development Approach- Freelance, In-house, Outsource
The cost of developing a dating app like Tinder will also affect whom you are hiring for your app. Generally, you will find three approaches for developing your dating app. The three approaches include Freelance, In-house, and Offshore development centers.
For Instance, freelancers will charge around $15-$24 per hour. The in-house team will charge $150-$250 per hour, and ODC in India will charge $20-$30 per hour.
In India, Mobulous is a top dating app development company with experienced and passionate mobile app developers. The team can develop a beautiful dating app within your limited budget.
Dating App UI/UX Designs Costs
The app's design is essential for attracting the target user's attention to your app. If you go with the simple dating app, it will go around $840. If you choose an average dating app, the cost will be about $3560. And, If you select a complex dating app, it will cost around $10,600.
Cross Platform Vs. Native Dating App Development
The cost of developing a dating app like Tinder will also affect your decision of whether you are choosing a cross-platform or native app development approach for your app.
If you go with a cross-platform approach for developing your dating app, the cost will be half the price of developing a native app.
So we suggest if you want to target maximum users on a minimum budget, choose a cross-platform app development approach. In contrast, you must use a native app development approach if you have no budget issues.
Cost of Integrating Essential Features And Functionalities
The features and functionalities will also affect the cost of developing a dating app like Tinder. Some parts are essential that you can't miss on your dating app.
So, here we have the list of the features that affect the cost of developing a dating app. The features include Authorisation, GPS, User Profile, Setting, Matching Algorithm, Notifications, Communications, 3rd Party Integrations, and many more.
Here are some more examples of popular dating apps that are ruling in the App Store and Play Store globally-
OkCupid is a dating app that helps get your dates based on your likes and dislikes, not just looks. Before you eventually find your match, OkCupid removes the majority of the guesswork from dating.
Happn is an app that integrates your real-life paths with your dating app. Finding the individuals you've crossed paths with is the app's motto, allowing you to accomplish that. Just like other dating apps, the rest process remains the same. However, showing people you have crossed paths makes this app unique from others.
Woo is a recent launch dating app but has managed many users with its unique UI and matching algorithm. The main focus of the app is to find you someone well educated. The app has exciting features such as Tag Search, Direct Messaging, and many more.
Hinge is another dating app with a unique concept. It is an app that helps to connect you with a friend of a friend.
The app integrates Facebook profiles to give suggestions, including your friends, friends-of-friends, and 3rd-degree friends.
Coffee Meets Bagel Dating App
Another well-liked dating app that helps you discover a match based on your interests is Coffee Meets Bagel.
Women only receive recommendations from those who have already expressed interest in them.
The male has the choice to accept or reject the matches at the exact moment.
Bumble is another dating app popularly known as the "feminist" app. The app gives additional preference to women as they have the power to start conversations.
Conclusion:
After reading the blog, you must be wondering how to create a dating app and how much it requires to build a dating app. These are obvious questions, and dating mobile app development can help you.
mobulous is a leading application development company all across the globe. We have experience creating various mobile apps and websites in categories such as Grocery, Entertainment, Travel, dating, and many more.
For more queries regarding dating app development, you can contact us.
 Phone 
: +91-9650100411     Mail 
 : sales@mobulous.com