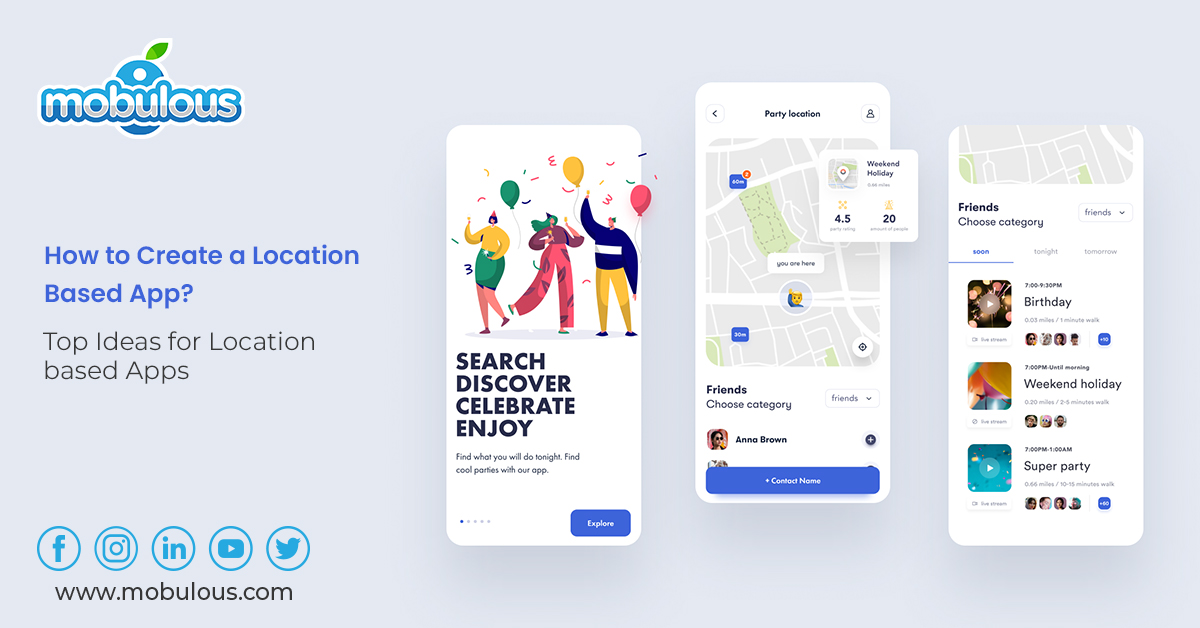 No wonder mobile applications play a crucial role in increasing the sales of any business organization. These days, most entrepreneurs show a keen interest in creating mobile apps. According to a report, approximately 54% of the shoppers download mobile apps as they provide a better experience than the mobile web.
If we talk about location-based mobile applications, you can see that several businesses are directly dependent on the geolocation facility. Location-based app development is among the hottest trend. According to the Pew Research Center, people with nearly all age groups use location-based apps for their different purposes. Approximately 74% of adults use these apps to get directions, while 12% are willing to share their friends' locations.
Moreover, if you own a restaurant or offer cab booking services like Uber, the geolocation apps will become the backbone of your business. The geolocation apps also have an essential feature of the eCommerce apps, allowing the customers to track their products.
What is a Location-Based App?
Location-based apps allow the organizations to provide services near their close geographical location to the potential users. These location-based mobile apps are an essential geolocation tool that accelerates the process of locating a nearby person, place, or service. According to the Statistics report, location-based services' market value will be supposed to hit $183.81 billion by 2027, rising from 2020 to 2027 at a CAGR of 26.3 percent.
Benefits of Location-Based Apps to Businesses
Easy Search and Shop Suggestions
Companies can know about users' behavior with the available data and provide them great suggestions for shopping. When they have a clear picture of the users' shopping patterns, they can offer individual discounts to the users.
Moreover, when people check their smartphones for facts, content, or something, the app can help brands market their services or products as a recommendation to the local market.
An opportunity to Establish Better Connection
The geolocation apps allow businesses to connect with their potential customers in a better way. It helps them attract a considerable number of new customers and enables them to find more about the existing customers. With the user's review, they can get an insight into what the customers are thinking.
Geolocation-based apps open ideal platforms for smartphones. They help companies provide their potential consumers with marketing details, promotions, discounts, and coupons with the push notification feature.
Hence that means the organization will have a customized geolocation service in smart cities focused on consumer interest.
Excellent navigation and virtual tour
Hospitals may provide virtual tours with excellent navigation with the app, and businesses have also used the concept of Augmented Reality (AR) with integration. It is an excellent use of the exciting and impressive location-based capability. They can superimpose virtual elements on businesses and real-world objects that allow customers a better and more interactive experience.
Geolocation Technologies
If you want to build a custom location-based application, you should simultaneously use location and mapping services. You can do that in numerous ways, such as by using Cell ID, wifi, or GPS:
Using GSM base stations can help you to identify the user's position. Mobile phones can identify the connected cell towers. By knowing the cell towers coordinates, they can quickly determine on their smartphone map. Ensuring the speed and reliability of the geolocation app is the essential thing that you should consider. Choosing GPS- based apps can also work well, but it might reduce the user's battery and lead to mistakes in GPS technologies.
Wifi works exactly like GPS, But it covers smaller areas.
Almost every smartphone and tablet are created in a GPS module. However, the GPS signal is accurate and quick but isn't available all the time.
Top geolocation apps
Millions of new geolocation apps emerge each year; some remain unnoticed in the App Store, while others make tremendous business cases. Here, we have listed the top ten great examples of geolocation apps:
Navigation tool Google Maps
Transportation on-demand service Uber
Social network app Instagram
Chat app Snapchat
Dating app Tinder
Travel app TripAdvisor
Fitness tracking app Runtastic
Restaurants' reviewer Yelp
GPS tracker Family Locator
The mobile gaming hit Pokémon GO
Conclusion
Location-based apps enjoy extreme popularity all across the globe. They completely changed the way brands used to communicate with their users offline and online. You can make use of geolocation apps for your businesses and provide your users with information in real-time. Additionally, you can also get your users' trust and ensure that their private information is protected.
To get professional advice, contact us at Mobulous. We allow our users to consult for free on a cost estimate of their project.
Read Also:
Mobulous – How are we working to mitigate the impact of the Coronavirus?
Services Provided by Mobulous to satisfy entrepreneurs, enterprises, & startups needs
Top 3 Questions to Ask when outsourcing app vendor