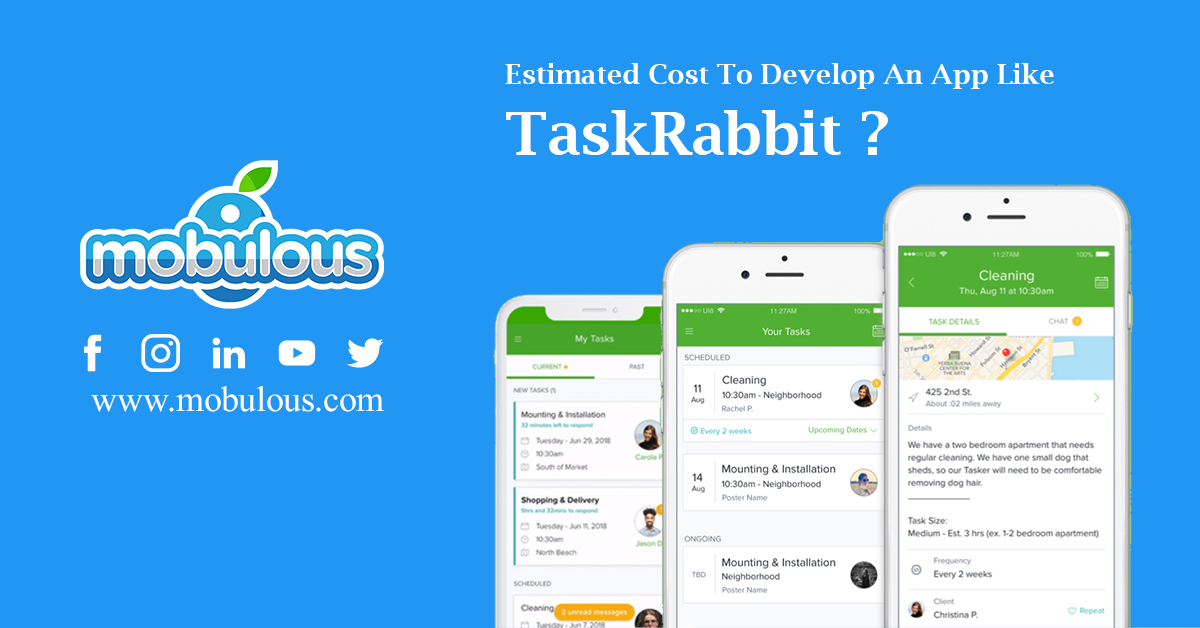 TaskRabbit is considered one of the most popular platforms for providing services as a Tasker. Having more than 1.1 million views, it is one of the popular platforms among the gig community.
What do you mean by TaskRabbit?
As we know, generation depends upon numerous on-demands mobile apps to do their work. No wonder these mobile apps have become the necessity of the people. When it comes to the app that helps people in their household activities such as moving and packing, mounting and installation, cleaning, furniture assembly, general handyman, and heavy lifting, the TaskRabbit app is considered the first choice. Leah Busque launched the popular app in 2008. Recently, this app is running in almost 20 cities.
With the TaskRabbit app's help, users can get the facility for a large number of services. At TaskRabbit, every person has their specific role based on their selection.
Here is the following TaskRabbit user segment:
Tasker: With the TaskRabbit app, you can work as a tasker and provide services under different niches.
Takposter: With the TaskRabbit app, you can select to sign-up as a taskposter where you can post a task, assign the duration, and ask for a recommendation.
Must have features and functionalities
Marketplace: The first and the essential feature that must be included in your app, like TaskRabbit, is a marketplace. You must provide users the facility of choosing the service they want.
Reviews and Ratings: No wonder reviews and ratings play a crucial role in knowing about your app's service. If the app receives more positive reviews, there will be more outstanding bookings. Hence, it would be best if you allowed users to leave ratings and reviews.
In-app chat: Most people prefer chats over calls. Your app must provide users and service providers the feasibility to interact with each other in real-time with an in-app chat facility. Make sure you provide them a safe, encrypted platform to interact with each other.
In-app payment: In-app payment allowance is one of the unique features you can include in your TaskRabbit app. This feature will provide users great ease and comfort. Moreover, this feature will help you to attract the massive attention of the user.
Tracking service provider: Your app should allow users to track the exact timing of the service provider's arrival. This feature will help users get a clear idea of the time they have to wait for the service provider's arrival.
Booking history: Booking History is one of the essential features that allow users to view the service's history. This feature will help users to quickly identify which service provider to call again for the service they want.
Push notification: Every app is incomplete without the push notification feature. Push notification is an essential feature with numerous uses, such as notify the stakeholders of their booking status, users to interact with the app, and many more. Make sure you must include a push notification feature in your TaskRabbit app.
Cost Estimation to Develop an App like TaskRabbit
The development cost of any app depends on its features and functions added in all three panels. If you include basic features in all the panels, then the cost can be less, while if you include more advanced features, it can cost more.
The overall cost depends on the application interface, the platform, the application's size, and the app development team you choose. However, the average cost to create an app like TaskRabbit will cost around $15,000.
If you create your app on a Native platform such as Android or IOS, it will cost more than the development cost on a cross-platform framework like Flutter or React Native. Design is also another aspect that affects the price of the app.
How can you make money with the TaskRabbit app?
There are two significant ways by which you can make money with the TaskRabbit app. you can choose any of the following options to earn a good amount of money:
By Charging the Processing Fees from the users.
By Charging the Peak Pricing from the users.
Wrapping up
The mobile app development company in India is much affordable in comparison to any other country. Most companies prefer to outsource development works to Indian Companies as the hourly rates are much lower.
At Mobulous, India, we have an expert team developing a vast range of mobile applications from different categories. Having a robust portfolio of mobile apps, eCommerce, and website development, we provide affordable mobile apps with fantastic quality.
If you are looking to create a fully-featured app like TaskRabbit, then we are here to help you. Please contact us to get cost-effective mobile app development solutions.
Read Also:
Mobulous – How are we working to mitigate the impact of the Coronavirus?
Services Provided by Mobulous to satisfy entrepreneurs, enterprises, & startups needs
Top 3 Questions to Ask when outsourcing app vendor