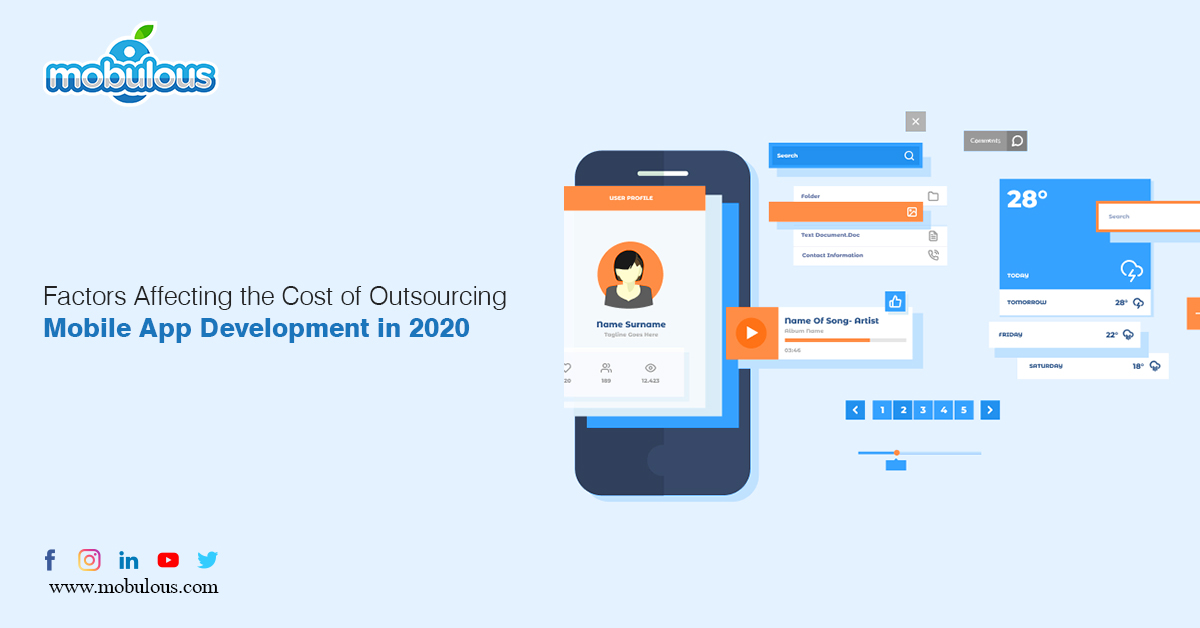 There are numerous benefits of outsourcing software development. Outsourcing app development is a common way for business enterprises or startups to create mobile apps. You can have the best app idea, but you can't make your dream of creating the app a successful one without a team. If you want to create an app, then you have to offshore mobile app development. According to Statista, outsourcing services' global market size is supposed to reach around $100 billion in 2020. Another report from Clutch suggests that around 37 percent of overall outsourcing services occur in the IT field.
The benefits of mobile app development outsourcing
An experienced team with different skills and knowledge
Stack of various technology
Cost and time effective
Time zones can work to your advantage
Factors affecting the outsourcing of app development in 2020
No wonder the cost is considered as one of the primary reasons for outsourcing mobile app development. The decision to outsource creates a lot of questions in the mind of startups or enterprises.
Here are some of them:
How to handle the outsourced team?
How to outsource app development without risks?
How big should the team be to make an app development project successful without increasing outsourcing app development?
The primary reason for outsourcing is to save costs. Here are some of the following factors that will affect the cost of outsourcing app development.
• The complexity of the app features app development costs mainly depend on the complexity of the app. The app's types, the number of features in the app, and the time requirement to create the app will affect the cost. There are numerous types of apps available in the market. However, if we talk about complexity then, the apps are divided into three broad categories.
# Basic apps: Basic apps are the kind of apps that doesn't include a remote data server. For instance, apps such as calendar apps, diet planners, etc. These app's development costs can be range between $1,000 to $4,000.
# Apps with the webserver: Apps with a web server are kinds of apps that include remote data servers. These kinds of app development can be range between $8,000 to $50,000.
# Gaming apps: Gaming apps are kinds of apps that include a simple feature of complex features. These days, most of the gaming apps include the use of complex virtual reality. These kinds of app development can be range between $6,000 to $250,000 or even higher.
• Size of the app development team
As we all know, a mobile app can't be created with a single person. It requires a complete team of business analysts, developers, UI/UX designers, project managers, programmers, and testers. So, no wonder the mobile apps' cost also depends on the size of the team you choose for your mobile app development. From business analysts to a tester, every team member's charges differ according to the hours they work in the app development.
• Geographical reason
The app development's cost depends on the region where you outsource your app. The cost of the app development varies according to the different regions.
Comparison of app development price based on different countries
# Cost of app development to America: The average cost per hour for North America and Oceania can be range between $100-$150. An app can take many hours so that the app development cost can be between $300,000-$500,000 in America.
# Cost of Outsourcing App Development to Eastern Europe: The average cost per hour for Eastern Europe can be range between $25-$50. If you want to create a complex app like Netflix or Uber, it can cost around $150,000-$300,000 in Eastern Europe.
# Cost of Outsourcing App Development to India: India is considered the best outsourcing region worldwide. The region attracts users' massive attention due to the availability of highly talented developers at reasonable rates. India's average cost per hour can be range between $20-$40, which is very low compared to other regions. So, app development's average cost can be range between $60,000-$150,000 in India.
Here, at Mobulous, India, we know how to create a powerful app that can fulfill all your dream. Our team provides full-cycle software development services to every client. We support our clients from the concept stage to the app's launch in the app store or google store. We have successfully delivered more than thousands of apps all across the globe. We value every client and work according to your convenience of time. In 2020, we are listed as one of the top mobile app development companies in India for startups and large enterprises.
Read Also:
Mobulous – How are we working to mitigate the impact of the Coronavirus?
Services Provided by Mobulous to satisfy entrepreneurs, enterprises, & startups needs
Top 3 Questions to Ask when outsourcing app vendor