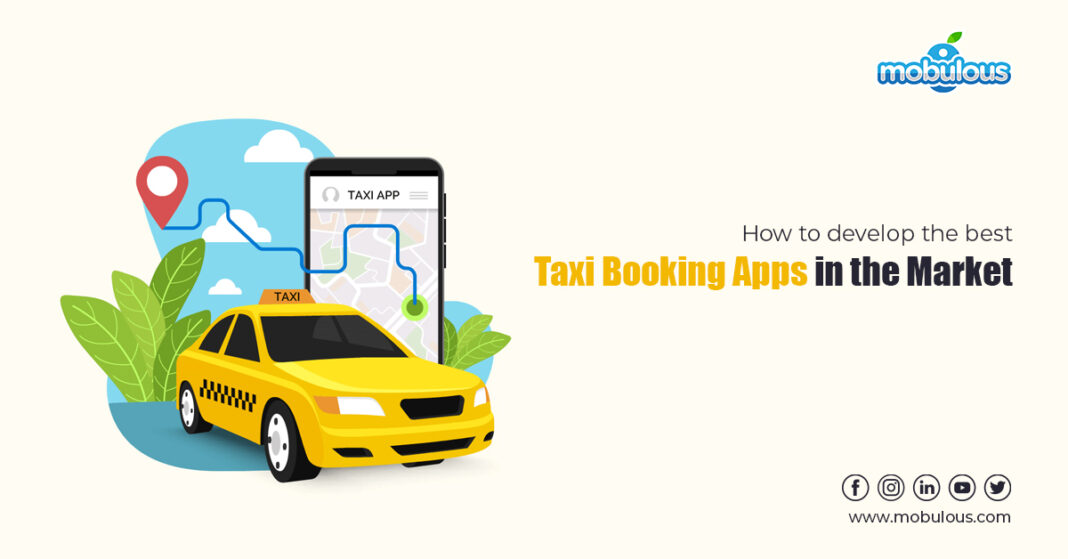 In the modern era, almost every user has a taxi booking mobile apps on their smartphone. There is a considerable demand for on-demand taxi-booking services apps in the market. In traditional times, traveling in a car for their daily work was just a dream for middle-class people. However, with the invention of taxi-booking apps, people can travel in cars easily at an affordable price. According to the report, Approximately 70% of the users have on-demand taxi booking apps such as Uber and Lyft on their smartphones to book a taxi ride for themselves.
If you want to create an on-demand taxi booking app for your startup or existing business, you have come to the right place. We will give you well-researched reading material on how to develop the best taxi booking apps in 2021.
Complete Guide To Build The Best Taxi Booking Apps-
Features play an essential role in the success of any mobile apps. Taxi booking app development is about 20% process and 80% about features.
So, here is the list of features that you must integrate into your taxi booking app to make it stand out from the crowd:
• Registration or Login
Registration is one of the most common features that you might see in almost every on-demand taxi booking app. Account creation is the first feature that creates the impression of your app among the users. Ensure the registration process must be accessible, responsive, and user-friendly.
You must allow social media and email/password signup and login functionality to your users.
• Profile Editing
You must allow both drivers and riders to easily edit their profile details such as name, age, photo, address, and so on. Ensure the driver and passenger both can see each other's profile. This feature will help both to recognize each other at the pickup location.
• Geo-location Service
Geo-location is an essential feature that you can't miss in your taxi-booking app. With GPS technology, you can track down the exact location in real-time.
This feature is beneficial for customers as they get assurance that the driver is taking the right way. Moreover, with this feature, drivers can find the fastest route, which saves time and money.
• Push Notification
Push Notification is an essential feature that allows you to update users about the latest deals and offers, trip details, and other essential information entities.
The Push Notification feature also notifies the user about the Driver's location, estimated time of arrival.
This feature helps you to attract the user's attention to your app.
• Flexible Payment Option
Another essential feature that you must integrate into your taxi-booking app is Gateway Payment. Allowing Various modes of payment such as credit cards, cash, mobile wallets, an online transaction like Paytm, etc., for paying the fare makes it convenient for users.
• Driver Tracking
Driver tracking is one of the essential features of a taxi app. This is for the sake of transparency and also to keep passengers informed of the location of the Driver they have chosen. They will know how long it will take the Driver to reach his pickup location. This allows them to get to the pickup point on time if they are far from it and then give directions to the drivers.
• Chat or call option with the Driver
Passengers should be able to call or chat with their Driver before he arrives at their pickup location. This will allow the driver to reach the passenger easily, and the passenger will also know the exact status of their journey.
This will increase the accessibility and experience of the app. This feature will also help them allow the two main users of the application to confront each other at their level. Drivers sometimes cancel trips without even checking with customers.
• Customer support
Customer support may have come to the end of this list, but it's one of the app's essential features. The reason is that there will be issues with services, payment, or anything else. These issues, if left unattended, will create a negative market image for the app, and eventually, the brand will fall.
To ensure that this does not happen, the development company needs to develop good customer support functionality. The app must have chat support, phone support, and email support.
Developing the best taxi-booking apps that rule the App Market-
No wonder the taxi-booking app industry is so competitive. However, if you have a unique app idea, robust project vision, and a reliable on-demand taxi-booking app development company, you can develop the
best taxi booking app in android
and iOS platform.
To create the best taxi booking app, you can integrate the features that we have mentioned above.
If you have any queries regarding taxi booking
mobile app development
, you can contact us. We are always there to assist you. Let us know your business idea, and we will try our best to bring it into reality.
Access Our UI Case Studies: https://www.behance.net/mobulous
Get in Touch with our Sales Team: sales@mobulous.com