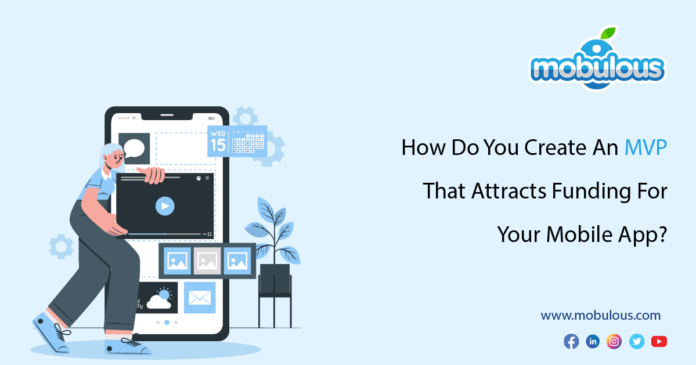 In the modern era, every business requires a mobile app. Mobile applications are considered effective instruments to expand your business potential, whether used for internal processes or customer-facing services.
If we believe the prediction of Statista, by 2023, there will be 299 billion mobile app downloads worldwide. From 275 billion downloads in 2020, this represents a staggering increase of 25 billion in just three years. And it is anticipated that this trend will also continue in the coming years.
There is enormous competition in the mobile app market, so you must develop a mobile app that is unique and can provide your business growth. You must learn how to create a minimal viable product before releasing a fully functional version of our app (MVP). With MVP, you can learn about the app's basic features and potential, which will help you know whether it is feasible to move forward with and invest in the development of your app.
So, What, exactly, is an MVP? Why is it necessary to develop an MVP? What blunders should you avoid when creating an MVP?
Let's investigate.
MVP- An Introduction-
The term "Minimum Viable Product," or MVP, refers to a product with the bare minimum of functionalities designed to gain feedback from potential users and buyers. With Eric Ries' book "The Lean Startup," the term MVP becomes popular.
An MVP is the first version of our app that includes all the essential features, not simply a prototype or proof-of-concept.
Building an MVP is a fantastic method to test your business idea without investing much money.
Statistics Highlighting the Need to Create an MVP
29% of businesses fail due to money problems
Proper scaling allows startups to expand 20 times more quickly than premature scaling.
These statistics demonstrate the advantages of starting the new product development process with an MVP.
There are more motivations for an MVP product development business to create a Minimum Viable Product, though:
Making a first model that serves as a discussion starter and offers distinct visual points of reference.
The model is tested with genuine users after the first idea approval process. This helps in comprehending any potential problems with the product.
A crucial and inspiring step in developing a fully-fledged product is beginning the actual development process after devoting months to enhancing and perfecting the software idea.
MVP- Benefits
Building a new product with as few features as feasible is known as MVP development. It carries out audience reaction testing and assesses the system's overall viability.
The purpose of MVP is to get the audience's reaction quickly.
Here are some of the top benefits of creating an MVP for your business-
Lower Development Cost and Risk
MVP includes only basic features and functionality of the app, so it requires less development cost and development. This enables businesses to launch their apps rapidly and lowers the risk associated with the development process.
Better Market Understanding
Businesses can better understand what users want and how their app should be built to fit their demands by launching an MVP and evaluating user data.
This helps businesses create apps that could give them an advantage over rivals.
Gather User Feedback and Insights
Using MVPs, businesses can gather user input to determine which features are effective and which require improvement.
This aids businesses in creating apps suited to user needs and ultimately increases their success.
Investors' Confidence
MVP helps gain investors' trust as they can see the app's potential and how it will perform in the market. This can assist companies in obtaining the finance they require to create successful mobile applications.
How to Build an MVP for Your App?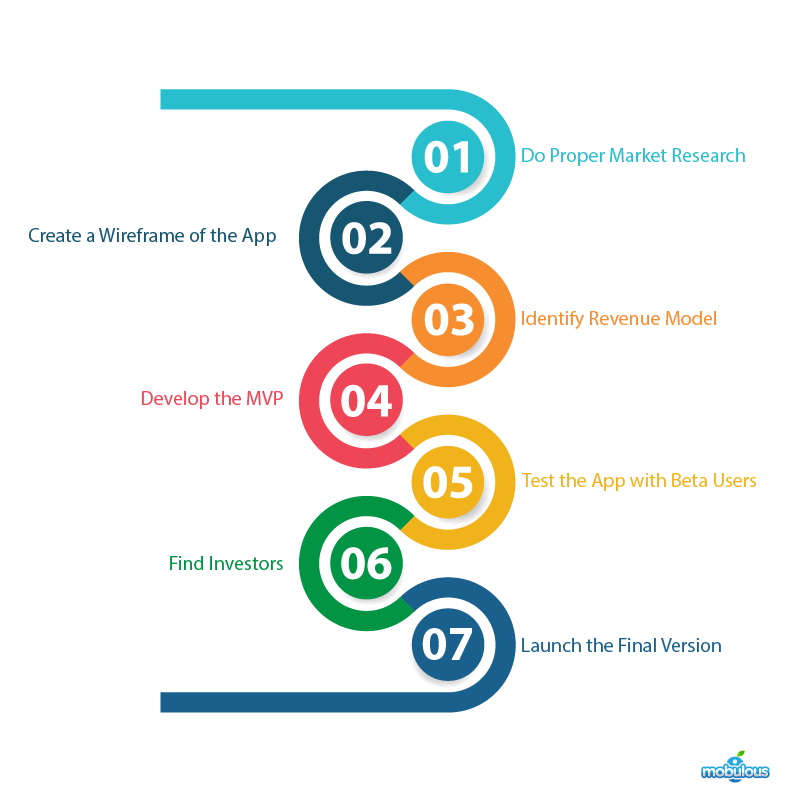 There are specific steps you need to take to develop a minimum viable product for your app-
Do Proper Market Research
When planning to develop your MVP, conducting in-depth market research should be your first step. Market research lets you know your target users' features and design preferences.
This will assist you in developing an MVP that fulfills your users' needs and locating possible clients or investors interested in your services.
Moreover, you should investigate the apps of your rivals, see what features they have, and read user reviews.
This will enable you to understand what features set your competition apart from you and what your users expect from your mobile app.
Create a Wireframe of the App
Once you complete your market research, it's time to create a wireframe for your mobile app. The app's wireframe will let you visualize the image of your app and its features.
Once all the features have been listed, you need to prioritize them according to their importance and create a wireframe showing how they interact. This will make it easier for you to comprehend the project's scope and how much work it would require to build our app.
The next thing you need to do is to find and create a revenue model for your app. There are different revenue model options, including pay-per-download, subscription-based models, and in-app transactions. This will assist you in determining how to monetize your app and how much revenue it will make.
Now, you need to develop MVP for your app. MVP includes the development, testing, and optimization of our app.
Before releasing the MVP, you must thoroughly test it and develop it with all of the key features from your wireframe.
Test the App with Beta Users
Testing is a crucial step in the development of your app.
Your MVP must be created, tested, and launched with beta users.
This will enable you to gather opinions from genuine users and spot any faults with your app.
It's time to start looking for investors once your MVP is complete and has been tested with beta users. Finding possible investors for your app should be your first step.
You can email them or meet them at conferences to present your software.
You can now launch the finished version of our app after testing and optimization. This action will determine your app's success, making it the most crucial.
Test all the features and ensure all functions are correctly working without issues or kinks.
To promote your app, you should also engage in promotional activities like social media campaigns, influencer marketing, or content marketing.
This will help you grow your user base and raise your profile.
Top Examples of Projects Started With MVP
These are some of the top examples of projects that begin with MVP-
Spotify- Its developers concentrated on one feature: music streaming. Early on, they analyzed app beta testing data, secured contracts with major record labels, and got finance for the initiative. Currently, there are 60 million subscribers of the program, and it costs an estimated 8.4 billion US dollars.
Foursquare: Its MVP included check-ins. Developers increased its capabilities and included recommendations and city guides after analyzing user feedback. Fifty million users have logged in to the service so far, totaling 8 billion logins.
Airbnb– When Brian Chesky and Joe Gebbia planned to rent their apartment in San Francisco for a design conference, the concept for this well-known short-term rental business for tourists first came to them. They took pictures of it, published a straightforward website, and soon hosted their first visitors. As a result, entrepreneurs observed in action that short-term home rentals could compete with hotels and would be popular.
Things to Avoid When Building an MVP
There are certain things that businesses should avoid when building a minimum viable product. Here are a few things that should be avoided:
Don't Complicate The MVP Excessively.
Businesses should concentrate on creating a simple app version with only the necessary functionality while creating an MVP.
This will allow businesses to launch the app quickly at low development costs.
Avoid attempting to appease everyone.
Every user's needs shouldn't be catered to in the MVP. It should concentrate on a select group of core users who will aid in determining which features should be added and which can be enhanced.
Avoid Releasing An Incomplete Product.
Before launching, the MVP should be tested and optimized correctly. An incomplete app can damage your brand's image and negatively affect the users' experience.
Remind Everyone About Analytics
The MVP should incorporate analytics to track user statistics and gain insightful information. This can assist firms in determining which features are compelling and which features require improvement.
Final Words-
An MVP allows businesses to launch apps more rapidly, lower risk, and attract investors. However, it's crucial to create a simple app version with the necessary functions and engage in specific marketing initiatives.
Now that you know why creating a minimal viable product is advantageous, you also learn how to create an MVP for your app. We can help you develop your MVP if you are more of a business person and find it more technical to continue.
Could you share some of your business concepts with us? Our team would love to begin a collaborative brainstorming session and assist in making the app idea a reality.
Mail
: sales@mobulous.com    Phone
: +91-9650100411