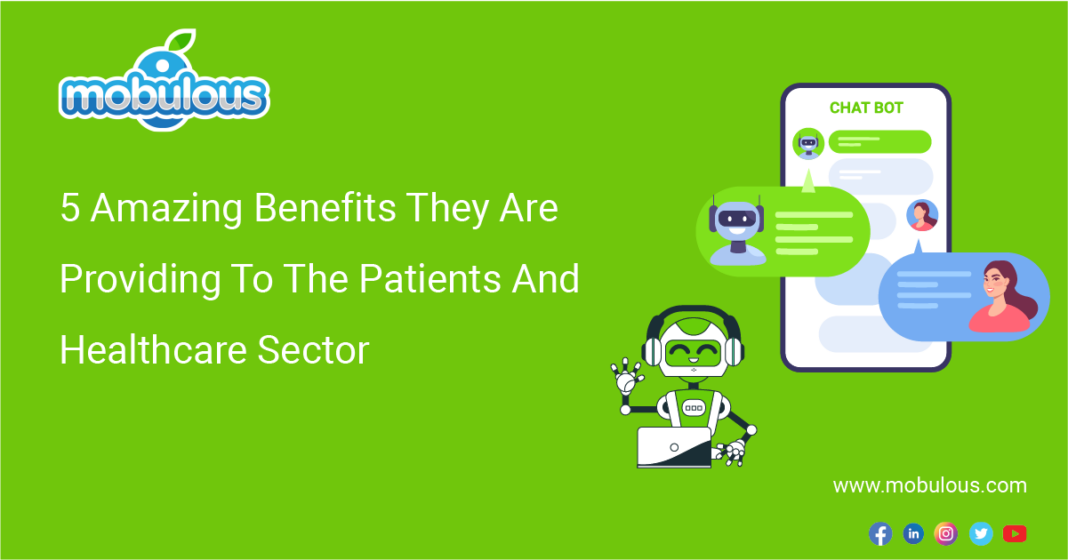 In the modern era, AI chatbots have become popular in almost every industry, especially healthcare. Healthcare providers use AI chatbots to help patients around the clock. With healthcare chatbots, patients can get the information they want and enjoy a better healthcare experience.
If we believe the report, 86% of customers would rather talk with a chatbot than fill out an internet form to get answers.
The adoption rate will continue to rise as more organizations realize the advantages of using chatbots to automate their processes. The market for healthcare chatbots is anticipated to grow from $230.28 million in 2023 to $944.65 million by 2032.
Let's know the top benefits of chatbots for the healthcare industry:
Top 5 Benefits of Healthcare Chatbots: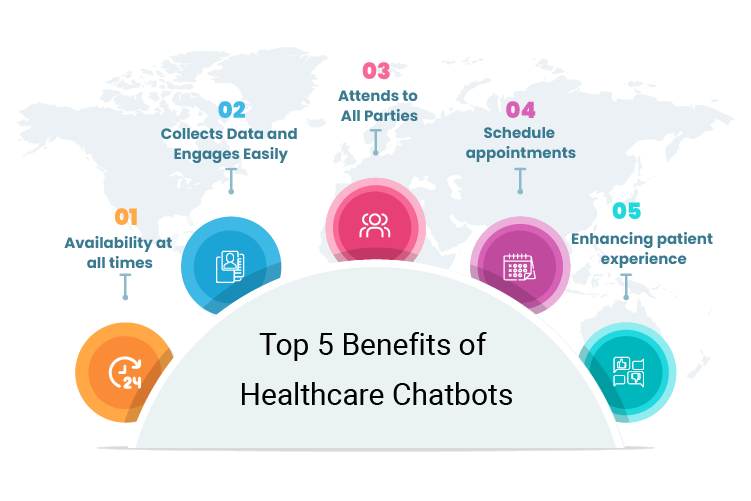 The healthcare industry is incredibly vast. People contact healthcare professionals for various reasons, from advice on medicines to medical emergencies. Even if a phone conversation or email can be simple, it is only sometimes productive.
There are many such reasons why chatbots are flourishing in the healthcare industry. Let's discuss the advantages of chatbots in the medical sector that are contributing to their phenomenal success:
Availability at all times
Emergencies in medicine can happen at any time. Patients may need assistance with anything from recognizing symptoms to organizing operations at any time. Medical professionals can't be available every time to provide you with service. Here is where chatbots can be helpful. They are constantly accessible to everyone.
Collects Data and Engages Easily
Empathy is crucial in the healthcare industry. It's only possible for that website to give some of the answers to your question. However, a chatbot can solve most of your queries and gives you a personal touch.
By asking users questions, they gather the information that is kept for future use as well as to tailor the patient's experience.
Chatbots establish a strong rapport with your patients in this way.
Only healthcare experts can give one-on-one care.
Consequently, their range could be improved.
On the other hand, medical chatbots may help and interact with multiple patients at once without lowering the amount of interaction or information provided.
Patients can engage with specialists through chatbots for healthcare through conventional channels such as phone calls, video calls, texts, and emails.
This increases participation and gives medical professionals more time and opportunity to focus on patients who need it most.
Direct appointment booking from your chatbot is available to patients.
Additionally, the chatbot can be programmed to book a time slot in the doctor's and patient's calendars, email the doctor with the patient's details, and assign a doctor to the patient.
This makes it easier and less stressful for users to make suitable online appointments.
Enhancing patient experience
Think about how wonderful it would be to have a doctor at your beck and call.
Healthcare chatbots can be used for just that by professionals.
With a usual uptime of over 99.9% for healthcare chatbots, a chatbot can be utilized to interact with and answer questions from patients whenever necessary.
How Can Mobulous Help You Develop The Best AI Chatbot For Your Healthcare Sector?
Now you know where you can utilize a healthcare chatbot and, more significantly, why to use one, you now need to understand how to create one.
You can quickly create a chatbot for your healthcare service without technical expertise with Mobulous. We are a top mobile app development company that can help you make the top AI chatbots.
With an omnichannel presence that makes you more approachable to patients and lets you keep track of all patient and consumer engagements, you may deploy your chatbot across numerous platforms, including Instagram, WhatsApp, Facebook, and more! Additionally, you can modify your healthcare chatbot to suit your needs.
So, let's contact our team.
FAQs About Healthcare Chatbots & Benefits of the Healthcare Sector
What is the future of healthcare chatbots?
Chatbots for healthcare is here to stay. Healthcare chatbots will become commonplace over time, and people will rely heavily on them.
Although it is physically impossible for a chatbot to take the place of a human doctor, it will undoubtedly fill the position of a primary healthcare consultant to help people in their busy everyday lives.
What are a few common types of healthcare chatbots?
There are many different kinds of chatbots available in the healthcare industry. A few of them are given below:
Dental Clinic
Assistance with personal health insurance
discounts offered to therapists
Coach for fitness and weight training
Mail
: sales@mobulous.com    Phone
: +91-9650100411