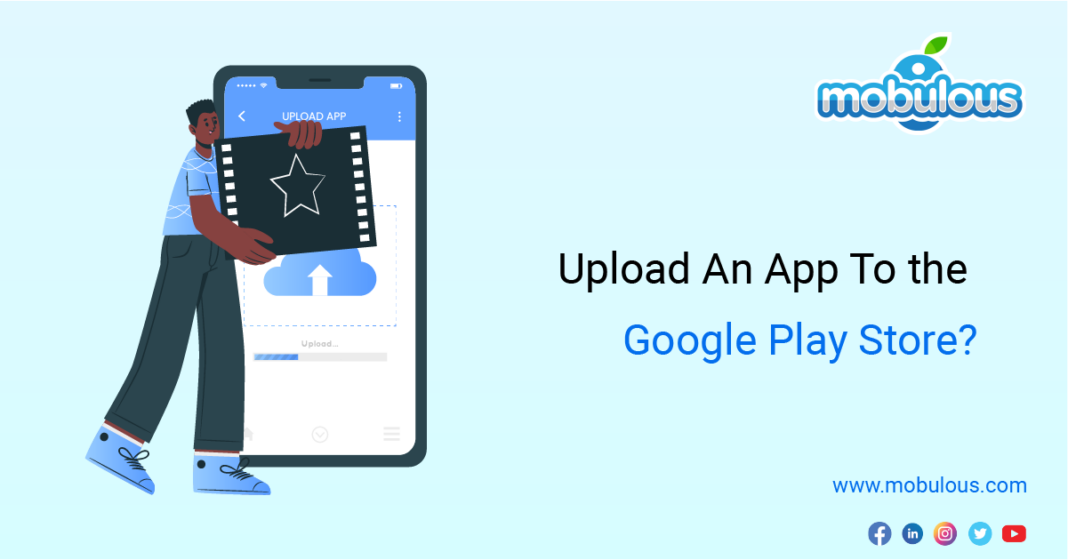 Once you have completed your app development process, it is time to upload it to Google Play Store. Uploading your app to the Google Play Store means introducing your app to more than 1 billion users in more than 190+ countries and regions globally. No wonder Google Play Store is one of the most potent stores that can help you grow, generate money and make you famous.
However, uploading the app to the App Store is a challenging task. So, we will help you to upload your app to the App Store. As India's top app development company, we have great expertise in successfully submitting the app to the respective App Store.
Step-by-Step Guide to Uploading an App to Google Play Store.
Completing the app development process means completing half the process. So, here we have a step-by-step guide to help you upload your app to the Google Play Store. You must check all the processes properly to avoid any mistakes in the app submission process.
Step 1. Signing Up for a Google Developer Account
You'll require the help of a Google Developer account to upload an app to the Play Store. Luckily, getting a Google developer account is a smooth process, and you only need to pay a registration fee of $25.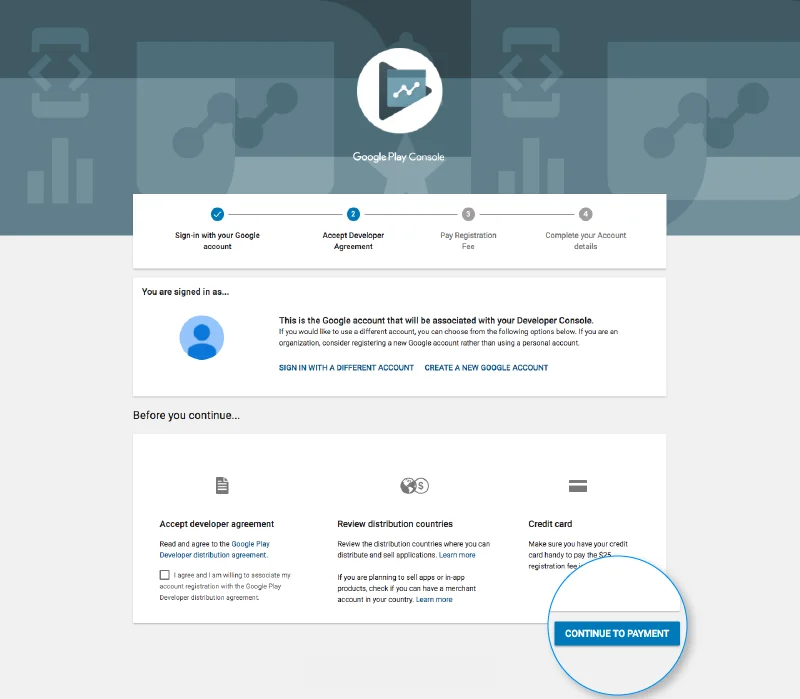 Now you need to know how to sign up for a Google Developer account:
First, go to the Google Play Console sign-up page.
Second, include your email address and accept all the terms of service.
Then, make a developer profile. Here, You need to submit some basic details about yourself and your business.
After creating your developer profile, you can start uploading apps to the Google Play Store.
Step 2. Create a Google Wallet Merchant and Link it to Your Developer Account
You should have a merchant account if you have included an in-app purchase revenue model. All the payments made by users will come to the merchant account. Creating a merchant account is relatively easy.

Let's know how to create a merchant account for your app-
First, log in with your developer account.
Second, visit the menu and select a financial report from the report.
Then click on Create a Merchant Account.
Describe your company in depth and enter on submit button.
Now, your developer account gets to connect to the merchant account.
Step 3: Upload the App on Play Store
You can quickly upload your app to the Play Store when you create your merchant account. Most business owners need help uploading the app to the Play Store. But, in reality, it's pretty simple.

Let's know how to upload the app to the Play Store:
First, select all applications from the menu.
Then, click enter to add a new application.
Now, select the default language.
Include the app's title. Ensure the title should be at most 30 characters.
You currently have two options for uploading your app to the Google Play Store. Either uploading APKs for creating store listings is an option.
Step 4: Upload the Android Package Kit
The file format known as APK, or Android Package Kit, is used by Android to store, share, and install software on mobile devices.
You have the option of browsing and navigating or dragging and dropping the APK into the upload box.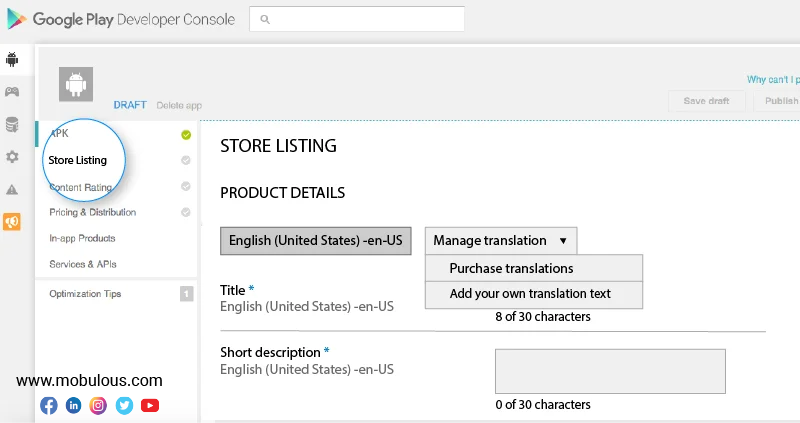 Let's know how to upload the Android package kit-
Click Release Management from the menu.
Enter on app releases. Select an internal test, closed test, open test, or production release as the first release type.
Click Create Release.
To upload the APK files, adhere to the instructions.
Step 5: Prepare Store Listing
Now, you need to include all the details of your app.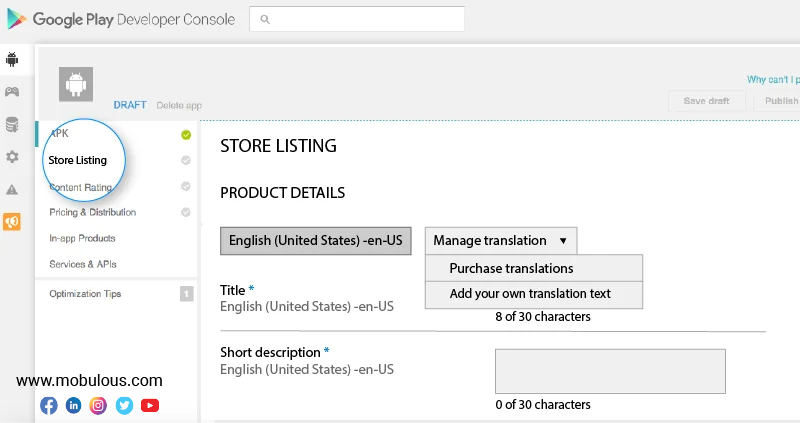 Let's know the lists of more information you need to fill in the app listing-
You need to write a short intro of your app in the description box. Then you need to include app screenshots, images, videos, icons, videos, and so on. The data you enter will help consumers develop a mental picture of the app.
Be careful because it might influence their decision to download the app.
Step 6: Add Content Rating
If your app doesn't get good ratings, then there is a strong possibility that your app will be removed from the Play Store. So you must add your app's rating.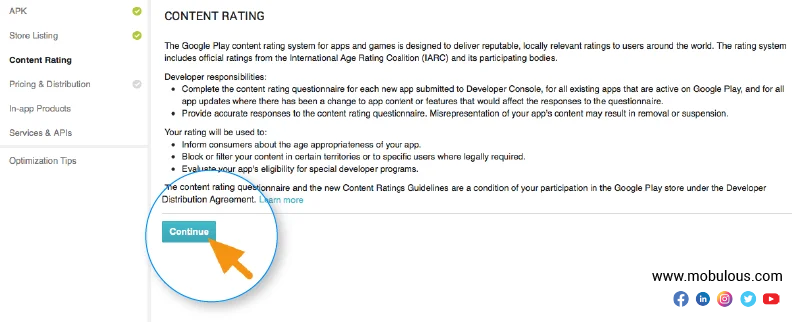 Let's know how to add ratings to your app-
In the Play Console, choose the desired app, then select Store Presence from the drop-down menu.
The rating aids in drawing in the appropriate user base for the app. Make sure that the information and rating you provided are accurate. A fake rating may cause the app to be suspended or withdrawn from the Google Play Store, in addition to misleading users.
Step 7: Choose a Pricing and Distribution Model
The last few steps of uploading an app to the Play Store are now coming up. You can make your app either free or paid. You can switch between a paid and a free app on Google Play Store, but not vice versa. So, you must be completely aware when selecting your price model.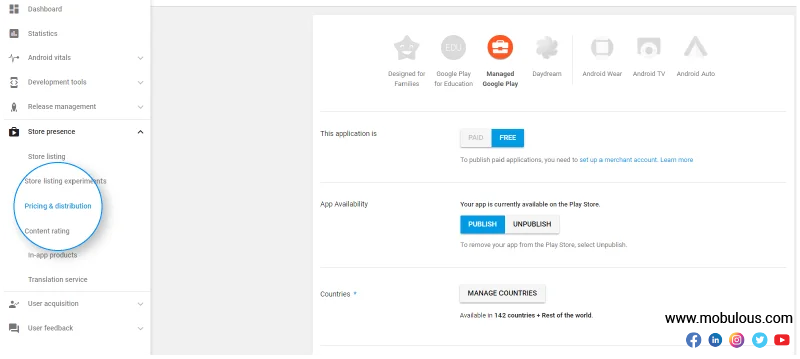 Select the regions you want to upload your app in after finishing. You can upload your app to all nations or just a few chosen ones.
Additionally, you can select particular Android applications and devices for your app.
Step 8: Publish Your App
Now you must check every step that you have previously done once again. After that, you can click on publish your app button.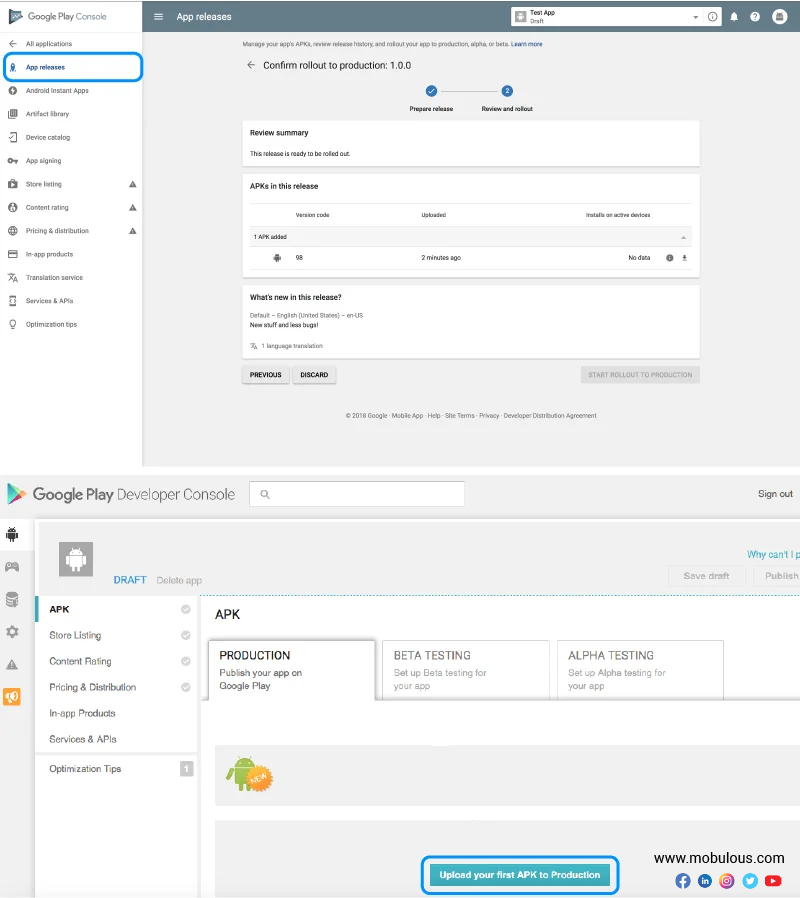 Any cautions, omitted data, or other problems that might be problematic will be communicated to you. Before moving on, review everything.
The app will be released in each of the nations you choose.
Best Practices for Uploading an App on the Google Play Store
Here are some fantastic tips to help your app get users' attention. These tips will help your app get featured on the Google Play Store. Let's have a look:
Choose an App Name and Icon That is Memorable and Unique
Make sure your app's name and icon are memorable and instantly identifiable because these are the first things people will see when they discover your app in the store.
Consider putting that in your app's name if it relates to a recent news story or trend to make it stand out.
Create a Professional looking App Store Listing
Ensure all the text is appropriately prepared and free of errors because your app listing is similar to a miniature marketing campaign for your software.
Include short and clear descriptions of the functions of your app, along with images or videos showcasing its features. Moreover, attach links to your website and social media profiles in the "About" section.
Use Keywords Carefully
Potential customers utilize keywords to search for apps in the marketplace.
You can ensure that your app ranks highly in search results by carefully choosing relevant keywords and implementing them into your app listing (in the title, description, etc.).
However, if you solely include keywords, your listing will appear spammy.
Price Your App Appropriately
Don't stress too much about getting the price of your app perfects the first time; you can modify it afterward.
Consider pricing your app competitively, and look at what other apps in your niche are asking for.
Providing it free with in-app purchases or advertisements might be an excellent strategy to attract consumers.
Monitor Your App's Performance
After your app is Uploaded, keep an eye on how it is doing in the Play Store.
Please read all the user comments and reviews, as these are essential tips that can make it easier to identify any faults or problems with the app.
You can use this to guide your decisions about when and how to update your app. The following are recommended methods for uploading an Android app on the Google Play store.
You can make sure your release goes well and that your app has the best chance of reaching its intended audience by heeding these recommendations.
Conclusion
By following these simple steps, you can easily upload your app to the Google Play Store and make it available to users worldwide. The process may seem daunting initially, but anyone can have their application featured in the Google Play Store with time, effort, and patience. With this knowledge, you can take your App development journey to the next level! Good luck!
We will be the perfect choice if you want to upload your app successfully to the Google Play Store.
We are a top app development company with significant expertise in app development. We have uploaded numerous Android mobile apps.
Visit Mobulous for Mobile App Development Services
Mail
: sales@mobulous.com    Phone
: +91-9650100411