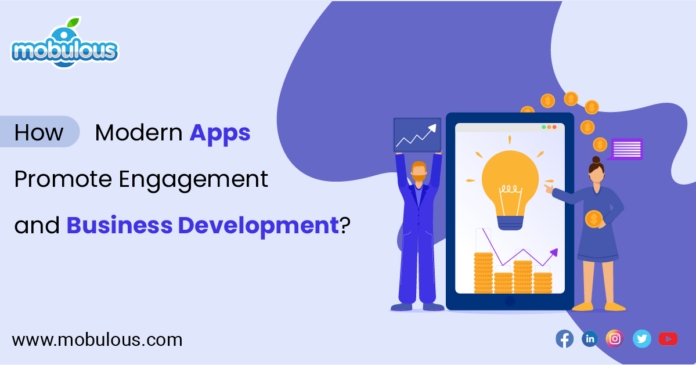 In the earlier time, apps were used by just some of the big brands. But, things have changed now as mobile applications have become important part of all domains and sizes.
By the help of it, engagement is driven and good experience is provided. So, if you are running a business, then it is important that you connect with a good mobile app development company for developing an app.
So, if the app is crafted in the right manner, then overall value of the organization would be improved.
Thus, we would discuss about how modern apps can promote engagement as well as business development.
Brand Awareness is Increased
With the assistance of modern apps, you can be rest assured that awareness of the brand would be boosted. Thus, it is one of the potential reasons why you should hire an app development company.
With mobile app, you can let your audience know about your business ideas. Further, how service/products can acts as a solution for user problems.
Moreover, your target audience would be interacting with your organization on a lot more regular basis.
Customer Engagement is Boosted
With the help of a mobile app, we can access some of the best brands with just a tap of a button. Thus, customer engagement can get boosted.
Besides this, if mobile apps are integrated alongside various social media sites, then it will drive marketing of your business as well.
Just make sure that the mobile app that you are coming up offers very good user experience.
Productivity is Maximized
Tracking productivity can be very difficult since it involves a lot of time. But, with mobile apps, you can target almost everything.
Likewise, you can make an app tailored to your list by gathering all the checklists, information, documents, records as well as other data. In this way, a lot of money would be saved.
But it is often seen that a lot of time is spent by businesses to document the data. Thus, less time is left for doing other important works.
On the other hand, if you come up with a mobile app from a top mobile app development company, then it can benefit you in a lot of things.
For instance, employee communication would be enhanced leading to a lot more productivity.
These days' customers are purchasing everything online. But people are little resistant to use random sites due to devious activities involved.
So, a customer is more likely to use a mobile app where all the data is stored in the device.
In this way, the process would become a lot more secure and less time consuming.
Also, mobile apps these days are backed with biometric authentication functionality. Hence, it provides much more privacy and protection.
Final Verdict
Above are some of the ways through which modern apps can promote business development and engagement.
So, the first thing that you need to do is hire the best mobile app development company for developing an app.
Further, if you are looking out for recommendations, then Mobulous Technologies is one of the best options that you can get ideally.
They are vastly experienced in this field and they can easily cater to your mobile app requirement.
Thus, connect alongside with them right away to get your mobile app project kick-started.
Visit Mobulous for Mobile App Development Services
Mail
: sales@mobulous.com    Phone
: +91-9650100411