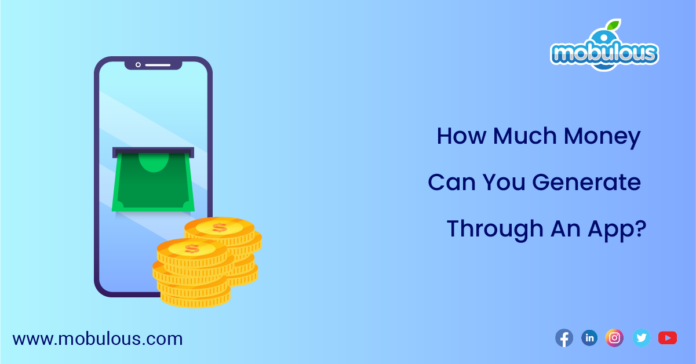 Apple's App Store and Google's Play Store have over 5.7 million apps. They all have the potential to make millions of dollars, but only certain apps are genuinely successful.
You must consider numerous factors while developing an application if you want your app to get successful and make money for you. And most importantly, you should reevaluate your strategy if your main motto is to generate money through your app.
It may be tempting to create comparable mobile apps after discovering popular ones, but it's doubtful that you'll achieve the same success as Swiggy or Instagram. Before starting an app, you must concentrate on the distinctive elements that make profitable apps.
Now that you have an idea and a rough vision for your mobile app, you may be hesitant to enter into the mobile app development field because you wonder how much money you can generate through the app. Well, the success of your mobile app highly depends on your industry, app platform, monetization plan, and other elements we will cover later in this post.
Here are some popular stats related to mobile app monetization that you must know-
 If we believe the poll from July 2022, you will find more than 2.65 million apps in the Google Play store. And another report suggests that the gaming sector will be on the top and generate 70% of all app income in the Google Play Store.
In-app advertising revenue will increase by 4% between 2022 and 2023. And if we talk about in-app purchases revenue, it will increase by 8.4% between 2022 and 2023.
If we believe the report, 36.8 billion apps will be downloaded from the Google Play and Apple App Stores by users in 2023. This clearly shows the significant growth in app downloads from the last year.
If we talk about app monetization statistics, In the US, more than 30% of app money comes from advertisements.
The stats provide clear information about the massive competition for mobile app development. You should create an app that makes you popular and maximize your profit. If you make any mistake on your app, there are chances that you don't achieve the success you want.
That's why you must concentrate more on the relevant factors before developing your mobile app. Top factors include- App Purpose, Competitor Analysis, Potential Users and Technologies that you choose for your app.
Let's Know The Various Ways To Generate Money Through The Apps-
The easiest way to get money from an app is by implementing a subscription on it. The annual or monthly fee will be applied to all users who purchased it.
Keep in mind that you must provide more and better content, services, etc. to keep your users renewing their subscriptions.
To grow your existing business or start a new one from scratch, developing an application with in-app purchases can be a fantastic solution.
This monetization model has been employed by many gaming applications for years, and it is very profitable.
Advertising is one of the most effective ways to generate money through the app. If you want to implement advertising in your app, it is essential you must first identify and cater to your target market. Although it takes time and work, it is really beneficial.
How Much Money Can You Make Using A Mobile App?
You can create a successful mobile app if you properly consider the essential things such as app purpose, competitor analysis, target audience, technology, etc. Now, you may be wondering how much money applications bring in.
For instance, Supercell, the company behind the video game "Clash of Clans," makes nearly $1,548,536 daily in revenue!
"Candy Crashpublisher, "'s King Digital Entertainment, makes $72,227 daily. Most game applications are free and make money from advertising or in-app purchases. Match Group, the company that created Tinder, anticipated revenue of $621 million in the third quarter of 2022.
The most profitable Google apps are listed below.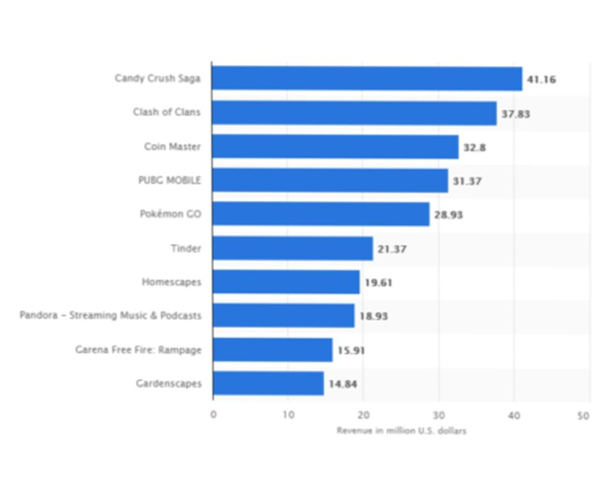 What's the Future of Mobile App Development?
In the app industry, there are countless prospects for wealthy businesses. Since its inception, the app market has been expanding, and this trend is not expected to stop.
Over 18% of Android app developers make over $5,000 monthly, and 25% of iOS app developers do the same.
Apps for video games bring in millions of dollars.
The app industry will rise in the upcoming year's thanks to the expanding smart TVs and wearables markets.
How Can Mobulous Help in Mobile App Development?
We are a top mobile app development company that helps its customers make the best use of the newest technology to boost their company's ROI. Our team can turn your concept into reality as we have delivered 1000+ business apps across all industry verticals.
Contact our industry experts immediately to learn how we can help you generate money through an app.
FAQs – How Much Money Can You Generate Through An App?
How can free apps generate revenue?
Free apps can generate revenue by using three main monetization strategies—in-app ads, sponsorship, and referral marketing.
What apps are the most successful?
Music apps, gaming apps, and video streaming apps would be the top three app categories in revenue for their parent companies.
The engagement levels for all three of these app categories are very high.
How much is paid per download on the App Store?
Apple keeps 30% of its app store's sales and gives the developers the remaining 70%.
How much does the Google Play Store pay for each Android app download?
Google keeps 30% of the money earned from the Android app while giving the developers the remaining 70%.
Visit Mobulous for Mobile App Development Services
Mail
: sales@mobulous.com    Phone
: +91-9650100411