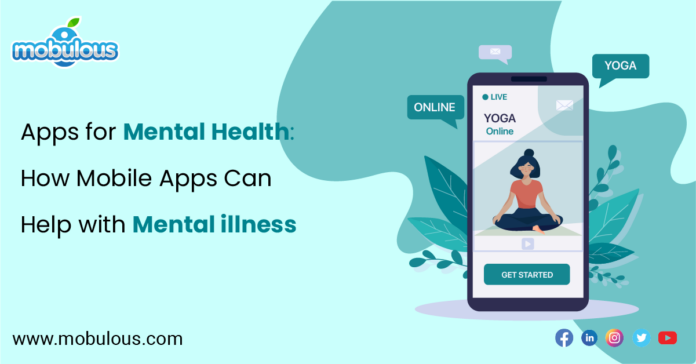 The role of a mental health professional is to help out patients deal with their goals while fulfilling three goals.
The first goal is to make the patients accept the fact that the disorder has been due to brain dysfunction or chemical imbalance without taking the blame on them.
The second goal is to make sure that patient has a way to coexist or recover from their condition. The last & ultimate goal is to show them the way through which the right kind of treatment can be done.
So, it is seen that mobile patient apps can very well help you with all of these goals and perhaps support the work done that is done by mental health care professionals.
Further, it is recommended that you hire a genuine mobile app development company such that these apps can be developed.
Thus, without wasting any more time, let us have a look at how Mobile Apps can help out with Mental illness. Let us have a look:-
It is seen that mental illnesses is often associated with mood swings which can cause a lot of problems in the life of a person.
So, in order to gain control of all of these problems, then it is important that an individual pattern that causes them is learned.
But before that, a person recreates all of these patterns and perhaps sees through it.
So, a mood-tracking apps does exactly the same job and helps you with the same.
The following type of mental health apps works as a digital mood diary and collects the entry of the patients over a span of time.
Further, it shows the mood stats in graphical form for convenient analysis.
Lastly, it is recommended that you get in touch with reputed healthcare app development companies for developing these kinds of apps.
Emergency mental self-care apps
It is seen that sometimes mood swings can be quite dangerous and it can lead to emotional downfalls or spikes.
These kinds of mood changes can lead to panic attacks, manic episodes, suicidal thoughts, self-harm urges or even more.
Additionally, these kinds of episodes can be recurring and patients may feel that they are burden on loved ones or therapist and they will stop taking the help.
However, the anguish & danger would be the same and thus a therapist can suggest them for using a self-care app.
So, the apps can remind them about the causes that can lead to such episodes by displaying the visual or textual explanations that are created by the patients by their respective mental care professionals.
In this way, the patient would remember that the following type of behavior is due to a mental glitch and hence you would need to endure the same.
Final verdict
Above are some of the ways through which mobile apps can help with mental illness.
So, if you are looking to create such apps, then you can get in touch with Mobulous Technologies as they have great hands-on experience in making such an app.
Thus, you can connect with them through call or email to know more about their services.
Mail
: sales@mobulous.com    Phone
: +91-9650100411