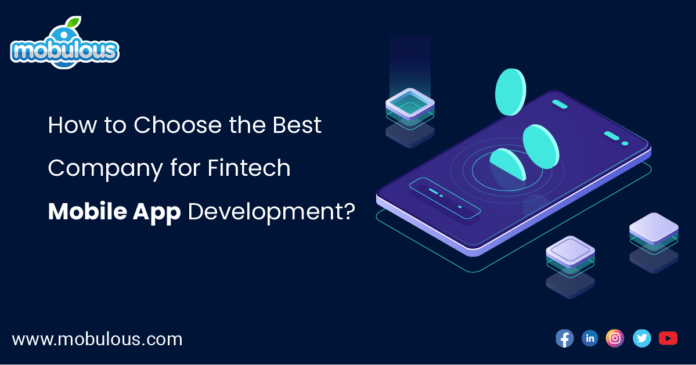 A number of finance organizations are growing at a very rapid speed with the assistance of FinTech technology.
Thus, a lot of financial institutions rely upon fintech app development. It is typically used to transform the services and operations.
Besides this, developing the FinTech apps can help you to get better reliability, convenience and smoothness as well as trust in customers.
So, in this blog, we would discuss about how to choose the best company for Fintech Mobile app Development. Let us have a look:-
What are the Things to keep in mind before opting for Fintech Mobile App Development Company?
For Software development, it is important to gather right kind of information.
So, ideally, the mobile app development company that you are hiring should have the necessary domain knowledge.
Some of the aspects where knowledge might be required are the field of collection of data, problem formulation, pre-processing of data to name a few.
The app development company that you are planning to hire should have necessary skillset in Fintech, certifications as well as knowledge of the field. Likewise, the developers that they have in the team should have hands on experience in making secure and reliable Fintech products.
If you are looking to develop a fintech product, then authentication and secure identification should be your consideration. Fintech is basically a particular field in which safety and precision is required when it comes to its operation. It should also be used in a manner that the productivity of an employee as well as user experience is improved.
Make sure that the company that you are hiring accommodates to the business needs you might be having. Also, during the process of development, it is segmented into several stages and thus specialist in the field would be needed. In this way, less time would be consumed and you can easily maintain them in the long run.
The project of fintech goes hand in hand with risk management. It acts as a tool for decision making. It is also used for the identification and evaluation of the risks.
Communication skills play a very crucial role when it comes to fintech mobile app development. With good communication skills, it becomes easy for people to discuss their thoughts and doubts in the project cycle. Likewise, you would be able to deal with the problems in the right way.
The process that is involved in the development of software is quite complex as multiple stages are involved.
Besides this, it is seen that top mobile app Development Company make use of certain methodology related to project management for coming up with wide range of digital products.
So, some of the popular methodologies that are used by them are waterfall, Agile and Scrum.
Thus, if you are looking to develop a Fintech product, then opt for a company that uses agile methodology.
The reason most of the developers use agile is due to the fact that they can use set of principles, tools, methodologies and techniques using which customer satisfaction can be maximized. Hence, they are able to deliver fintech product on a timely basis.
On the other hand, other project management methods are very difficult to deal especially when it comes to changes. Hence, they can hinder the development process of fintech product.
Portfolio plays a very crucial role when it comes to hiring a company for fintech mobile app development.
You should look at the past project that they have done in fintech industry to understand certain aspects such as functionality, security and reliability.
Besides this, you would be able to get complete understanding about technical specification as well as visual details. Hence, in this way, you would be able to choose the right organization.
Ideas play a very important part in the current time when the competition is at its peak.
So, you ideally don't want to share an idea with an organization that cannot safeguard your data and privacy.
On the other hand, if you hire such an organization, then it would compromise competitive edge, business idea etc.
So, make sure the company that you are thinking to choose signs NDA document with you. In this way, there would be assurance of privacy and data protection.
Hence, any of your ideas won't get leaked to any of your competitors. In this way, you can develop competitive edge in the market.
Once the development of fintech product is finished that doesn't mean that the project has ended. So, here are some of the things that you need to keep in mind:-
#Product Testing
It is an important step to ensure that the product you have developed matches with the objective that you have created. So, make sure the company you are hiring is testing the product on various levels.
These includes performance testing, functional testing, user experience testing, platform testing. So, all the testing should be done in the right manner such that smooth deployment can be done.
#Product support
Once the app has been deployed, then ensure that company provides proper support.
Other than this, technical backup is needed such that critical issues can be resolved without any hindrances.
#Maintenance of the product
Time to time maintenance should be done to match the security protocols, user demands and industry trends. Also, with regular maintenance you can ideally get better customer security, loyalty and reliability.
Every business has different app development requirements. You might be running a FinTech start-up or a global enterprise, thus, your requirements will be different and unique.
The FinTech App development company that you are choosing should provide a wide range of hiring models based on different requirements and budgets. Hence, appropriate hiring model should be selected based on the business and development needs.
So, here are some of the pricing and hiring models that you can opt for:-
In the following model, the development work tends to happen on an hourly basis. So, the bill is generated based on the hours that are spent on the development part.
This model can be a perfect option for you if you don't overspend or have limited budget. Hence, the cost associated with development of fintech app is evaluated based on the requirements and needs.
In the following type of model, dedicated resources such as designers, developers, project managers and QA professionals are used for the FinTech app development.
Final Verdict
Above are some of the ways through which you can choose the best company for the Fintech Mobile app development. So, if you are looking out for mobile app development, then look no further than Mobulous Technologies.