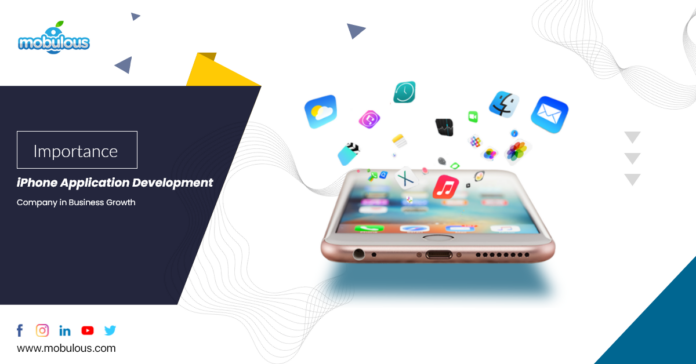 The iOS application development has emerged as the best choice for building secure, and scalable digital solutions for businesses. Software developers ensure that all applications are engineered towards future-forward businesses.
The role of a leading iPhone app development company is to build completely feature-rich iOS applications for both start-ups and enterprises. 
The Apple App Store follows a complete app development journey from ideation to App development and publishing for all kinds of mobile applications. The steps followed by dedicated iPhone developers during the iPhone app development process are listed below:-
Analysis of Requirements

Wireframing & Designing

Application Development

Testing

Deployment
The major factors to choose an iPhone application development company are as follows:-
User Experience

: The dedicated user base for the iPhone makes them loyal customers for the company. There is better user experience with this OS from Apple, which is preferred by mobile app developers.

Higher App Revenue Generated

: iPhones are devices that are targeted for the premium marketplace and for individuals with higher incomes. For this reason, the technology company Apple prefers better services tools, even if it costs higher. It is observed that the higher the monetization the better is the result obtained, which in turn increases the company revenue.

Quality of the Apps

: The iOS operating system is a closed platform as its software and devices are totally controlled by Apple. They design their own software and hardware under strict guidelines. What is more, the main reason that iOS is preferred by mobile developers for software development is due to the limited number of available devices.

Review Process

: The review process for developing iOS apps is much longer to develop quality apps, which is due to the mandatory strict guidelines to be followed by Apple while using the iOS platform.

Lesser Bugs

: One of the greatest advantages of the operating system from Apple is the limited number of iOS based devices and requires a lesser number of codes resulting in a lesser number of bugs generated.

Developer Tools

: The iOS from Apple provides faster and firmer tools and provides better developer tools for mobile application development.
As an iOS app development company also provides custom iPhone application development services in regard to all platforms such as iPad, iPhone and Apple Watch. In additon to this, the app developers design apps for diverse use cases ranging between multiple sectors such as real-time analytics, video streaming and geo-tagging.