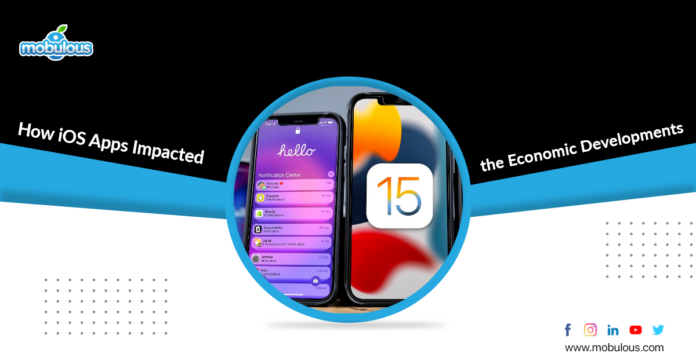 The iOS app economy is one of the fastest-growing sectors of the economy since it came into existence in 2008. The iOS or Apple app store ecosystem presently aids more than 2.1 million US jobs across the country as it has had an upswing of 15 percent since last year. 
During the pandemic outburst, the iOS apps proceed to convey economic chances for all sorts of entrepreneurs from a large start-up to a small start-up, helping developers with an idea to reach clients across the nation. As the iOS app development company is getting more popular and expanding they are reaching to help others with educational programs and so on. 
Let's have a Look at Several Expanding Economic Insights 
In Texas, the dominant iOS app economy has led to the emergence of 36,000 new jobs with a hike of 30 percent since last year. 
A Texas based H-E-B retailer

iOS app development company

has broadened its digital team by adding more than 150 in response to the achievement of high  revenue goals in just a couple of months. 
Maryland augmented 25,000 new job opportunities due to the immense hike in app economy in the past few years. 
Michigan introduced 12,000 new jobs in comparison to the last year with a growth of 34 percent. 
How Apple is helping iOS App Developers? 
As the app economy is expanding with enormous speed continuously, Apple is investing in organising educational programs and opportunities. The aim of these educational programs is to equip learners of different age groups for the upcoming app economy jobs. 
With the help of Swift6 playgrounds, anyone can easily code and Apple is providing all the necessary tools and guidance to the learners who are interested in learning. Currently, the number is more than 9,000 K-12 & higher educational organisations globally who are using Apple's curriculum. 
Apple's coding academics, entrepreneur camps and accelerators give a golden chance to all emerging iOS app developers to learn & apply the modern technologies to their application. Also, it will help them to build their business efficiently and market their ideas to a huge number of audiences worldwide. 
How Much Apple has contributed in Economic Development? 
Till date, Apple has employed over 90,000+ employees across all 50 states in the country. The iOS app development company is on its way to achieve its affirmation to endorse $350 billion in the US over a term of five-year. Apple also demonstrates a great supporting system to 450,000 manufacturing and supply chain jobs as it collaborates with 9,000 American suppliers. 
Wrapping Up 
If you look at the overall contribution of Apple, it's a huge one in the process of economic development. There are a few leading mobile app development companies like Mobulous who also create great iOS apps and support business economies. 
Apple has doubled the new app economy jobs even during the lockdown period and supported many entrepreneurs. The iOS app store application also has a lot of beneficial apps to assist great remote learning for students, connecting the patients with the doctors and much more.