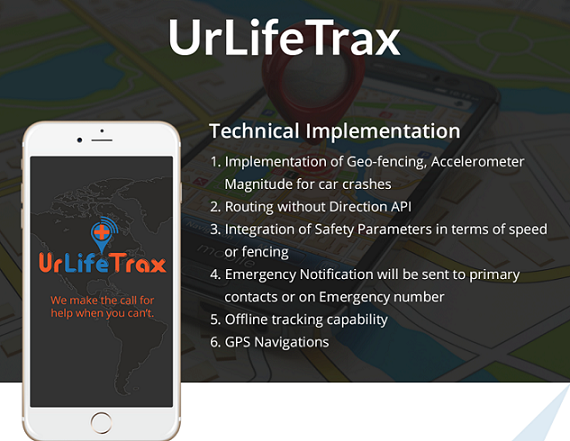 Another amazing Product is LIVE : Urlifetrax
Emergencies happen and pushing a button or calling for help isn't always possible. UrLifeTrax is the only safety app that makes the call for help when you can't. UrLifeTrax watches over you when going fishing, on a blind date, walking home or when you need the peace of mind knowing someone has your back. Unlike other tracker apps you are in complete control of your location data and personal information. This is not a "kiddie" tracker, instead you share what you want, when you need to.
With UrLifeTrax you can:
– Plan your destination by address or custom waypoints
– Declare type of activity (Fishing, Blind Date, Jogging)
– Personalize SMS alerts based on intended speed and arrival time
– Easily invite other UrLifeTrax users to join you
– Automatically send SMS alerts with life saving information at timed intervals to multiple contacts
– Crash and severe fall detection with well check and SMS
– Web profile provides emergency contact, medical & physical characteristics
– File detailed activity plans for boating (float plan), hiking, hunting and other activities
– Verifiable check-in using cell phone or website using a personal pin code
– Upon check-in all alerts are cancelled and access to the first responder portal is closed
With UrLifeTrax those who matter most can:
– Receive SMS alerts with actionable location information
– Mitigate false notifications to 911
– Have access to safety portal with;
– Complete location data on Google map interface
– Medical information
– Physical characteristic & personal picture
– Detailed activity plans for boaters, hikers, and many other activities
It is easy to get started. Simply install the UrLifeTrax on your phone. Once registered, you can select each contact who you'd like to notify in the event of an emergency. Or you can share UrLifeTrax and bring your bestie along after they download and install on their phone.
GPS features (real time tracking) requires a GPS-equipped smartphone and the GPS to be enabled in your phone settings. You can control how the app conserves power, but as with any app with GPS functionality, your battery life may be slightly diminished.
Website: http://www.urlifetrax.com/
Google Play: https://play.google.com/store/apps/details?id=com.urlifetrax
Review UI Case Study : https://www.behance.net/gallery/45623955/Locator-Urlifetrax-Case-Study
App Store : #Comingsoon
Developed by Top Mobile App Development Company Mobulous
Contact us for next app project : sales@mobulous.com