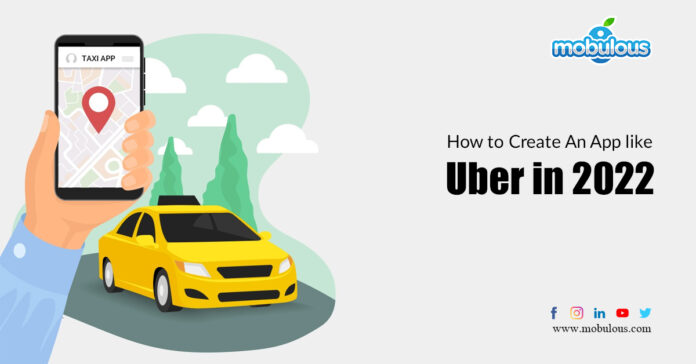 How much will I need to invest to create an app like Uber? This question is always stuck in peoples' minds when they plan to develop an app like Uber.
As we know, in the modern era, On-demand taxi booking apps are in so much demand. Uber is considered one of the top players in taxi app development markets. According to the report, Uber has around 3 million drivers worldwide.
Uber Includes Two Apps-
Uber includes two apps- the driver app and the rider app. If we talk about the cost to develop and design an app like Uber, it will cost around $1,959 – $12,999 for both powerful platforms, iOS and Android, and take 2 to 6 months.
We have noted the price above includes UI/UX Designs, Driver app, Rider app, Admin Panel, Backend development, Frontend development, etc.
So, here in this blog, we will discuss how these amounts come from-
Uber-like app development basics- 
How does an app like Uber work?
The Uber app has excellent popularity globally. It's a two-sided marketplace that works on the aggregator concept. Here are the following steps that will show how ride-hailing app like Uber works-
Step 1: Registration and Profile Creation:
The first thing users need to do is register themselves by entering their phone numbers or email addresses or adding existing social media accounts. After registration, users can edit their profile the way they want.
After creating a profile, users can send ride requests by adding the pickup and drop locations.
Step 3: Ride Confirmation
The app will send ride requests made by passengers to the driver. If a driver is available for the ride, he can send a confirmation message to the riders. If the driver rejects the request, the request will be transferred to another driver.
The driver will reach the riders' pickup point and start after the ride confirmation process. The riders can also see the driver's route to their destination.
Step 5: Payment Processing
Once the riders reach their destination, they can make the payment. They can make a payment that they find best for them.
After the payment, the riders can provide their feedback on the service. The feedback includes reviews/ratings about the behavior of the driver.
How many apps will you require?
With an app like Uber, you connect driver and passenger. So, you need to develop the following apps:
The driver app is created for drivers. The app allows drivers to accept the request of the riders.
The passenger app is created for the passenger. The app allows riders to request rides quickly.
Admin Panel for the App Owner
An admin panel is essential for the success of the app. You can include features such as report and analytics, driver and passenger management, etc.
Essential Features in a Taxi Booking App Like Uber-
For Passengers
Instant Registration
Personal Profile
Geolocation and routing
Calling or texting drivers from the app.
Calling or texting drivers from the app.
Ride History
Fare Estimation
Payments
Reviews and ratings
Advanced Features in a Taxi Booking App Like Uber-
Booking rides for others
Scheduling rides in advance
Splitting the ride fare with companions
Essential Features in a Taxi Booking App like Uber- 
For Drivers Uber App:
Registration and personal data management
Profile creation
Reporting by drivers
Route optimization
Calling or texting passengers from the app.
Alert and Notification
Report
Geolocation and routing
Ride states
Ride cost estimation
Advanced Features in a Taxi Booking App like Uber-
Free Cancelation Policy
Heatmaps and sophisticated reporting
Functions performed by Admin dashboard-
Adding and removing admins.
Checking the list of drivers
Updating drivers' data
Altering the price of the data.
Different Sources of Revenue from a taxi-booking app like Uber-
One of the primary sources of revenue from taxi-booking apps like Uber is commission. For instance- Uber charges 20-30% of the driver's total fee for rides.
If a driver or passenger cancels a ride, they will have to pay the cancellation amount.
In-app advertising charges
You can provide different businesses an opportunity to advertise their products or services on your platform. This will allow you to earn considerable money from various companies.
You can earn a considerable amount of money from the premium model. You can provide extra benefits to those riders who take premium subscriptions from your app.
How much does it cost to make an app like Uber in 2022?
As discussed earlier, developing an app like Uber will cost around $1,959 – $12,999 for both powerful platforms, iOS and Android, and take 2 to 6 months. The cost will vary according to the needs of your project.
Numerous factors affect the cost of taxi booking app development. Let's explore some of them-
The app's features affect the taxi booking app development budget. The more features you will add, the price will be higher. You must include features that are essential for the app.
The Choice of App Platform
If you want to target a massive audience, we suggest choosing Android and iOS. However, if you don't have a significant budget, you can select any one of the platforms.
The technology you use in the app depends on the platform you choose, third-party integration, feature-set, etc. Ensure to use the right technology stack in your app. The right technologies determine the app's performance.
Here is the list of some of the popular technology stacks-
Programming languages — JavaScript and Python
Database — MongoDB and PostgreSQL
Analytics — BigData, Apache, Hadoop, IBM
Payment gateways — Stripe, PayPal, Braintree
Clouds — Azure, AWS, and Google
Company's Geographical Location
The cost of the app depends on the mobile app development company's location you choose. The price changes as per the different regions-
United Kingdom — $60 — $150 per hour
North America — $60 — $250 per hour
India — $10 — $80 per hour
Eastern Europe — $20 — $100 per hour
Western Europe — $40 — $120 per hour
Final Conclusion-
No wonder taxi booking app development has a significant market. If you dream of creating a taxi booking app like Uber, you shouldn't wait for anyone.
We are a top mobile app development company with significant expertise in creating various on-demand taxi booking apps for users all across the globe.
For more information, you must contact: sales@mobulous.com
Contact for:
Read Also: 
What Are The Steps To Create An Ecommerce App From Scratch – A Complete Breakdown Of Its Features And Characteristics.
A Guide To Android App Development For Complete Beginners In 5 Easy Steps
TechBehemoths Recognized Mobulous as Top Leading Node.Js Development Company in India
SaveEat App- India's First Food Saving App | Get Best Food at Affordable Prices.