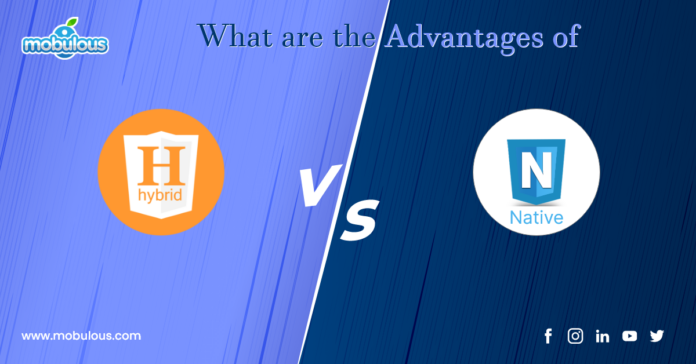 Creating mobile apps is always a challenging task for businesses. It is evident because most companies and entrepreneurs find it challenging to arrive at a mobile app development methodology. Building a mobile app requires a decent amount of time and effort, along with knowledge and expertise. Before finalizing a solution, many parameters such as the scale of operations, traffic, and other consumer-facing parameters need to be considered.
But if we talk about the essential factor you need to decide, it must be selecting between Native or Hybrid.
Let's know About Native Apps-
A native application is a software developed or designed to operate on a specific platform or device. In native app development, apps are created individually for each operating platform. Though the programming languages and tools may vary for development, they are built for a specific forum. Example: If you are looking for a Native Android App, you will choose Kotlin or Java. Similarly, if you are looking at Native iOS app development, you will seek Objective-C or Swift.
Let's Know About Hybrid Apps-
Given the pressure to shorten the time-to-market to launch an app, several technologists can't help but point towards hybrid app development. Hybrid app development means developers can use a single code and implement it for various platforms to replicate the functionalities.
So, now without further ado, let's know some of the top advantages of native apps over hybrid apps-
Native apps have an excellent security
Native apps are a better choice when it comes to security.
Due to the engagement of different programming languages in hybrid systems, there are numerous vulnerabilities.
Hybrid apps depend on system browser security and cross-platform. However, native apps are safeguarded by various layers of an OS.
Native Apps have High Performance.
Earlier, top giant companies like Facebook and LinkedIn have trusted in HTML5. But, later, they realized the importance of native apps.
Native apps are unique, robust, and offer a great user experience. These apps are written in the language specific to the particular platform, and that's why they are faster.
Moreover, native apps can access unique components and APIs tuned for different devices and operate quickly and smoothly.
Native Apps have Fewer Bugs.
Native apps allow having fewer bugs as they won't depend on cross-platform tools such as Cordova or Xamarin.
Native app developers can also access new SDK (Software Development Kits) to build apps with the most up-to-date features. Users of native apps can receive new platform capabilities after updating their OS.
Native Apps Offers Offline Performance
If there is no internet connection, selecting native would be the best option. Because its material has already been downloaded, planners, organizers, navigators, and even games may be used offline.
HTML5 supports in-browser caching, but you still don't have as much flexibility as you would with a native app.
Based on the approval rate, native apps are highly likely to get accepted in the App Store and Play Store, as these are built using native resources.
Wrapping Up:
If you want to provide your users with a robust, feature-rich, and scalable mobile app, you must choose native app development. Selecting a hybrid or native framework depends on the type of app you want to build for your startup.
If you want to create an app at an affordable price, you can develop a hybrid app.
FAQs About Native Mobile App Development-
Question 1: What Do You Mean By Native App Development?
Native app development means an application that runs on a specific platform or device. To develop a native app for Android, developers use Java or Kotlin, while, to create a native app for iOS, developers use Swift or Objective -C programming languages.
Question 2: Why Native App Development is Better Than Hybrid App Development?
In comparison to hybrid app development, native app development offers excellent benefits. It provides a great user experience, outstanding performance, and user interaction. Additionally, It gives developers a great scope for customization of the app.
Question 3: Which is Better To Choose: Native Apps or Hybrid Apps?
It would be wise of you to choose native apps over hybrid apps. Native apps have numerous benefits such as less security, better maintenance, excellent performance, scalability, and many more.
Native mobile application development is a fast-growing area of the industry and requires in-depth technical knowledge, but Mobulous offers all the necessary skills to create an app that will stand out in the crowd.
For more information, hire to reach our website development company in India. Contact: Sales@mobulous.com Call: +91-9650100411
Our Portfolio: https://www.mobulous.com/portfolio
Read Also: 
How To Choose the Right Mobile App Development Company for Your Project In 2022?
TheWebAppMarket awards Mobulous USA's Top App Development Company 2021
TechBehemoths Recognized Mobulous as Top Leading Node.Js Development Company in India
Builders' Association of India- A Website to Find All the Builders & Constructors