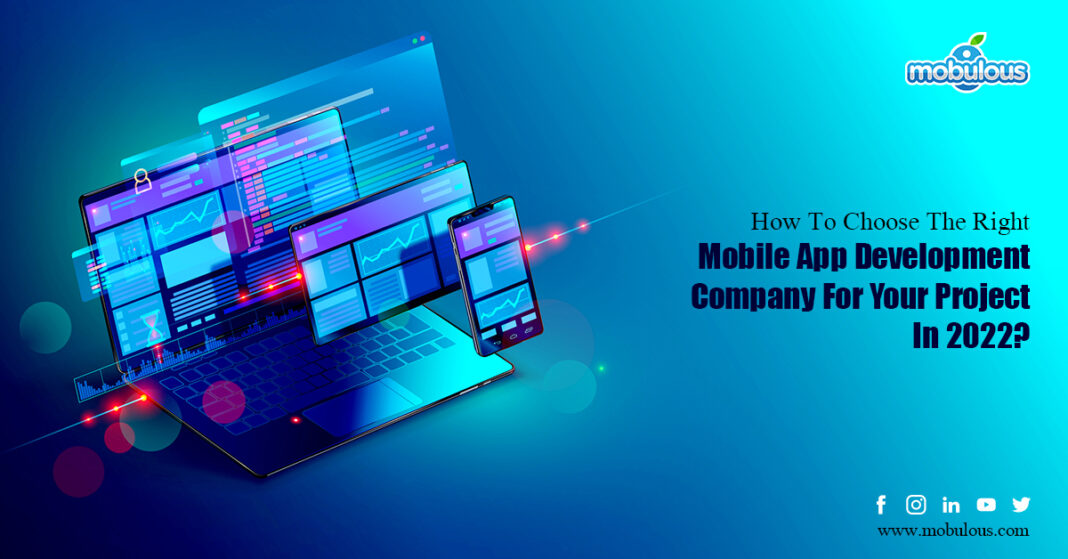 In the modern era, every user's best friend is their smartphone, and they can't live without them. Whether you want to buy groceries and chat with your friends online to book a cab and maintain a monthly budget, there is an app for every task. If we believe the report, the revenue generated by the mobile app will climb dramatically.
So, if you have a winning app idea for your business, it is essential to select the right app development service provider for your project.
Now you must be wondering how to select the appropriate app development company? Well, you don't need to worry. Here, in this blog, we will provide you with some essential tips to find you the appropriate app development company.
Let's Know What a Mobile App Development Company is-
An app development company is a firm that specializes in developing feature-rich, unique, and user-friendly mobile apps. Numerous mobile app development companies promise to build apps, but they lack in-house software development knowledge and expertise.
It's essential to hire a dedicated team model who can work solely on your project without disturbing your business.
There are numerous mobile app development companies all across the globe, so you must be extra careful not to go for an inappropriate app development service provider.
How to Find a Mobile App Development Team?
Finding the right Mobile app development company is a daunting task. You can't trust any of the developers to build your mobile apps. The right team will understand your requirement and create an app according to them.
You can hire a Mobile app development company according to the different demands of your business.
Different review sites such as Clutch.com are significant sources to search for the best mobile app development company. Using these sites, you may quickly narrow down a list of companies that meet your requirements.
To discover an app development team, you may also ask your friends or connections for referrals.
Some Essential Tips to Select the Best Mobile App Development Company-
 Experience in Different Mobile App Development
There are different types of mobile apps. Some of the various app types include- native apps and cross-platform apps. These apps are built with codes of separate programming languages.
Native apps are for a specific operating platform, including Android or iOS whereas cross-platform apps run smoothly on all the major platforms. They both have their pros and cons.
You must choose a company that can develop different kinds of apps so that you can get a perfect app that meets all your business needs.
It is advisable to go for a mobile app development company with significant experience developing mobile apps for your industrial domain.
For instance, if you have a tourism business, choose a company that has developed numerous successful apps for the tourism industry.
Remember, they don't need to have experience in your business niche, but you must ensure that they have worked for different industrial domains.
Provide Dedicated Mobile App Developers
You will get numerous mobile app development companies that will allow you to hire a dedicated team of experts who will work on your project. As a result, you will get complete attention, greater efficiency, and full-time support.
Ensure to choose a mobile app development company that allows the option of different hiring models to choose dedicated mobile app developers for your project.
If you have little knowledge or no knowledge about technical terms, services from consultants become a crucial issue. You can learn about the cooperation of the Company in the first meeting. It's not a challenging task.
If a team is cooperative, you can ask some of these questions without any hesitation:
How can I trust your company? Will you sign an NDA with me?
How will you communicate to update me about the apps' status?
Is there any hidden cost?
If I am not satisfied with your work, Will you return my money?
Will I be able to choose developers of my choice?
Numerous companies offer a 100% money-back guarantee and sign a strict Non-disclosure agreement with the clients.
The Perfect Balance Between Price and Quality
Undoubtedly, price is one of the crucial factors that matters the most for companies while selecting a mobile app development company. We suggest not to go on cost only; the quality of the app matters equally as well.   Ensure that there must be a perfect match between price and quality.
Before hiring a mobile app development company, prepare a quote for your project. You must focus on searching for a company that can provide the best service at an affordable price.
When Looking for A Potential Partner, There are Three Main Questions To Ask:
How long will it take for the development to be completed?
In terms of person-hours, how much effort will a project necessitate?
What is the project's estimated budget?
Hire Dedicated Mobile App Development Company Today-
Finding a mobile app development company is not an arduous task, but finding the best company for you is the real challenge.
There are chances that a company may be perfect for your competitor but not for you.
You must understand your business requirements and choose a company that can meet all your expectations.
If you are looking for a mobile app development company to help you build your dream app, you must contact Mobulous Technologies.
We are a leading mobile app development company specializing in developing mobile apps for various business niches, including tourism, healthcare, social media, grocery, entertainment, and many more. You can contact our team to know more about our app development services.
Contact us for your next app project: sales@mobulous.com
Mail: sales@mobulous.com    Phone: +1-3025746634 ; +91-9650100411
Access Our UI Case Studies: https://www.behance.net/mobulous
Top 6 Hybrid Mobile App Development Frameworks for Android & iOS in 2021?
Cost to Build a Event Management Mobile App – A Complete Guideline
How to Develop an On-Demand Grocery Delivery Mobile App- A Complete Breakdown of Its Cost & Features
Top Advantages of Android App Development for High Return Investment in Business 2021
How Mobile Apps Can Bring Tons of Customers to Your Business? | 2021 -2025