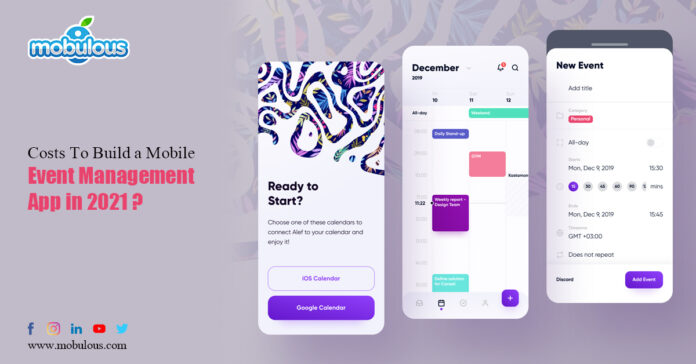 Have you ever forgotten an important meeting or a concert of your favorite band in the city? I am pretty sure you must have.
In a busy schedule, people have no time to remember any critical events. They need something that can assist them plan, and organizing all their life events.
As we all know, mobile apps have a solution for everything in the relevant e modern era. So, why not a mobile app that can help manage and plan all these types of events? Pretty good idea, isn't it?
With the advent of event planning apps, organizing events has become so easy for people. Businesses can attract more sponsors and make their brand more visible using these apps.
Let's know the Top Benefits of Event Management Mobile Applications-
Here is the following importance of an event management mobile apps:
 An event mobile app helps you to organize your team and avoid miscommunication.
The app allows you to increase the sales of your event's tickets.
The app will enable you to maintain numerous occasions with ease.
The app will allow you to automate check-in.
These are some of the notable benefits of an event mobile app. No wonder numerous event apps are available in the market, but there is always more space for new ideas. So, if you want to develop an event app, it would be a wise decision.
What are Basic Features That You Must Include in The Event Management Mobile App?
Here are the following advanced features that you must consider while creating an event mobile app:
Registration and Log-in
Location
Filter
Home
Show Listing
Show Detail
Rating and Reviews
Ticket Booking
Ticket Download
Booking History
Payment Options
What Are Some of The Top Advanced Features That You Must Include Into The Event Management Mobile App?
Here are the following advanced features that you must consider while creating an event mobile app:
The first impression is always the last impression. We all must have experienced this once in our life.
Ensure to offer users' a fantastic experience through your event app. Make the onboarding process as straightforward as you can. Remember to include the social media integration feature in your app.
Event Session and Schedule
To create an event mobile app, you must add complete details of the event session and schedule in your event mobile app. Make sure your app includes a clear timeline with the location or room.
The gaming option feature is a pretty excellent way to attract those users who love games. It is one of the most interactive ways to keep your attendees engaged with your app. Games such as scavenger hunts encourage attendees to attend a key session. This feature makes your users return to the app. You can create a personalized gaming strategy with special incentives to promote key behaviors and reward interactions.
As we all know, social media is a powerful tool that can easily connect people to others. Whether you are a company CEO or a student, you will love using social networking sites. Hence, you must provide the ability for attendees to connect the event app through social networking sites.
Events and Conferences are held for users all across the globe. And it's pretty challenging to know what language your target users are more comfortable in.
Ensure to integrate the multilingual feature in your event app to attract users' from worldwide. This feature will help your users to understand the apps' content more efficiently.
Push notification is an essential feature that you can't afford to miss in an event mobile app. This feature allows you to communicate with your target users in fast and effective ways. You can send updates and reminders to your users in real-time.
Additionally, you can provide relevant information such as rewards, offers, and promos.
The Geo-location Tracking feature in the app allows users to find the events nearby to their location.
Cost To Develop An Event Management Mobile App-
When we talk about event management app development, an app like Eventbrite is very popular among users. The cost of creating an event app like Eventbrite would depend on numerous factors such as features, functionality, and complexity of the app, technology, the location of the event app development team, etc.
For Instance, If you want a basic event app with MVP, the cost would come between $5,000 to $7,000.
If you want an advanced event app with a unique feature set, the cost will come between $10,000- $15000. Also, remember to develop a progressive event app; you will require an event app development team with a minimum of 2-3 developers, designers, tester, and QA Analysts.
If you want an event app with complex features such as Cloud Hosting, API Integration, database storage, and many more, the cost will come between $25,000 to $30,000.
What Can You Expect From An Event Management Mobile App Development Company?
Here are the lists of facilities you can expect from an event management mobile app development company–
A well-trained team consists of web and graphics designers, project managers, Android and iOS developers, front-end developers, back-end developers, and QA Professionals.
Effective tools of communications that provide you with complete details of each stage of the project.
Consulting and flexible approach to project management.
Ensuring of launching the app to the app store or Google store.
Whether you want to develop an event app with MVP or an advanced app with complicated features, the success of your event mobile app entirely depends on the expertise of your mobile app development company.
So if you are looking to create an event app like Eventbrite for your business, you must contact us. We will provide you with a complete guideline regarding event management app development and help you build your dream app at an affordable price.
Contact us for your next app project: sales@mobulous.com
Mail: sales@mobulous.com    Phone: +1-3025746634 ; +91-9650100411
Read Also: 
Hotels GO- A Fantastic Website That Can Help You Find the Best Hotels.
StreetTak: A Social Connect App to Express Yourself Fearlessly or Without Being Censored
How Much Does It Cost to Develop a Flight Booking Mobile App- A Complete Guideline?
OWIN App: A Fantastic Food Delivery App That Connects Users with Different Food Sources.
Mobulous – Anniversary Celebration of Completing Successful 8 Years
Top Advantages of Android App Development for High Return Investment in Business 2021
How Mobile App Development Process works? A step by step guide 2021