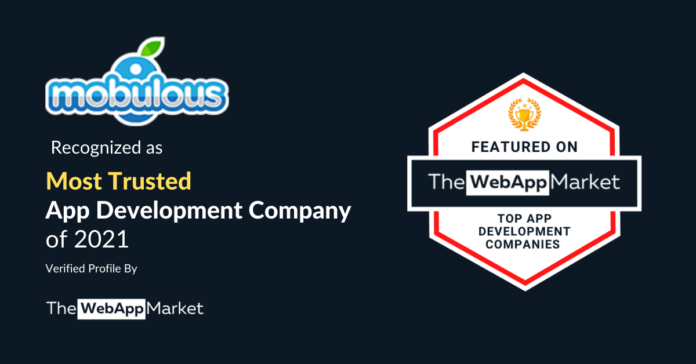 DELAWARE, US – October 20, 2021: TheWebAppMarket, a globally trusted rating, and reviews platform, proudly presents TheWebAppMarket Verified Profile of Mobulous, showcasing its most loved clients, in-house services and, the brains behind the top app development company. 
Mobulous democratizes the design and development of applications and websites that specialize in implementing the front-end features like UI/UX designing, HTML/CSS integration of small and large companies offering smooth and easy to configure steps.
Their aim is to become a long-term strategic partner to all its clients and help them digitize their environment, focusing on product business logic and continuous improvement.
Mobulous was founded in 2013 by Anil Sharma. With a versatile experience of more than 13 years in the IT Industry, Mr. Sharma is the CEO and Global Business, responsible for Sales, Growth, Strategy, Customer Success, and Team Management at Mobulous.

One of the top app developing companies of 2021, Mobulous has earned international recognition from more than ten companies and developed more than 100 apps. The brilliant minds of Mobulous are sought after not just by US clients but from all over the world. 
QUOTE BY FOUNDER of Mobulous, Anil Sharma:

About 
TheWebAppMarket is the leading ratings and reviews platform for web apps, mobile apps, software solutions, and digital service providers. To be part of the biggest marketing landscape, create a WAM profile today. Besides offering top-notch online marketing solutions to global brands and startups, TheWebAppMarket is also paving the way for affordable ASO services for app developers.
Mail: sales@mobulous.com    Phone: +1-3025746634 ; +91-9650100411