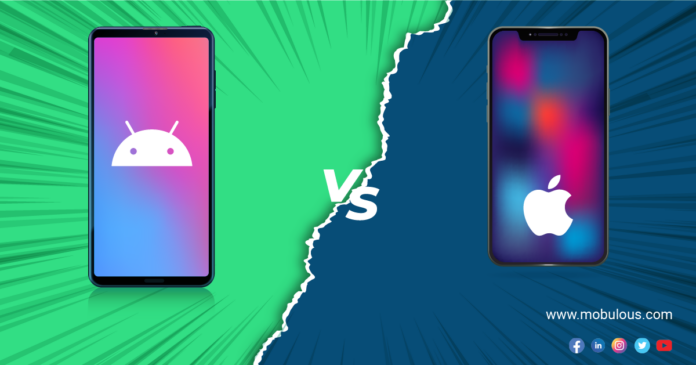 Android & iOS is the most popular operating systems. To build mobile application, you must choose one of them. The process and technologies of making iOS and android are different from each other in many ways, such as-
Software Developers use different programming language and technologies when developing for iOS or Android.

If we talk about the budget, both iOS apps and Android application require different budgets and maintenance tasks.

Android and iOS both are different mobile operating systems, which are popular depending on the requirement of business. 

Android is more customizable than iOS.

Developing cross platform application is quite challenging. Trying to publish application for Android and iOS lead some technical issue, required expense and more. 
| | |
| --- | --- |
| iOS | Android |
| Technologies of iOS application development is Swift.  | Whereas Android app developers use Java or Kotlin. |
| Standard size of screen is required with Apple devices, such as iPad and iPhone.  | With android devices, there is limitation for screen size. Developers can work on more interface design to ensure the compatibility and functionality across devices. |
| Both operating systems like iOS and Android apps have different user demographics based on location, age group, hours and more. As compared with android, apple user are younger than android.  | Android application development takes a longer time because there are so many android versions available on the market, hence maintaining and development of android application is bit challenging.  |
| Apple Incorporation has developed iOS. | Whereas, Google has owned & developed android. |
| The target systems of iOS are smartphones, music players, and tablet computers. | Its target systems are smartphones and tablets. |
| iOS is usually designed for Apple iPhone and iPad. | It is designed for smartphones of all businesses. |
| The language use in iOS development is C, C++, Objective-C, assembly language, and Swift. | C, C++, Java, and other languages are used for Android application development. |
| Swift is a primary language for iOS application development. | Java and Kotlin both languages are highly used for Android application development. |
Whether you want to develop iOS or android application, nothing is better place than Mobulous. They are award winner for developing android, iOS and window application. The company is well-equipped and well-established social, educational, and professional values. These represent their highest ambitions for how they engage as Co-workers, Collaborators, Alumni, Associates, and Board members. Their technology services are Native iPhone app development, Native Android app development, Hybrid app development for android and iOS, custom UI Android, iOS and web, custom html5 based website development, Custom WordPress development, Custom CMS development, Custom PHP development, Node JS development, UI Prototyping and others. 
Being the top iOS app development company, they also specialize in offering Mobile App Development, Mobile App UI Design, Web Development, Web Design, Cloud/ VPS Server API Development and Hosting, Business Consulting, App Store Optimization, Enterprise Development and many more. For many years, they have been helping many industries to reach their business at the next level that are Real Estate & Property, Event and Tickets, On Demand Service, travel and hospitality, social networking, Education, Transport, Banking & Finance, HealthCare, Ecommerce, Retail & B2B, Gaming & Leisure, Food & Restaurant and more.