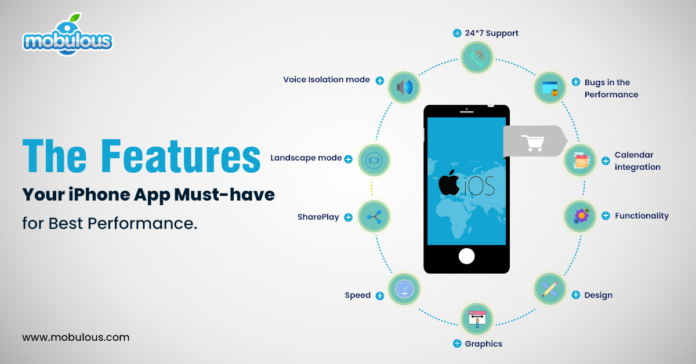 "Learning to write programs stretches your mind, and helps you think better, creates a way of thinking about things that I think is helpful in all domains." – Bill Gates
With over 1.3 million apps in the Apple App Store, it can be tough to make your app stand out from the rest. Even if your app is well-designed and useful, it won't succeed without certain key features. The top iOS app development company is skilled at making the best performance apps.
How does an iPhone Application Development Company Start developing an iPhone Application??
If you're ready to start development on your iPhone app, there are a few basics you need to know. First, decide the purpose of the app. Once you have a clear idea of what you want your app to do, start outlining the individual screens and flows. 
Also, creating wireframes is a great way to visualize how the user will interact with your app. The Top iOS app development company makes sure that they test your app extensively before releasing it to the public.
It's important to find a developer who understands your vision for the app and can build it to your specifications. These top iOS development features have a proven track record of creating beautiful, user-friendly iPhone apps that achieved success in the App Store. 
Mobile app development solutions should get around-the-clock support and these companies provide maintenance after the launch of the app as well. 
Bugs in the Performance

– 
Applications and bugs do not go hand in hand. Bugs need to be fixed before launching it. 
Android application development needs to ensure that the application runs smoothly and consistently by delivering regular maintenance.
The Services:
Real Device Testing

User Sign-up/Sign-in and Management

Social login

Push Notifications

Image and Video Recognition
Cloud Storage

Application Logic/Cloud Functions

Conversational Bots

Real-time and Offline Day

Speech Recognition

Analytics and User Engagement
The Features for Success of an iPhone App
"There are three responses to a piece of design – yes, no, and WOW! Wow is the one to aim for". 
Whether you're looking to start from scratch or have an existing app that needs some TLC or looking for a Top iOS app development company, here are the best features for the success of an iPhone app:
The app must be able to do what it is supposed to do. The user should not have to go through a long tutorial on how to use the app.
The app should be visually appealing.
The app should have high-quality graphics.
The app should be responsive and fast.
Final Words
After you've got a nicely designed app for iOS, it is time to start marketing your app to the masses.  If you have the budget, you can advertise your app in various online and print publications. Mobulous has a team of creative experts to think outside the box!