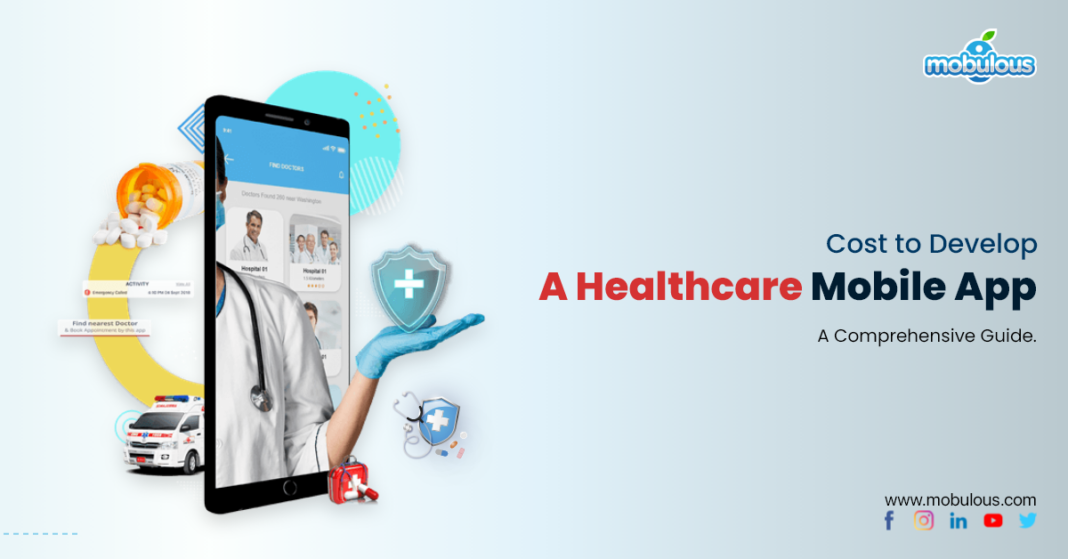 Cost To Develop A Healthcare Mobile App in 2023- A Comprehensive Guide.
With the advent of various innovative technologies such as Augmented Reality, Artificial Intelligence, and many more, almost every field has transformed completely, including healthcare. Looking around, we will find numerous healthcare mobile apps that have made it super easy for doctors and patients to connect without stepping out of their homes. Aside from enhancing virtual communication, current healthcare applications provide many other advantages.
There is a tremendous demand for mobile healthcare apps globally. So, it will be a wise decision if you want to create mobile healthcare apps for your startup or existing healthcare center.
This blog will discuss the cost estimation to develop a healthcare mobile apps.
Before we discuss the cost estimation, let's know the top Benefits of developing Mobility Solutions for the healthcare industry-
Healthcare mobile apps are beneficial for both patients and healthcare providers in many ways-
Advantage of Healthcare Mobility solution for Patients-
 * Lower cost of Insurance coverage
 * Reduces the cost of Health Monitoring
* Manage Health remotely
* Schedule an Appointment at your convenience
* Share Medical Record
Advantage of Healthcare Mobility solution for Healthcare Providers- 
* Proactive Response to Patient's Condition
* Reduce complexity
* Enhance physician's efficiency
* Convenience and accessibility
 * Real-time communication
Stats and Facts about Healthcare Mobile Apps-
According to the report, around 35,000 m Health applications are accessible in major app stores, including medical, health, and fitness apps.
Another report suggests that most smartphone users utilize their smartphones to obtain health-related data.
If we believe the report, In 2020, 87 million individuals in the United States will have used a health or fitness app regularly.
Two-thirds of the major hospitals in the United States have mobile health applications.
The market for mobile health applications was estimated at $47.7 billion in 2021 and is expected to reach $149 billion by 2028.
Top Features of Healthcare Mobile App-
Numerous healthcare mobile apps already exist on Play Store and App Store, so it is essential to integrate unique features into healthcare mobile apps. Here is the list of top features that you must incorporate into healthcare app development–
Engaging UI/UX Design Feature of Healthcare Mobile App
The UI/UX design of the app is the first thing a user will notice in a healthcare mobile app. As a result, it must be appealing. Make sure the design you choose for your app reflects your company's aims and services. The theme should be relevant to your company, the navigation should be easy to understand, and the interface should be simple.
Live Video Consultation With the Specialists of Health App
Live video consultation is an essential feature you can't miss in a healthcare app. Integrating the live video consultation feature can help you achieve enormous success if we believe the report. The feature allows patients to talk to healthcare specialists in real-time.
Health Activity Tracking in Health App
You must allow users to track the activity of their health. Moreover, give your users information such as if they are tracking their blood pressure by inputting daily readings, the app may show them a list of items they should avoid keeping their blood pressure in check.
Patient Data Information in Health Care App
Integrate the 'Patient Data Information' feature that allows patients to collect and store their whole treatment cycle data. The feature is helpful for doctors as they can monitor the patient's progress and treat them accordingly.
Cloud Integration in Health Care App
Integrating cloud storage features into healthcare apps allows patients to get information anywhere from any device.
It can also assist them in maintaining electronic records of their medicines, medical history, medical photographs, and other information.
The healthcare app may be used by anybody, anywhere, in any language. Users should be able to choose their preferred language in healthcare apps. This feature will make it simple for everyone to use the app.
Nowadays, people use various devices to access healthcare apps; thus, make sure your app supports all of them.
For instance, If you're making a healthcare app for Android, ensure it works with all Android versions. Similarly, if the app is for iOS devices, ensure it works across all iOS versions.
The feature will help you reach a large audience.
Some Advanced Features That Make Your Healthcare Mobile App Unique-
The healthcare app must include a comprehensive collection of recent medical advancements, studies, discoveries, and so on.
The healthcare app must have the ability to operate even offline so that users may access the app's data without an internet connection.
A feature that enables doctors to communicate via the SMS service Athena Text must be included in the app.
Factors you need to consider while creating a healthcare mobile app- 
Here are some of the following essential elements you need to look at to create a healthcare mobile app carefully:
Idea validation

Designing

Market evaluation

Mockup (wireframing)

Quality check

Testing
Cost To Develop A Healthcare Mobile App-
It's always challenging to evaluate an app's actual price as its price depends on numerous factors. Some of the common factors include the app's complexity, the app type, the app's design, the app location, and the team of developers. You need to connect with a mobile app development company to analyze the cost of developing a healthcare mobile app. Most mobile app development companies charge per hour, and the segments take different times to develop healthcare applications fully.
US-based developers charge around $70-$250 per hour.
Europe-based developers charge about $50-$150 per hour.
India-based developers charge around $20-$80per hour.
In India, Mobulous is a top mobile app development company with significant expertise in healthcare mobile app development. The company has successfully deployed thousands of mobile healthcare apps globally.
Let's Know Our Healthcare Mobile App Development Expertise:
 * Fitness Tracking App- 
We are a top iOS app development company with dedicated and skilled mobile app developers. We offer the best fitness tracking app solutions with top-quality coding to health enthusiasts; strengthen your business with a robust fitness training approach by providing the users a convenient way to track their physical activities and make daily workout plans.
 * Women's Health Apps- 
As a top Android app development company, we are proficient in building a quality coding & feature-rich pregnancy tracker mobile app for women that helps users set a reminder of their upcoming appointment schedule and provide information for prenatal and postpartum care and newborn infant care.
 * Diet & Nutrition Tracking Apps- 
With the invention of a diet and nutrition tracking software, we provide users with an efficient and cost-effective way to locate nutritious Nutra foods in the nearby grocery shops and keep track of their daily calorie intake and expenditure.
Final Words- Cost to Develop A Healthcare Mobile App in 2022
So, here in this article, we have mentioned the cost, features, and many more essential things that users these days expect from a mobile healthcare app. If you integrate advanced features into your healthcare app, you can attract a considerable number of users.
Have you got an excellent mobile health app idea? Let's connect with each other.
We are a top mobile app development company that has successfully developed numerous feature-rich, innovative, and robust healthcare mobile apps for various users globally.
Contact us for Best Health Care Ap Development Solution: sales@mobulous.com